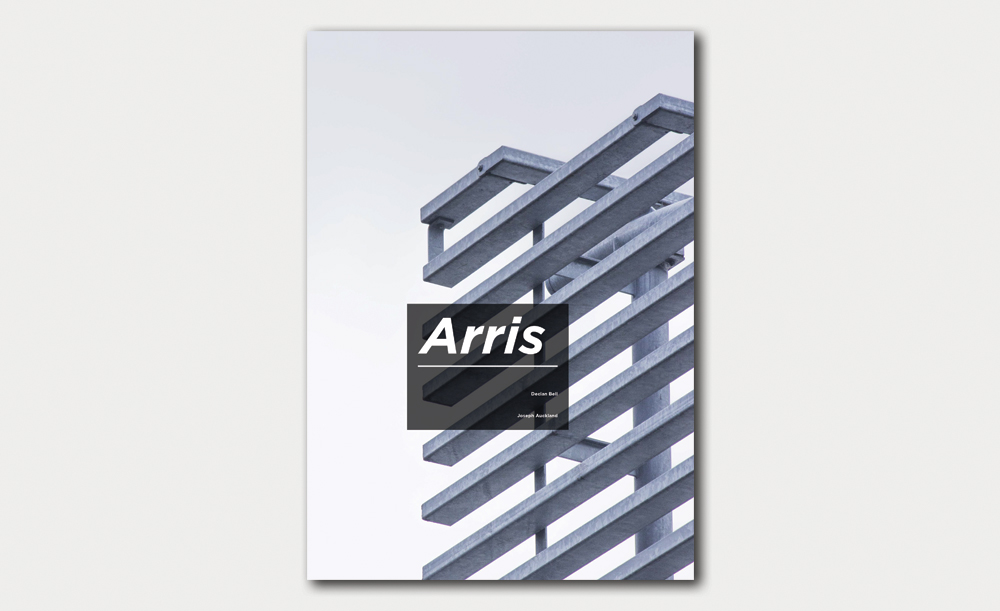 Well, when it rains it pours. On this occasion though, in a very positive manner. On Friday, we looked at a project from Sam Cook, initiated, in part, as a result of a workshop I ran back in November. Today we're featuring a project that I was introduced to during another workshop at Leeds College of Art last month.
During our lunchbreak, and before I headed down to the canteen for a hearty portion of pasta bake, second year graphic design student Joe Auckland asked me to take a look at his project Arris. The publication in collaboration with classmate Declan Bell and photographers Emily Tomasso and Natalie Willatt is a response to this year's D&AD New Blood Pantone brief.
Tasked with re-imagining their home town through the language of colour, the quartet decided to explore Leeds through its architecture. They've used beautiful  photography to document the spectrum of hues and shades around the city, cross referencing their findings with the Pantone colour palette throughout. It's a simple, but gloriously well executed concept, the minimal and simple layout allowing the photographs to take centre stage.
The name Arris, is well considered too. A definition offered in the publication reads, "The junction between two planes or an intersection of divergent architectural details. A sharp edge formed by the intersection of two surfaces". It is just these glorious angular facets of the cities most striking building that Emily and Natalie have so expertly captured. Joe and Declan's design allows for playful symmetry and mirroring to occur and as a result, the variety in colour is even more striking.
The grey to white gradient applied to each page is another subtle use of colour incorporated with the award's judges in mind. Joe told me that laying the images on white just didn't work. Leeds' concrete backbone and often overcast skies needed to be represented somehow and this, it strikes me is a nice nod to that necessity for context.
With the deadline for New Blood passing a week ago, Arris is now in the judging panel's hands. I for one wish Joe, Declan, Emily and Natalie the best of luck. It's a great little concept, one that could easily roll out to other cities and be visually intriguing and inspiring every time. We'll certainly have one eye out for the winner announcements next month. In the mean time you can check out the awesome foursome's portfolios via the links below.
Link to Joe's Site     Link to Declan's site     Link to Emily's site     Link to Natalie's site
______
If you're an educator and would like to know more about our magazine workshops, click here.