At intern we're constantly looking at new ways of bringing our wealth of perspectives to our key demographic, the creative youth.
As a publication we work directly with contributors who are studying or have recently graduated. The popularity of creative courses continues to swell and as such, employability is an area set to see major investment in the coming years. Our insight into the graduate workplace can provide contemporary preparation for what lies ahead.
Working as an independent publisher, we also can open students minds to the possibilities of collaboration and self-publishing. As such, we have a number of services and offers available to universities, colleges and schools around the world.
Education Packs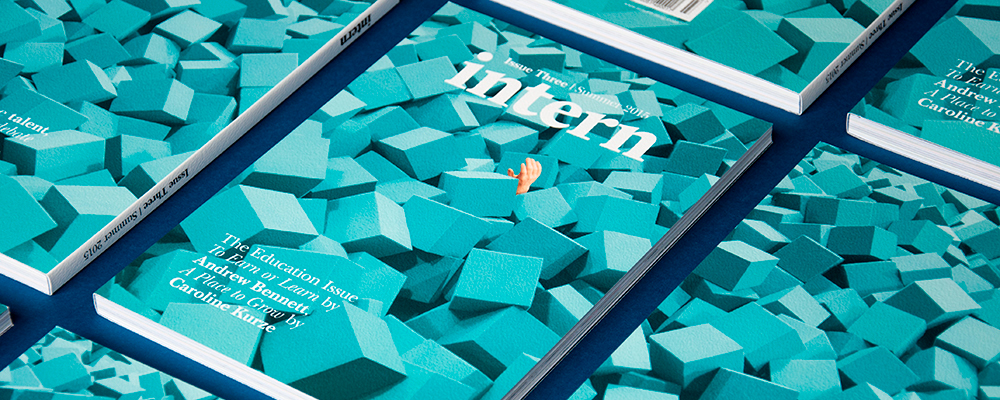 We offer 50% discount on orders of ten or more magazines to students, educators and institutions. intern is a valuable, contemporary resource charting the emerging trends in creative recruitment and can be a source of great inspiration for students and educators alike. Click here to request a quote.*
*All issues of the magazine are available on this offer while stocks last.

Talks
Intern Magazine
Concept to…
Off the Beaten Track
Defining your own internship experience
Our talks generally last between 4o minutes and an hour, but can be modified should you require something a little different. Delivered by our Editor-in-chief, Alec Dudson, these are perfect for creative courses interested in magazine publishing, freelance careers and employability.
For more information, click below to download our Talks & Workshops PDF for the coming academic year.
Workshops
Rethinking
The Graduation Catalogue
Out There
Talking about your work effectively
Up For Discussion
A group careers Q&A
Career Advice
From our hand-picked mentors
Workshops are a great way to mix up your course with an industry brief and fresh perspective. Our experience in the publishing field is on the pulse and relatable. In the past we've handled classes of up to 5o students over a range of disciplines. All of our offerings encourage teamwork and students are required to present their outcomes. The independent magazine model is one that compliments creative expression and we look to embrace that in these sessions.
For more information, click below to download our Talks & Workshops PDF for the coming academic year.