Today is a pretty exciting day for us, as we're launching our first-ever online course.
Our mission to empower the next generation of creatives starts an exciting new chapter today, as we share the first element of our education programme with learners around the world.
Entering the industry is daunting for anyone, but doing so when you haven't got any reliable insight with regard to the value of your work only makes things harder. Since 2013, we've been trying to stop the exploitation of emerging creatives and it's become clear during that battle, that companies still dramatically underpay, or don't pay designers.
We want that to stop. If you've ever done a project unpaid that a client has gone on to use, or if you worked minimum wage and saw your idea get picked up and run with, we're here for you. If you charge people £50 for logos or web design or do social posts for people as a favour, it's time you switched it up.
In order to build a sustainable career, you need to command a price for your work that allows you to meet your needs when it comes to the cost of living, regardless of your experience. 'The Price is Right' fundamentally takes you step-by-step through that journey.
Here's a sneak peek of the first video lecture of the course, where our founder Alec introduces the curriculum.
'The Price is Right' started life as a workshop, then we shared some of the principles on this site, but when COVID hit, we were faced with a challenge. A number of universities had booked in-person education programmes with us, that now needed to be delivered online. So that students didn't burn out from Zoom fatigue, we set about creating digital, interactive versions of all of our workshops and they went down a storm.
At this stage, it seemed crazy that only students whose universities booked our services had access to these incredible digital resources, so adapting them to online courses seemed a natural move. Initially, we edited 'The Price is Right' from that workshop material and released it at an introductory rate.
We were blown away by the response, with hundreds of students from all around the world enrolling to learn all about pricing their work. With that revenue, we built the course from scratch, listening to feedback from our learners to focus more time and cover topics in more detail than we've ever been able to in our face-to-face sessions.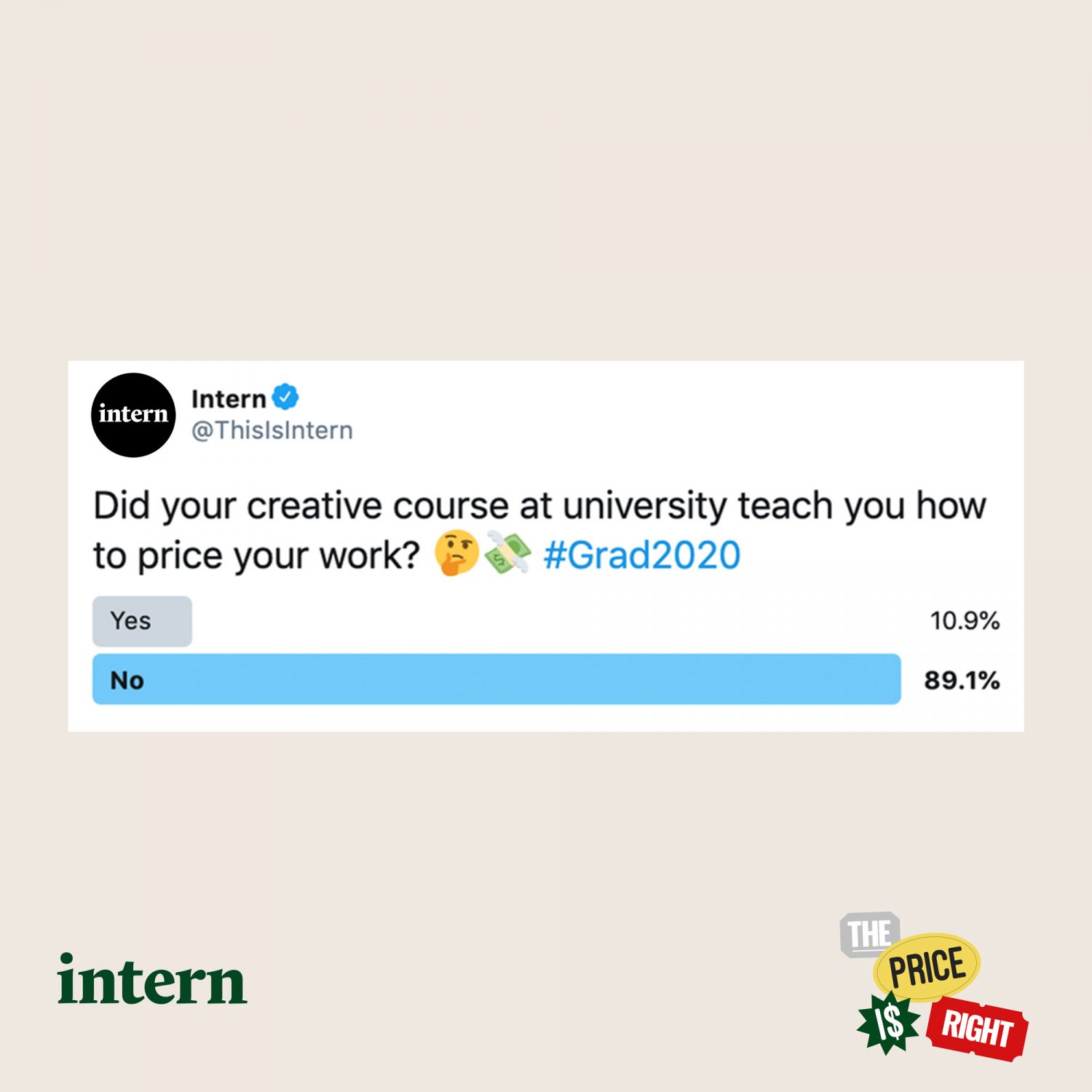 The result is one that we're immensely proud of, the new programme is incredibly thorough and guides students through a process of developing not just a rate that works for them, but a series of strategies and personalised tools and resources that will help them to get paid properly, negotiate effectively, to set productive boundaries with clients and to approach contracts and invoicing in a way that's professional and accessible.
Speaking of accessibility, let's discuss the price of the course. It's £49.99 (or maybe a tiny bit less or more depending on where in the world you are and how your local tax rate is structured). An online short course at a UK university can cost more than ten times that. A couple of Neopolitan pizzas and a bottle of wine at your favourite spot will cost around the same. We honestly think that the course is worth a lot more than it's being sold for, but we don't want to price anyone out. If you follow each step, we're mightily confident that you'll make that back in the first invoice you send out, which will get paid without you opening InDesign. As far as investments go, it's a no-brainer.
If this sounds like it might be for you, click here to take a closer look and enrol. If you know someone who this sounds perfect for even better, a community or group of students who would benefit from this insight, we'd be delighted if you shared it with them.