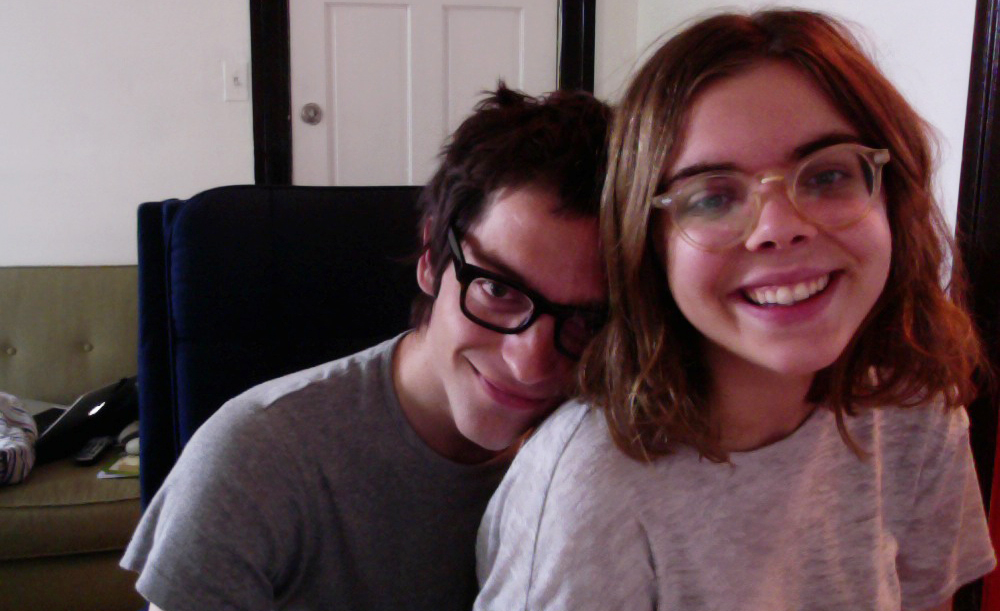 Deep into planning Issue Two I realised that we still needed a few short, punchy features to give the magazine a nice flow. Earlier that week, I'd been exchanging emails with Romke about Kickstarter campaigns, publishing and of course internships. Knowing that he had done a fair share of internships himself and also that he had a pretty strong opinion on them, I invited him to put something together for Intern. Although open briefs are sometimes a risky business, the reward has often outweighed the risk on this project and it did again when Romke got back to me with his idea.
He proposed a flow chart, allowing readers to work out whether their internship was in breach of US Department of Labor laws. It was the first time we had grappled with an infographic in the mag, but it was something that I was really keen to explore. Infographics make me think of Bloomberg Businessweek and The New York Times so it struck me pretty swiftly that Lisa Charlotte Rost would make the perfect partner for Romke on the feature, having interned at the former.
So it proved to make for a really cool piece and one that I feel serves one of my intentions for the magazine – for it to have use beyond being a magazine, being a resource as well.
Romke and his girlfriend Grace (pictured) have been running Mossless together for a couple of years now from their apartment in NYC and seeing as I often get emails from students asking questions about publishing, quizzing Romke for the latest edition of Meet the team is too good an opportunity to pass on. The pair have just completed a second successful Kickstarter campaign and the magnificent Issue Three of Mossless is appearing at backers' houses/apartments as I type.
When we first talked about you contributing to Intern, the speech you gave at your SVA graduation was an instant frame of reference as in it, you raised the subject of unjust internships – a bold move.
Ah yeah, thanks. What a nerve-racking moment that was. I had to sit on stage for the entire length of 5-hour proceedings. Most of my speech was pre-drafted but I tried to add as much of a call to action in there as they'd let me. I talked about how hard it is to get jobs, let alone paid work but that we all have to be aware of exploitation. I said it then and in Intern too, if you did actual labour, you can get paid for the hours you worked!
You started Mossless back in 2009 as a blog. Interviewing a different photographer every other day is a huge commitment. Have there been times when that has been really difficult to maintain?
Tumblr was still a relatively new thing back then, it was awesome to be able to queue up and schedule posts. I exploited that to the fullest. I usually had deep photobinges online every week or two and I'd email a ton of people in one sitting. Sometimes I just wouldn't be in the mood to go online and then before I knew it I'd be late on a post, but that happened rarely because I always had so much time to prepare. I had way more free time back then.
What attracted you to making physical editions of Mossless?
Gosh, you know, I've always been addicted to photographs in books. My dad still jokes about it all the time. As a kid my holy grail of sorts was DK's encyclopedias. I would just stare at the pictures all day long. Then I got handed a disposable camera, then I discovered photo books… and then I saved up to buy Vitamin PH and that book set it in stone for me. Making physical editions was the idea from the start of the blog. We got enough followers, made a Kickstarter… and now we are here several books later. I'm ecstatic that it was able to happen!
This time round (Issue Three) has seen you take the print edition to a new level. How did you find this Kickstarter campaign and are you happy with the finished product?
Yeah, absolutely! We worked for a very long time to get it to a form we were happy with. If we raised more money we would've used better ink and paper but we're happy with our book for sure. We handled this Kickstarter in a different way than our last — and than most others on the site — by creating a fully-formed draft copy of the book, which was actually much fatter than our final copy. It was a risky move because I'd quit my internships to focus on it full time for several months. Making rent was not easy and if the Kickstarter had failed then we would have been in trouble.
Were your internships a worthwhile endeavour or did you feel short-changed?
Err, I'm not sure. One of my internships was paid and it was, to be honest, fine. It was not very educative (and quite honestly terribly managed) but since it was paid, different rules applied. It did not need to be educative. The very last internship I had that I quit to work on this project was awful from start to finish. It was listed as a paid internship, but only offered a metrocard, and only because I insisted. I wrote this in my Intern article, "The Push Back", that the girl who had been working there for 5 months, commuting in from New Jersey, had no idea that was an option. The work was computer work and it was drilled at you from the boss who was operating the office from her bed in the Hamptons. She kept sending in new assignments but never completed old ones. We were selling artworks and it was a huge mess. They have a terrible reputation in the industry so they use fake names to get leads from galleries, which they then publish to their clients as discount sales, which they then brazenly demand from the unwitting galleries. They asked me to call a gallery with one of these fake names. I left that day and never came back.
Since I've always been on-guard with internships, I don't feel directly short-changed. But I do feel short-changed by the near dominance of internships in the entry-level arts job market. The recent kerfuffle about Marina Abramovic's unpaid labour posts is just the very tip of the iceberg here in New York. It's simply an awful socioeconomic situation that could be easily avoided with the right kind of regulations. But since those don't seem to be on the horizon just yet (Elizabeth Warren though), our best option is to collectively push back with the rights that we have afforded to us.
What are the best and worst things about running your own publishing project? Does the satisfaction outweigh the long hours?
Haha! Good question, Alec. It's incredibly fulfilling. But it can be a grind. Actually, it is most of the time. But it's a good kind of grind. If anyone is thinking about doing it, be prepared to say goodbye to your social life.
What's next for Mossless and you personally?
We're looking to expand our printing facilities and hopefully move Mossless in to its first office/studio. We have a number of projects on the way, but expect our next issue to come out no sooner than a year from now. We want to work on a few smaller projects before we start something of this scale again, though I should say that Issue 3 will probably forever be our biggest book. We'll see. But I also got a job. A real job! I found out today, actually. I guess quitting my internship and doing our own thing was the best thing I ever did for my career.
Keep up to date with all of Romke & Grace's projects over at: