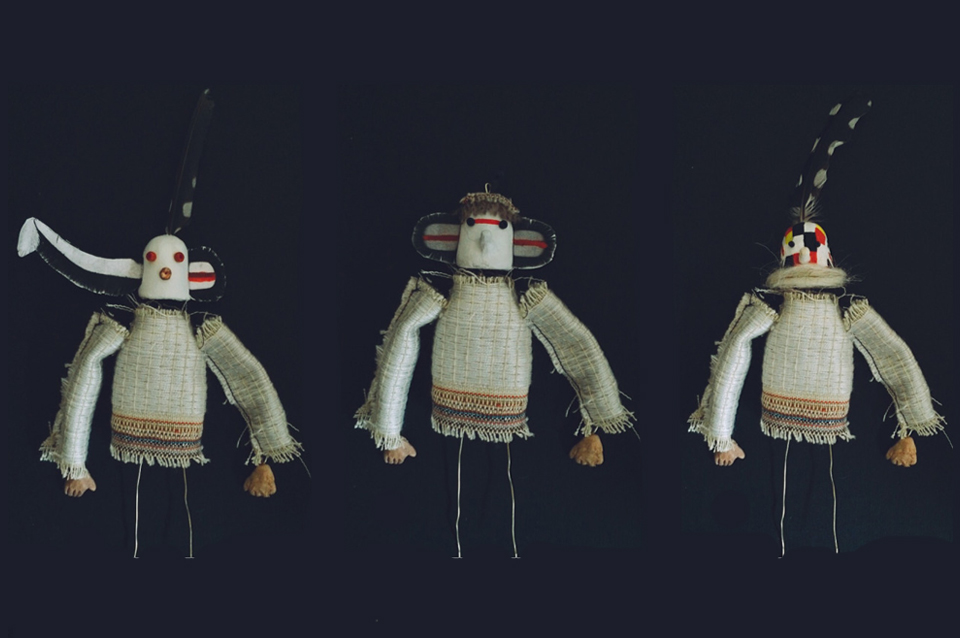 Last month, I spent the day with my dear friend Caitlin Howard, the book binding technician at Manchester School of Art. She's a wizard with a risograph machine, so we worked in the morning to produce a new edition of our Mr Bingo prints, set to be available online soon.
Over lunch, we were discussing the degree show and furthermore, the students who really impressed her. Eva Åkesson, a second year illustration and animation student was the name Caitlin quickly put forward and minutes later we were watching Eva's short animation 'The Banquet'.
It had a real charm and craft to it and I simply had to find out more. Eva, unsurprisingly has been drawing since she was little. Having been introduced to stop motion by her art teacher at school, she found herself developing something of a passion for it. After a foundation course at Leeds College of Art, MSoA's illustration and animation allowed her to experiment with and dip in and out of her two favourite disciplines.
"Illustration is free expression" she tells me, "I treat illustration as though its a still of an animation, I want to go the next step in terms of communication and bring it to life". Eva's desire to create something multi-sensory, was perfect, it transpired, for a brief on insects and mythology. 
Having investigated folk stories, Eva found that Native American Indians, in particular, the Yaqui tribe had some intriguing ideas around insects. So, she delved into the library and the Entomology department at Manchester Museum to research further.
After making studies of a mole cricket and leaf imitating grasshopper (native to Mexico where the tribe originate from) she crafted them into puppets. Eva began to translate what she had learned about the insects' characteristics, to the personalities of the antagonists in her story.
The research on the Yaqui folk and their traditions provided a wealth of inspiration for both the puppets and the set. Perhaps most striking is the masks that they wear, which are traditionally donned at the tribe's Easter festival. The faces of the Eva's characters are brilliantly expressive, each conveying a very different emotion.
The tone of the piece is also influenced in no insignificant part by a brilliant collaboration with Peter Byrom-Smith who Eva states "composed a beautiful piece to animate to".
When first exploring puppet making, Eva worked on basic marionettes, but now has started making armatures and making puppets for stop motion animation. For this project she sculpted the heads, hands and feet using clay. The clothes were sewn together from some old cushions and they hide the wire armature.
"I've always liked sculpting and used to do a bit of taxidermy too, so I if I have this image of what something is to look like I can generally model it out of the materials I've got". Its a skill set that Eva has certainly put to great use in this case and in doing so, operated on a low budget. In the future, she'd love to building the sort of armatures used professionally, but for now that's a bit too pricey an option.
Quite amazingly 'The Banquet' was filmed in just four days. It was a process with plenty of obstacles too, with the lighting of the characters meaning that for a while, they disappeared into the green screen during post. Shooting solo and animating a number of the characters at once also saw Eva figure out quite incredible fishing wire tricks. With more time, she maintains that the movement of the characters would have been smoother. As far as we're concerned, making something like this on your own in such a short space of time, is a more than strong start. We can't wait to see how she develops her craft in her final year.
You can check out stills and the short film after the jump. For more from Eva, click the link below.