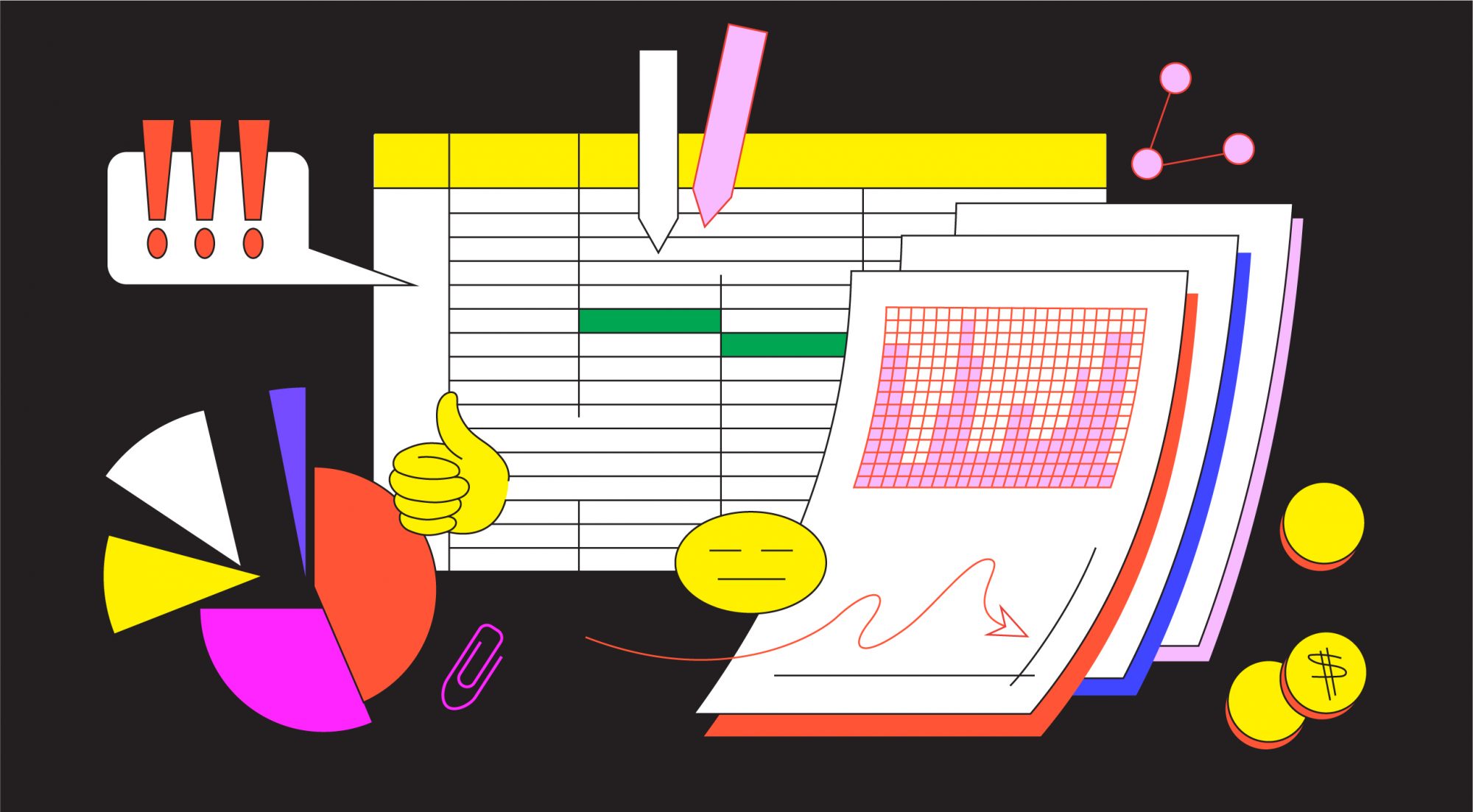 The State of Design Internships
Design Interns Club is an initiative that creates a space for anonymous reviews of internships around the globe. Here's what we've learned from their first-ever report.
Internships remain an incredibly common stepping stone into a job in the design industry. Employers often expect to see them on your CV and some universities include them as an assessed part of the programme of study. In theory, internships are a great way to gain insight into the design world, make useful contacts and set up future jobs. On the other hand, they can and often are exploitative experiences, where you don't get paid for your work and find yourself in a state of constant stress. But if there are quality internships out there, where are they and how can you find them?
 During our studies and internships, we experienced a lot and also heard a lot of stories from other people who were trying to navigate their way into the industry. Not all of the stories were pleasant and we felt a little helpless, collectively and individually to try and change things for the better. One thing that was clear then and remains so now, is that studios treat their interns differently from place to place. Some offer pay, mentorship and a positive experience, while others seem to be deliberately exploitative. Prospective interns had nowhere to share this insight and so the tendency is to make decisions based on the studio's creative reputation and the snippets of information they manage to find in interviews with the founders. 
That's why we started Design Interns Club, an initiative seeking greater transparency regarding internships in design, art, fashion, architecture and similar fields. The project is centred around a public Google spreadsheet where interns can anonymously share their experiences with others. We hope it will help those seeking an internship to choose the right place for them, and that it will also raise awareness of interns' working conditions. The spreadsheet collects information about salaries, working hours, benefits, costs of living and working conditions. The data is public as we believe it's important not only to help others know when they are being taken advantage of and who they should avoid working for but to force the culture sector as whole to stop perpetuating these poor working conditions.
Report and Methods
The spreadsheet has been running since December 2019, we've collected almost 140 reviews so far, and the number is still growing. After the first 100 reviews, we have decided to produce a first report on what the spreadsheet shows, examining the key findings and what lessons can be learned from them. 
To do this, we've analysed the information and distilled it into a few topics, which we're going to break down below. Alongside the report, you'll find quotes from survey participants as the qualitative data is just as important as the quantitative in getting a clear picture of the state of internships in 2021. As the report is based on only 100 reviews, it by no means reflects the design industry as a whole, but we believe it provides a good indication at this stage and raises several key issues that should be addressed.
Most of the internship reviews considered in the report come from fields such as graphic design, product and industrial design, fashion, art and architecture. Most of the internships took place between 2016 and 2020 (for on average 3-6 months) and were mainly in Europe 80% (Germany 31%, Netherlands 12% and UK 10%) and the US 19%. In order to ensure the privacy of participants, we have not collected any personally identifiable information (including gender or race) and therefore cannot provide specific respondent demographic information.
Key Findings
1. Salaries and Working Hours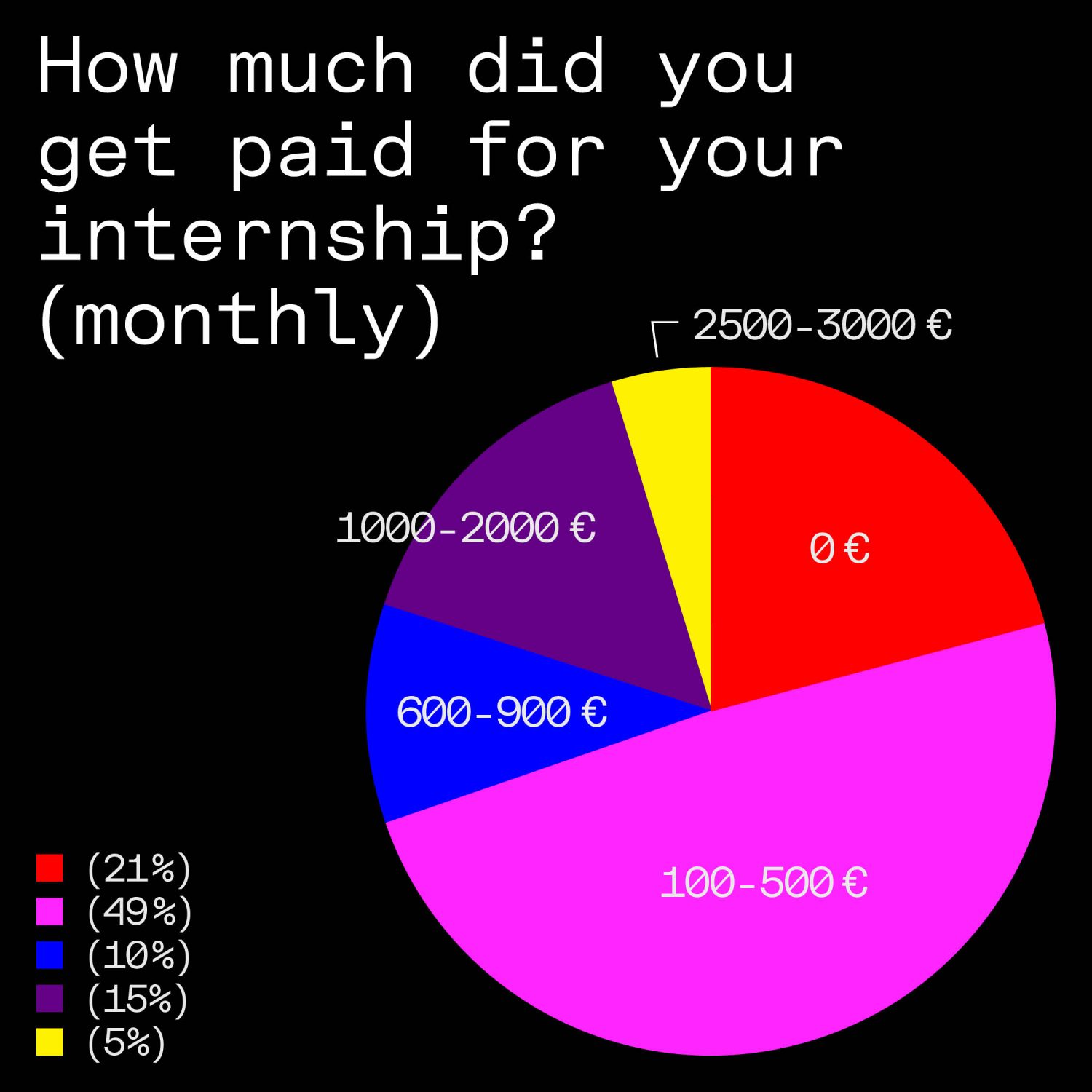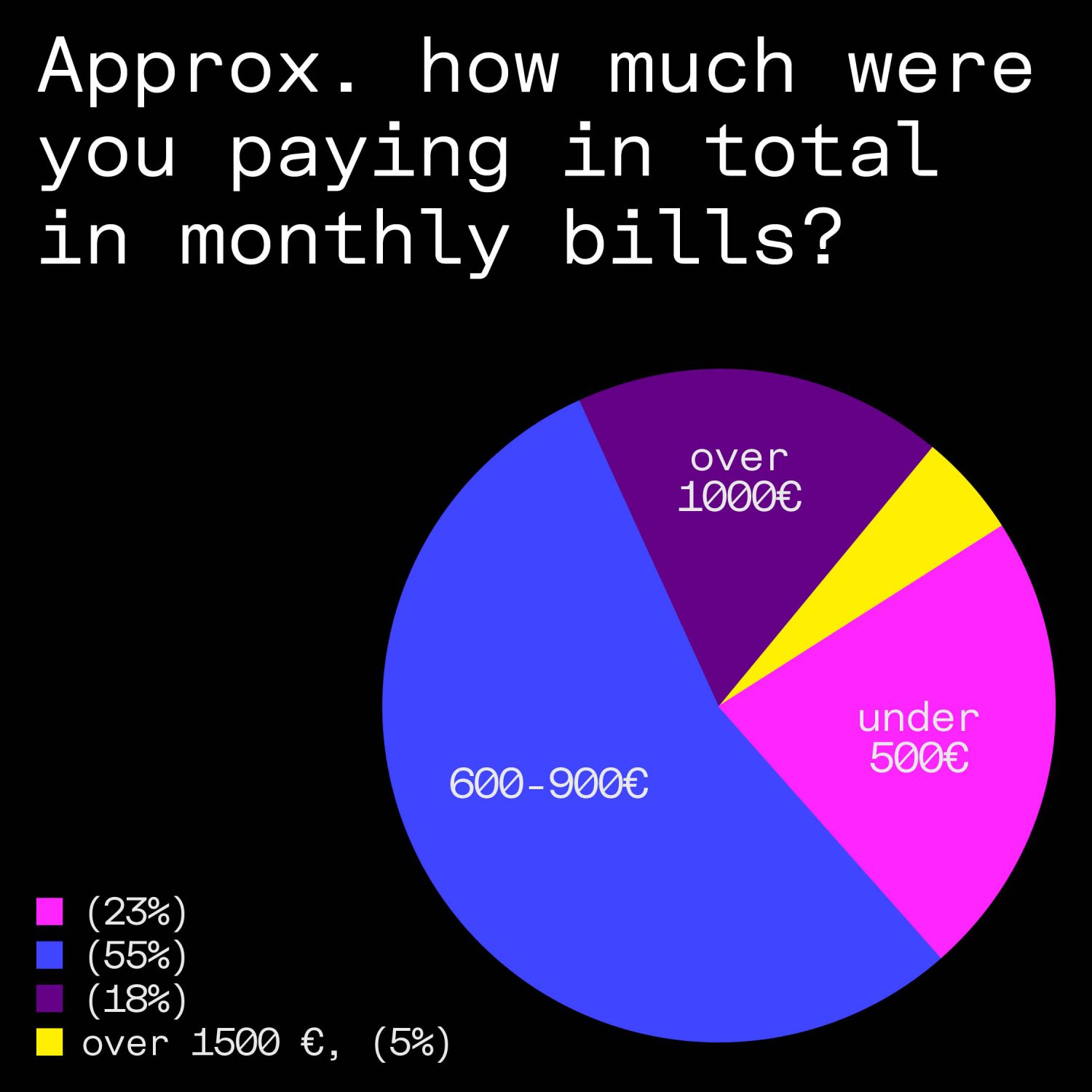 Almost half of the interns reported they earned between €100 to €500 (while they usually work 40 hours a week). 21% of interns reported they were not paid at all. That means 60% of the interns earned less than €500 which doesn't even meet the minimum wage in many countries in Europe and the US. Nevertheless, most of the interns (exactly 78%) paid more than €600 for their living expenses (rent, food, transport, etc.). Exactly 55% of the interns paid between €600 to €900 and 23% even more than €1000. That means most of the interns paid at least twice as much as they earned.
For this reason, most internships have to be funded in some other way, while some interns are able to rely on family support or can get a scholarship (mostly through Erasmus+ in the EU), others have to rely on student loans or are forced to fund their internship through other part-time jobs. Therefore, those without financial privileges are disadvantaged and often even excluded from this "vital workplace education" as it's often framed.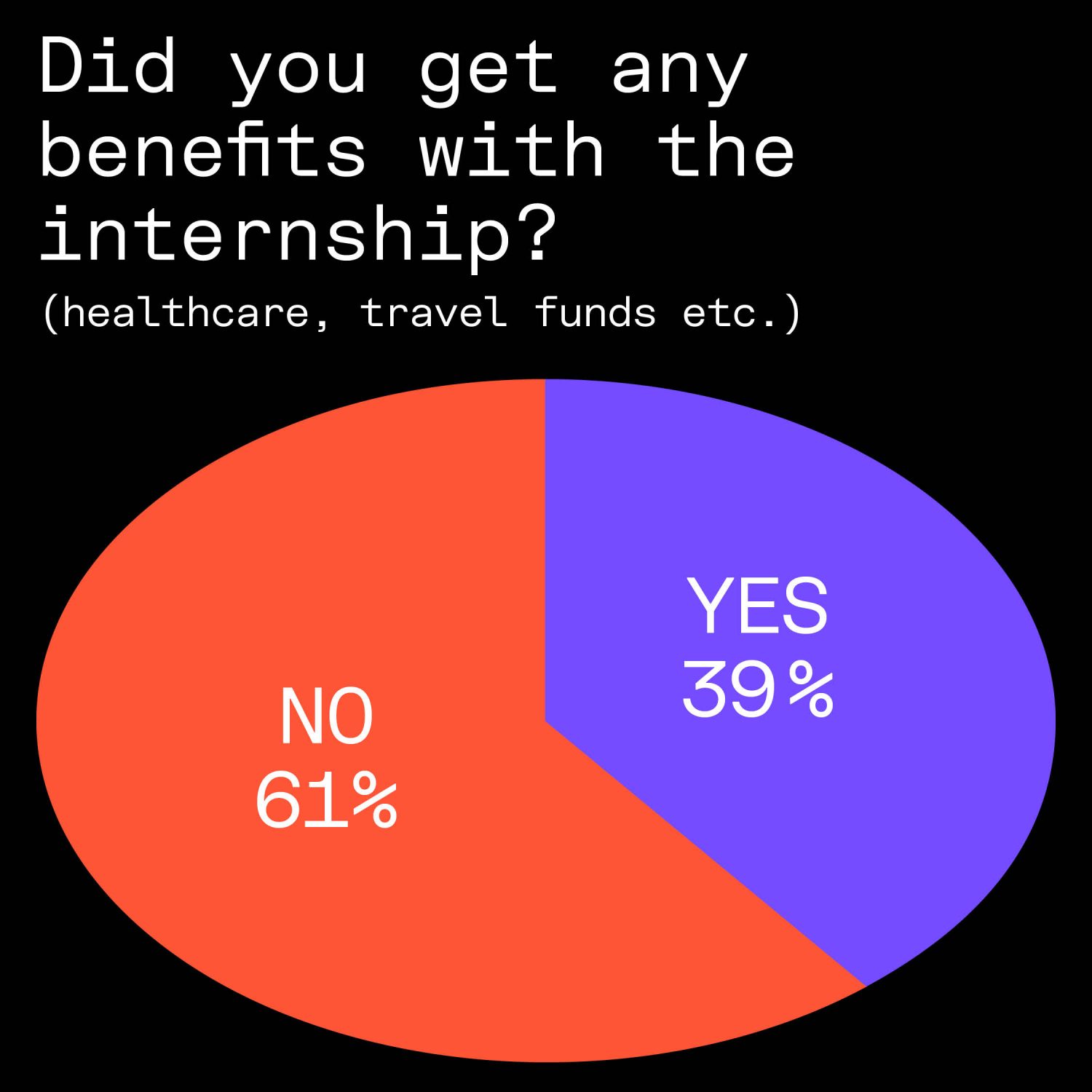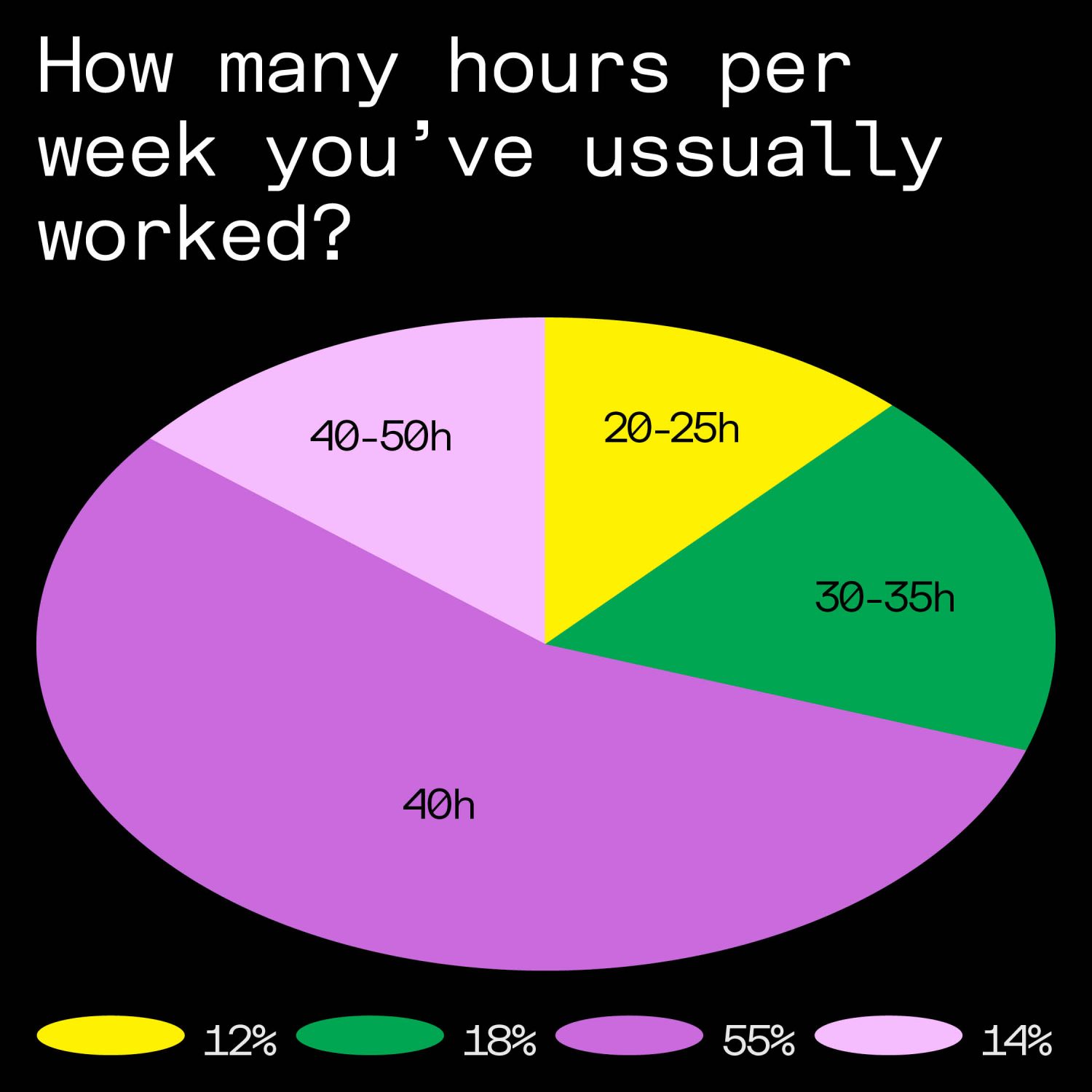 "My wage was way too little to sustain a life in Munich, which is beautiful but super expensive. I had to do additional hours of freelance work to finance my life."
"Most internships in Germany are a full-time job and to be honest.. you get so little money (if you get some at all) that you can't pay your monthly bills and because you already work 40hrs a week or more, you have no energy left to work a second job. As an intern, I am a full-time employee and yet I get nearly nothing for it. That is sad and I'm feeling exploited and treated with far too little respect as a designer with an MA at the end of seven years of studies."
2. Work Conditions and Experiences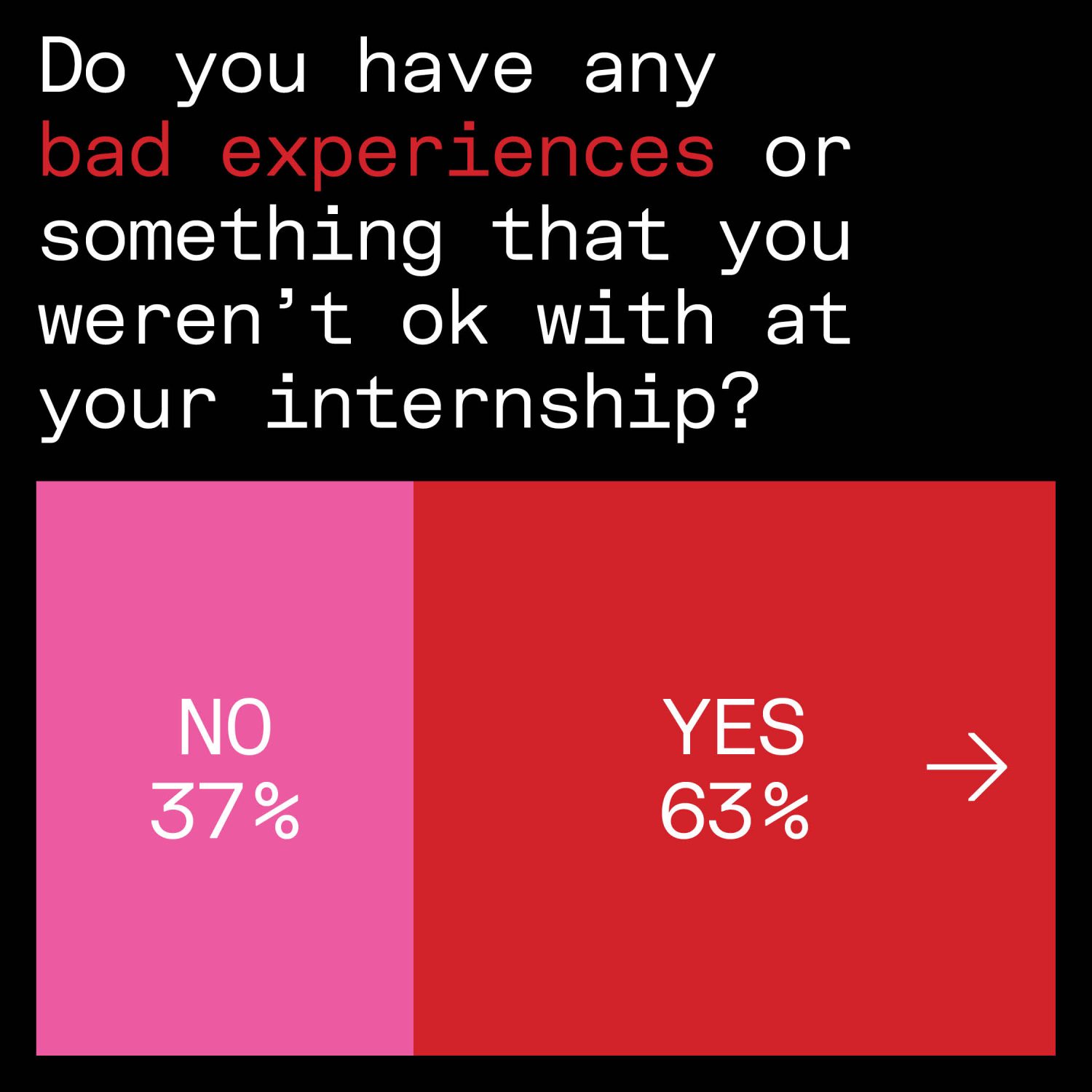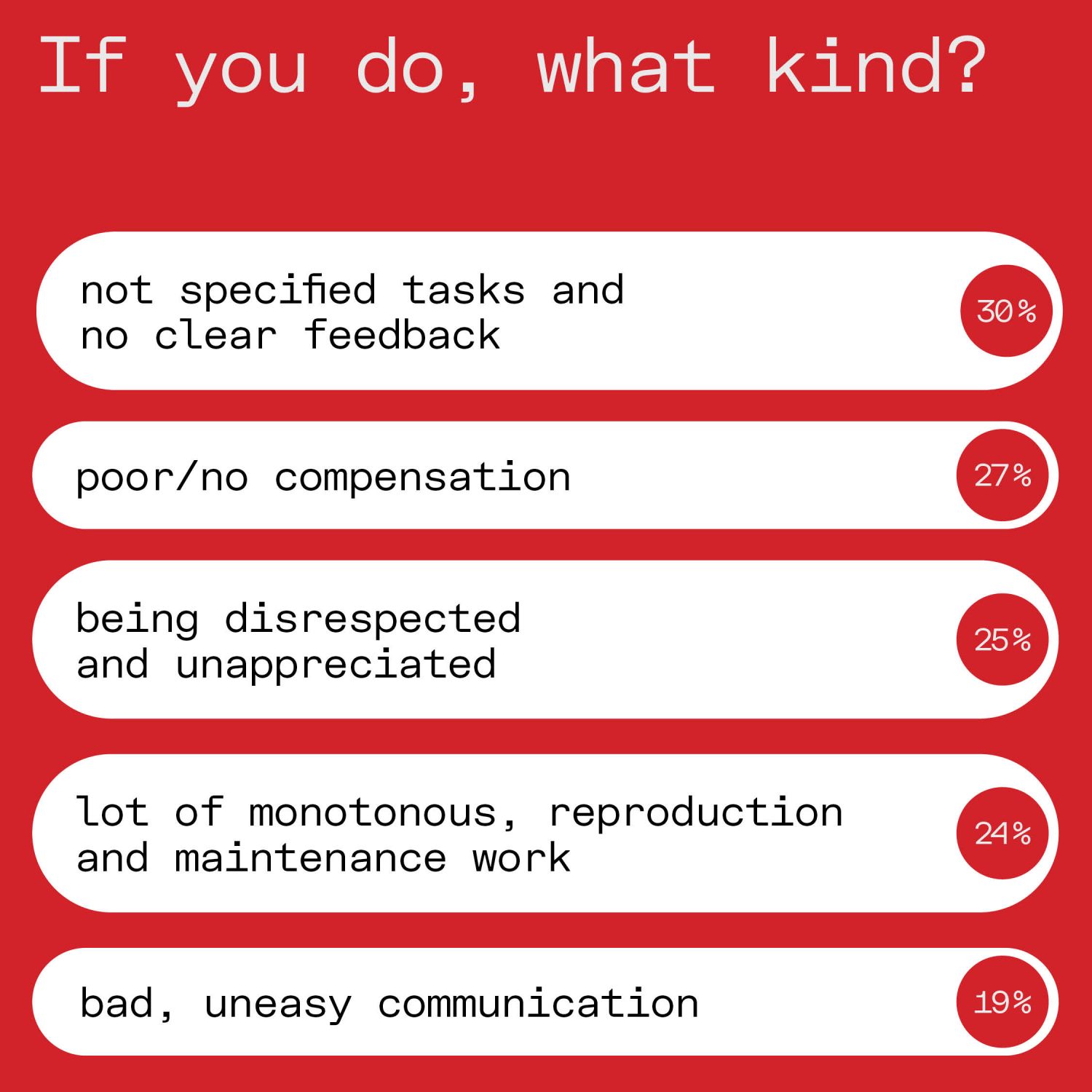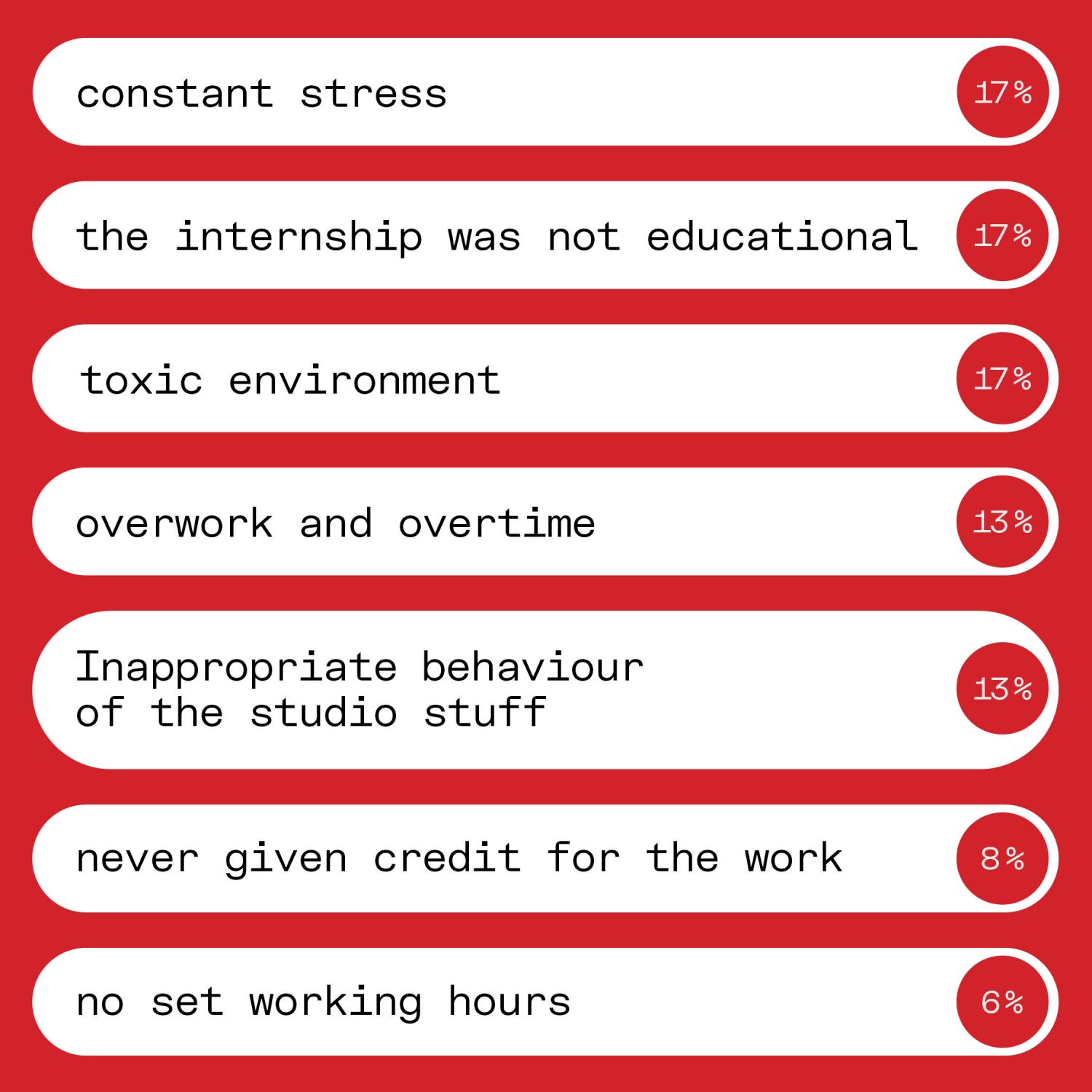 When asked about working conditions and the experiences they had, over 60% of interns stated that they had at least one bad experience. It was frequently cited that along with getting no constructive feedback and working on unspecified tasks that there was uneasy communication within the workplace. The second most reported issue (unsurprisingly) was poor or zero compensation for the intern's work (as mentioned above over 20% of internships were unpaid). A lot of interns also reported that they felt disrespected, unappreciated, and not welcomed into the team. Many felt that they were working in a toxic, stressful workplace and noted that they were forced to work overtime, which was usually unpaid. Many interns also stated they were only given monotonous and maintenance tasks where there was almost no room for learning anything new. Sadly, there were also a lot of mentions of inappropriate behaviour of co-workers or management towards their interns. 
When talking about the good aspects of internships interns particularly appreciated working in a friendly environment, getting constructive feedback and clearly defined tasks, while also being respected and treated as part of the team. They were also grateful when the internship actually provided a degree of training, allowing them to learn new skills and gain valuable insight into the industry.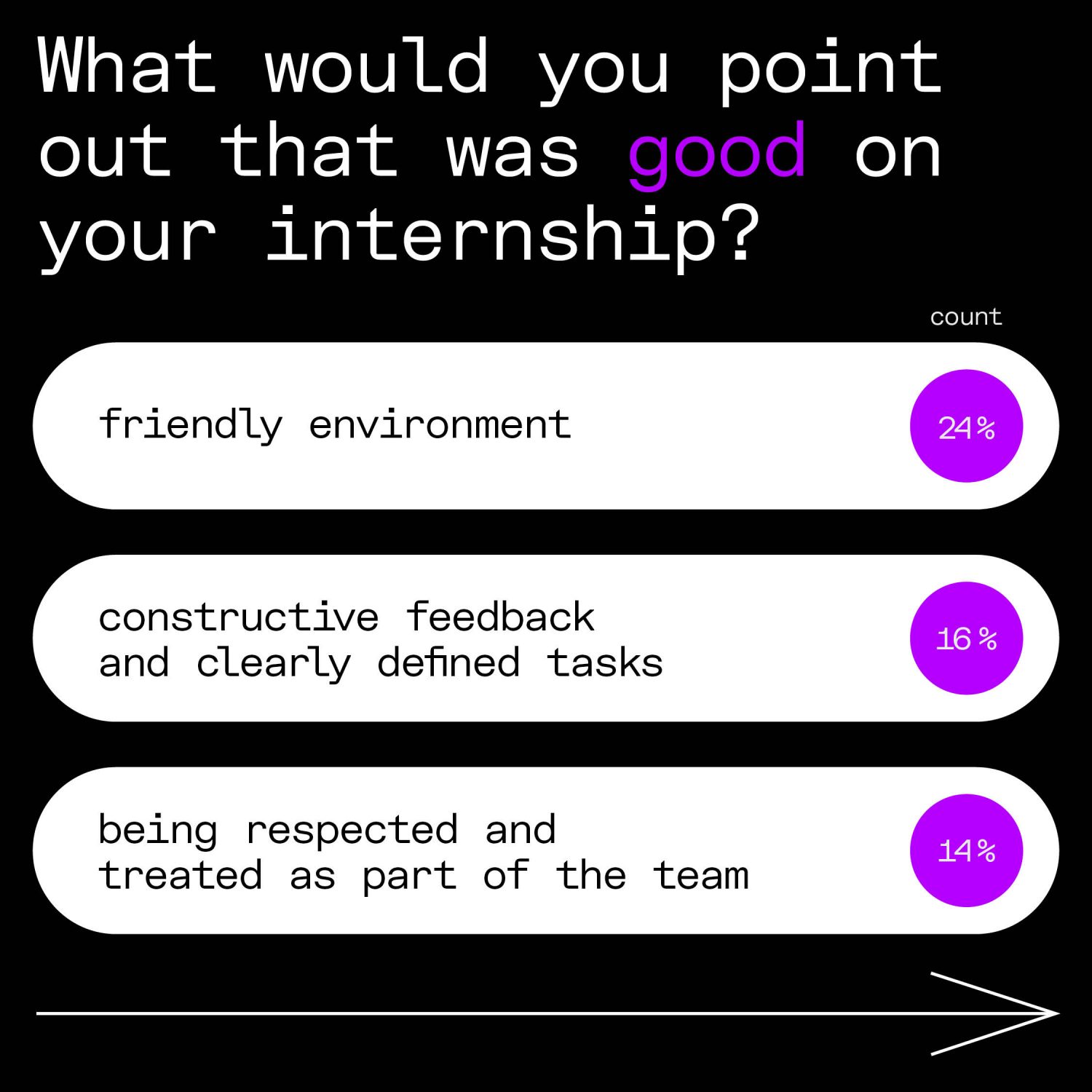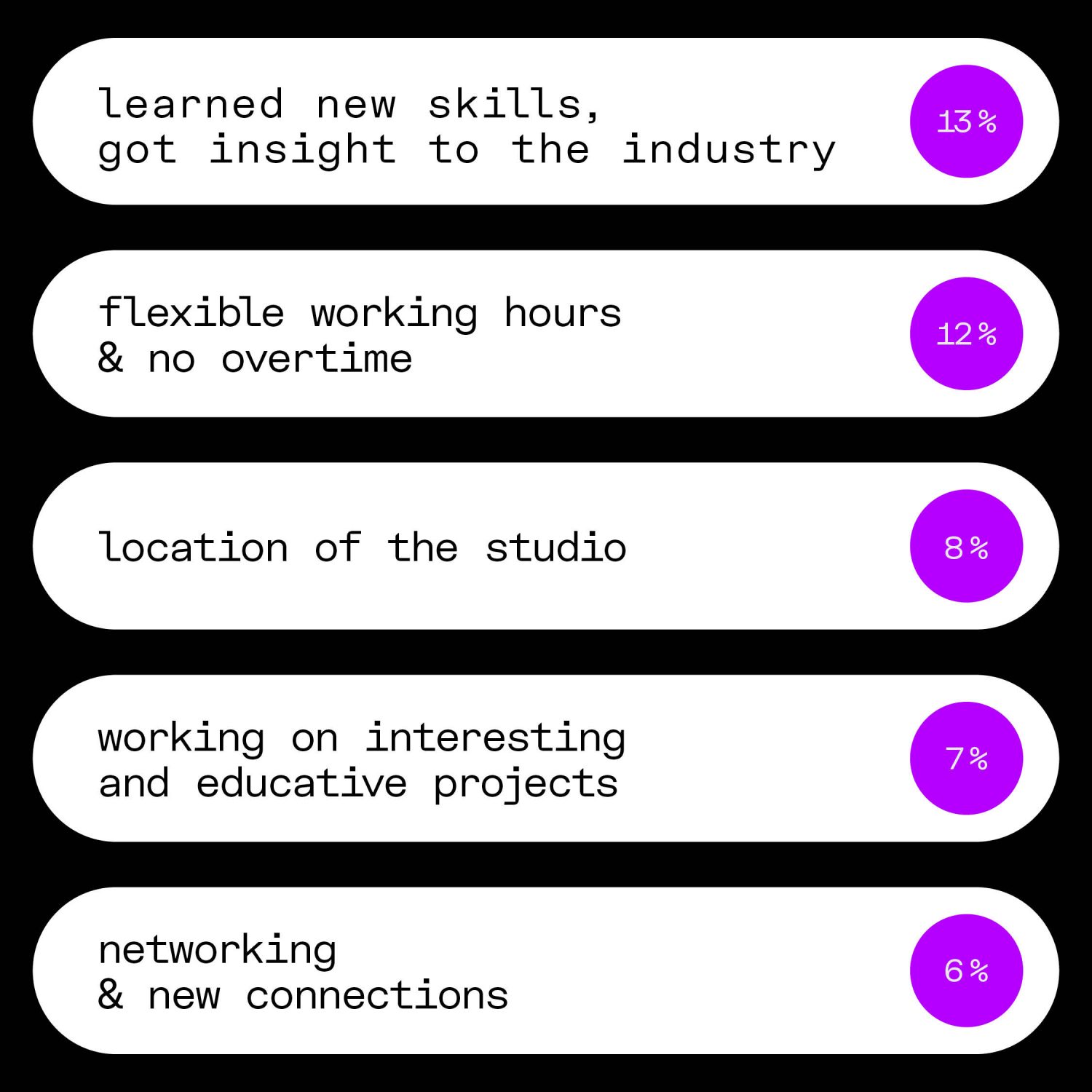 Bad experiences:
"Some had to work with their own laptops. If you are a female intern, I advise you to be prepared to speak up and let him know when he crosses a line. Not that it's your fucking job, but just for your own sake. He had a way of making inappropriate jokes and his behaviour can be disrespectful towards women."
"No one told me beforehand, that of 25 employees in my team, 20 were interns."
"The attitudes of company founders and some employees were condescending and disrespectful like you were of lower value. Obviously, the company was making a very good profit, but did not pay for their interns."
Good experiences:
"I did a lot of stuff during the six months in a positive way. There was no stress or night shifts. No exploitation beyond the relatively low wage. I worked there afterwards for a year and a half and got a lot of support in terms of awards."
"The team was extremely friendly and ready to help. Sometimes they overlook the interns but they don't mean bad by it. The clients they have are very good usually, and they involved me in client meetings instantly and let me take over big clients and gave me a lot of responsibility."
Conclusions and Recommendations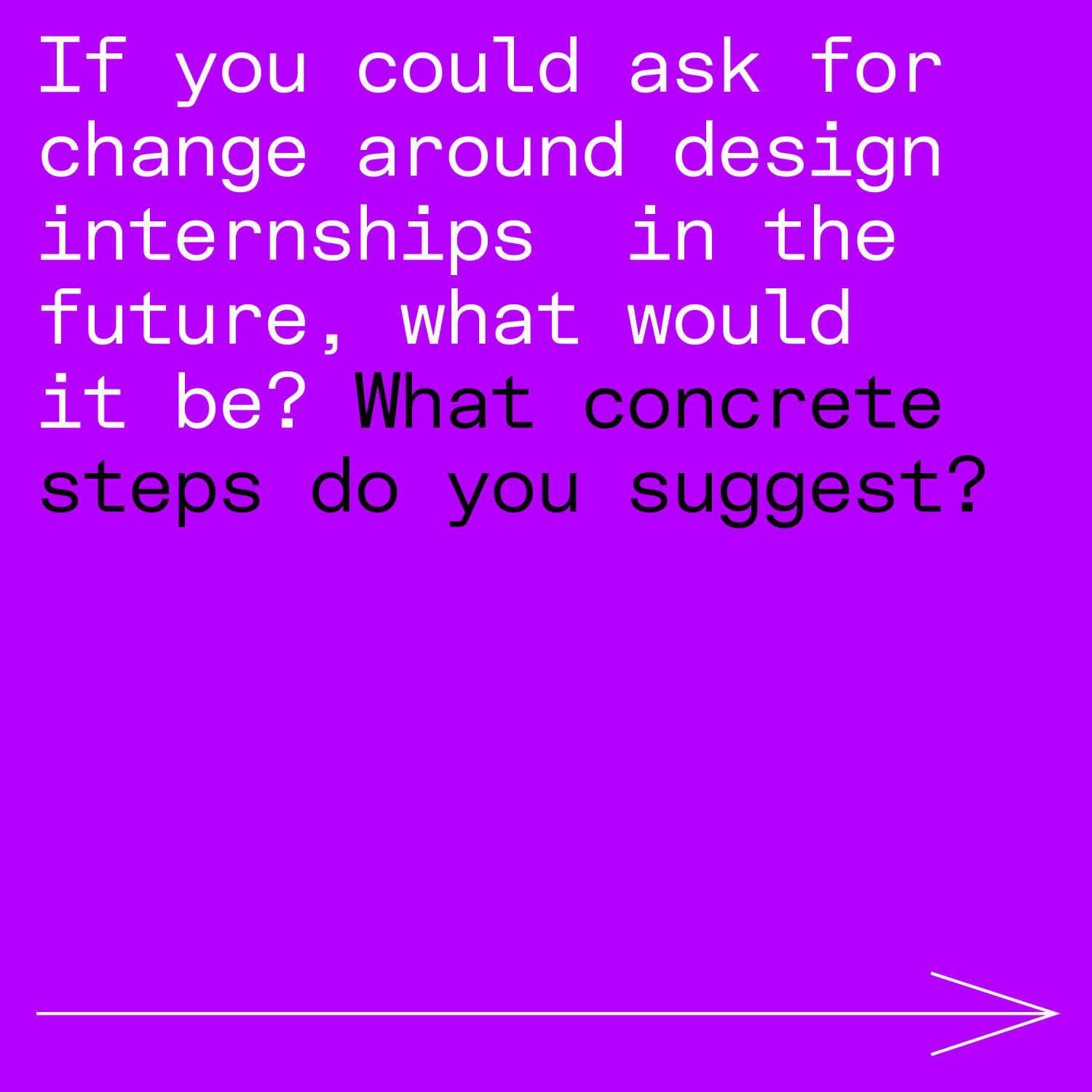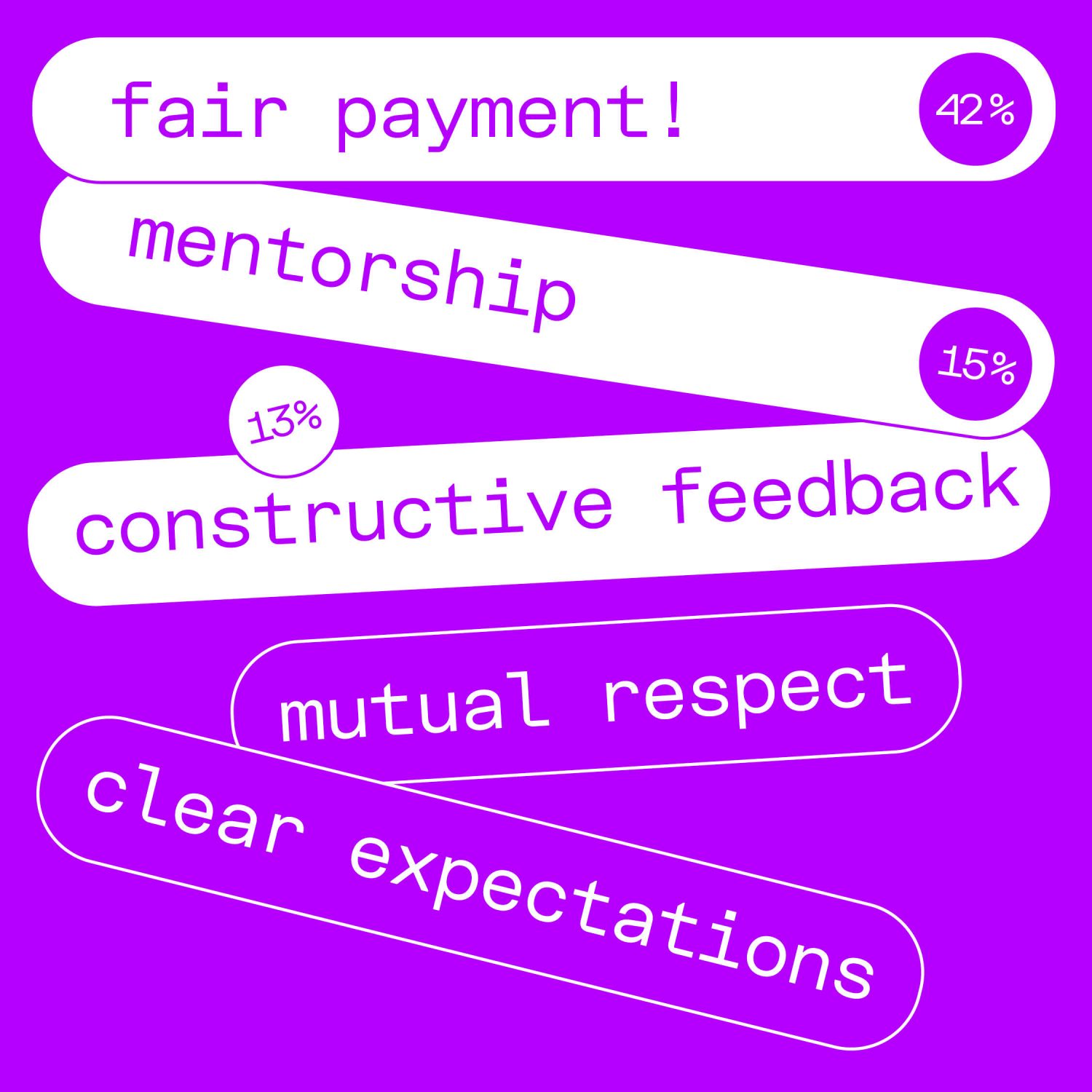 As the data clearly shows, the "internship industry" faces significant challenges that should be addressed in order to build a more inclusive, positive future. In our last question to survey respondents we asked them if they could request a change around design internships in the future, what would it be? What particular steps would they suggest? The results of the survey show that the main requirement of the interns to the industry is that the interns are no longer considered as cheap or unpaid labour. Many respondents also suggested that interns should be properly supervised and mentored. Internships — in theory at least — are meant to be educational and instructive so interns should always receive a degree of training and constructive feedback so they have the chance to learn new skills. Another request was to treat each other with respect and discuss the internship expectations in advance. For many more specific insights, please check the spreadsheet and consider adding your experience via the survey here.
"I've done a couple of internships and my main request is for companies to pay fairly to their interns, otherwise only the privileged can get such experience"
"Integrate interns into the real processes of their work and treat them respectfully. Treat them with respect and value their work with a wage."
Tips on Finding Internships
Before you start looking for an internship, it's really important to think about what you want to achieve with it. Is an internship the best way to get what you need? If you want to do an internship to gain practical work experience, it might be even more beneficial to just start on your own. If you have decided that an internship is really what you want, be alert, and don't be afraid to ask specific questions during the interviews so you would know exactly what you are getting into.
We wanted to write down a detailed guide on finding a good internship and when to pay attention in the lead up to starting one, but this great piece by Jasmine MacPhee (founder of Find Your Intern) beat us to it.
Here though are a few questions (for the interview) which might help you get the information you need and some red flags to watch out for. Don't be shy to negotiate about your working conditions, you don't have to accept everything.
How much will my salary be?

Are there fixed working hours?

Will I be supervised? How often will I receive feedback?

What kind of tasks will I perform? Will I be involved in the decision-making process? What responsibilities will I have?

How many other interns will work at your company?

Is there a possibility to get a paid job after the internship?
Some red flags to watch out for:
They are not really interested in your work and what you do

They only care about when you can start

Your salary is not discussed or even mentioned

They don't tell you what kind of tasks you will be working on and what your responsibilities will be

They have more interns than paid staff
When you find the right internship for you make sure you get as much as you can out of it. An internship should be above all, a learning experience so don't be afraid to negotiate the type of work you will do and to ask for feedback and mentoring.
In closing, we'd like to share a few other great resources that might be useful for you:
Pay Your Interns NYC – List of companies & studios in New York City that pay their design/creative interns more than the NYC living wage. There is also a London version.
Surviving Internships: A counter-guide to free labour in the arts by Carrot Workers Collective – Alternative internship guide, addressing the growing phenomenon of unpaid or underpaid labour that is happening under the headings of internship schemes, volunteering, job placements, and trainee positions. Written in 2009 but still very relevant.
Art + Museum Transparency End Unpaid Internships Spreadsheet – spreadsheet by Arts and Museum Transparency initiative, focusing on internships in art institutions.
You can find many more listed on the second page of our spreadsheet.
A big thank you to all the interns who have shared their experiences with us. The spreadsheet is still open for submissions, so if you haven't yet, you can share your story now. We want to keep this public record for internship experiences going and for the database to become more thorough and useful as time goes by.
We're full of admiration for Design Interns Club and welcome the opportunity to create both a meaningful resource for those who are looking to secure a quality internship and an unfiltered account of what's actually happening in studios around the world. If you've done a design internship, please consider adding it to the resource via the survey here. We'd love to see a new wave of accounts added, broadening out the effectiveness of the campaign and providing more insight from our global audience. In an industry that's often pretty savage for new entrants, here's one small way that we can look out for one another.