It's Not Me, It's You
Find Your Intern founder Jasmine MacPhee has seen and heard it all when it comes to dodgy internships, so she's sharing some top tips to help you sort the good from the bad
It looks like a good one, it smells like a good one, but there isn't exactly a TripAdvisor for internships (yet, watch this space). So what do you go by? Your gut? The brand reputation and popularity? The number of followers they have? The amount of "exposure" you will get in turn for working? The fact that it is actually paid? Maybe, but ultimately these factors won't actually guarantee a great internship.
 So how do you protect yourself and be certain that you have found a good one? Well, over the last few years of investigating this part of the career journey, I've been evaluating the way in which employers work when it comes to hiring, placing and working with an intern. I hear feedback from employers, I hear invaluable stories from my community of interns and I'm on hand here to help you spot some of the warning signs that give away the not-so-great internships.
Stage One: The Ad
"I got an interview for an internship but it didn't say online how long the placement was, so I emailed to ask. They said one month but I was looking for 12 months. They said no problem they want to make it 12 months full-time for me due to my experience. So after a few months I did a video interview, a big project and got to the final interview and only then they said it had changed to part-time for three months with no possibility of a year placement."
Hannah, University of Leeds.
You've trawled the web and stumbled upon a position that seems to be a good fit for you. Fabulous. This is the first aspect of the internship position that you see, a first look of what the brand has to offer. So first impressions count right? Right. So how to spot a bad ad?
Firstly, are all the details of the role correct? From the length of the internship to the financials. The ad could say that they are looking for a graduate, but the role is unpaid. This is illegal and a huge red flag for you. Abort applying-for-this-role mission.
Once you have clarified all is legal and they can offer you what you financially need, then think about whether they have taken time to write the ad. Can you spot spelling mistakes? Grammatical errors? If they haven't invested time in the writing an ad, do you think they will be invested in you? In my opinion, if a brand doesn't choose to pump time into looking for an intern, their valuation of an intern is low.
Do you feel satisfied with the ad content? Does it explain the role and your responsibilities fully and clearly? At the very least a good ad should explain the brand, start date, length of placement, paid or unpaid, location, requirements of the intern and the intern role duties. (Pro Tip: if it is missing some vital info, do try and find out from them before you start the application process)
If the brand has a good understanding of what the role will entail, then this shows they are clear on what tasks to later give, delegate and assign you to. In my experience, if this is not clear in the ad, the employer doesn't really know and this could later be a problem. Subsequently, you may walk through that door and it could be disorganised. You are then sat twiddling your thumbs and not learning.
Also, if the role and responsibilities are not clear in the beginning, then your role can become something you didn't initially apply for. You may have applied to a fashion design internship where you will "assist with designing" but find yourself packing and folding clothes. 
Do you feel excited by the ad? Have they gone that extra mile? For example, marketing agency, Element London, writes in a paid internship ad; 'Interesting fact: Over 50% of our staff have started as interns'. To me, that's cool. They have instantly grabbed my attention. I advise interns that when they are applying, ATD (attention to detail) is so key, it is also the same for employers.
If you can't wait to apply, then you are onto a winner. But don't rush the application. Keep it cool.
Stage Two: Employer Interaction
"A well-established brand asked me to come back and intern with them at London Fashion Week. We agreed on a date and she said she'd contact me in the following weeks just to confirm nearer the date. A week before I was supposed to start, I get an email apologising for them being MIA and telling me there's just a problem with communication with HR but they'll email me next week with details… I still hadn't heard anything so I emailed asking what's happening. I get a response telling me that they aren't actually taking on interns now. I was just a bit shocked. They contacted me asking me to join them to then cancel four days before my start date."
Robyn, London College of Fashion
So, you have applied for the internship and you are waiting for that golden email to ask you to come for an interview. But before actually getting to the interview; there may be some interaction with the employer, such as email correspondence and calls. How professional the employer is in these next stages, is a very important indicator of what could be to come.
Before getting to the interview, the kind of dialogue between you and the employer is very important. Their level of professionalism here should be subtly monitored. Are they polished, polite and clear? Is their communication sloppy? Are they punctual? Have they called when they say they will call? Do they leave you waiting?
Do they keep changing your interview date? It is hard enough juggling uni timetables, mixed with part-time work and deadlines. Interviews need to be set in stone and you need to be confident they are not going to cancel or mess you around. Especially if the interview is not local and you are personally funding travel to and from it. If the employer has a valid reason, fair enough, but if they're being elusive and flaky, this really does not bode well for the actual internship. Those red flags are out again!
Stage Three: The Interview
 "In an interview with the designer and HR, the HR representative talked to me in a very disrespectful way. She was talking me down, making fun of me and when I gave her a short explanation then tried to continue by showing something else, she wasn't done. She started to argue with me about the concept of the project and continued by asking me how I could have a phobia like that. When we did finally move on she was very disinterested in my work, stayed on her phone and barely listened anymore. When she did, she made more disrespectful comments. I felt so shocked at that point and couldn't believe what just happened, never had I talk someone in such a disrespectful way about my work, personally attack me and treat me as if I'm stupid."
Judi, Stockholm
An interview is likely to be your first human interaction in this process. With human interaction, comes natural tell-tale signs and emotive feelings. Until you meet someone in the flesh, your perception of the role can be a guessing game.
The meeting place of your interview is a very important factor in determining the vibe of the internship and brand. You may be asked to meet in a coffee shop, which leaves some important questions such as; do they have an office or a studio as they said? Where will I be working? Is there a reason we are in a coffee shop?
I once met someone for an interview in Costa Coffee on Edgware Road when I was at college. I travelled from Bath to London for this one-hour appointment, not too far but not a cheap train fare. Back then I carried a physical portfolio with me and I just remember sitting on this tiny little stool, on this tiny table which was covered in residual coffee – trying to navigate through a huge A3 portfolio. It was mega busy and not a private environment. Trying to talk through your work confidently and clearly when everyone is buzzing around you is not easy! It was stressful, I felt uncomfortable and instantly my first impression of the brand and internship position was bad. I didn't want to work for them. And I didn't.
The main thing here is that it doesn't really matter whether your interview takes place in an East End coffee shop, their plush head office or a funky co-working space; it is all about getting a gut feeling on the environment and the interviewer. The brand. The potential position. Your intuition should kick in and it is really important to listen to it. Evaluate your surroundings. Do you feel comfortable? Does it feel right? Does the brand portray to be high-end but really they are just based on an industrial estate just off a ring road? Any attempt on their part to misrepresent the brand should also be considered a warning sign. Most emerging brands have to fake it until they make it a little, but it's very different when you get the impression that the whole operation really isn't what it claims to be. 
Lastly, but most importantly, the interviewer. What vibe do you get from them? Do they understand the role fully? Do they explain it clearly? The more they know about it, the better for you. If they are vague about the role and responsibilities, this is a prime indicator that role may not be fully thought out. The interviewer could be someone you could potentially be working with so, could you work with them? Are they nice? Do you like them? How did they treat you? How do they represent the brand? If you don't gel with them, then honey, "It's not me, it's you".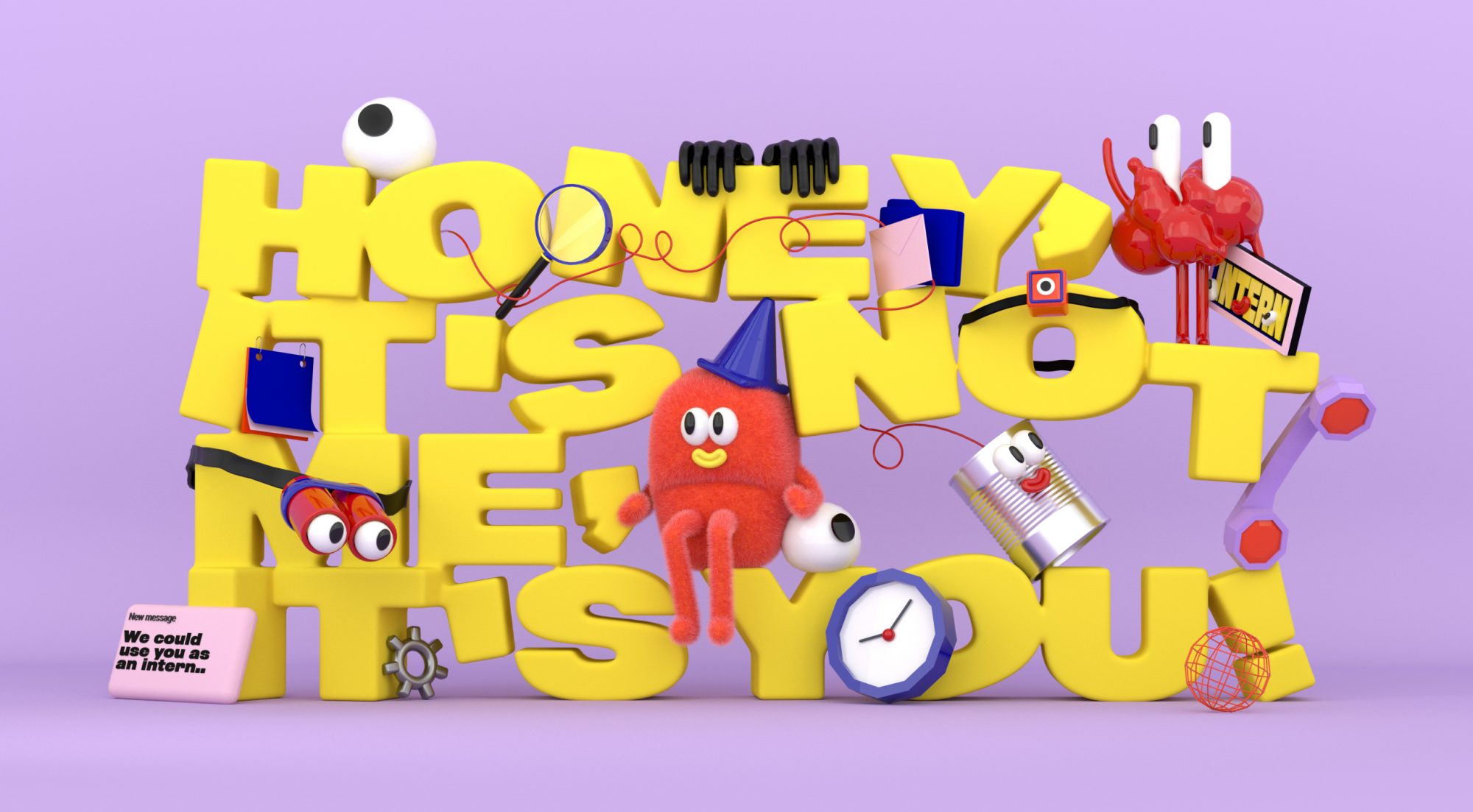 Jasmine MacPhee is Founder of Find Your Intern, a platform that advertises paid only internships and offers tips, tools and products to help you to identify and secure the right starting point for your soon-to-be illustrious career shaking up the fashion world. It's a one-woman operation and Jasmine is giving us life with her awesome Instagram feed which you've got to follow right here. Eva Cremers is a wonderful graphic designer, illustrator and animator hailing from Groningen in the Netherlands. We tried to pronounce Groningen when we caught up with her a couple of weeks back and got it embarrassingly wrong. Eva is on the rise and you're going to see her work in some crazy places soon. She's mastering Cinema4D right now and we are blown away with how she has brought this feature to life. Follow her Instagram here for more wonderful characters.