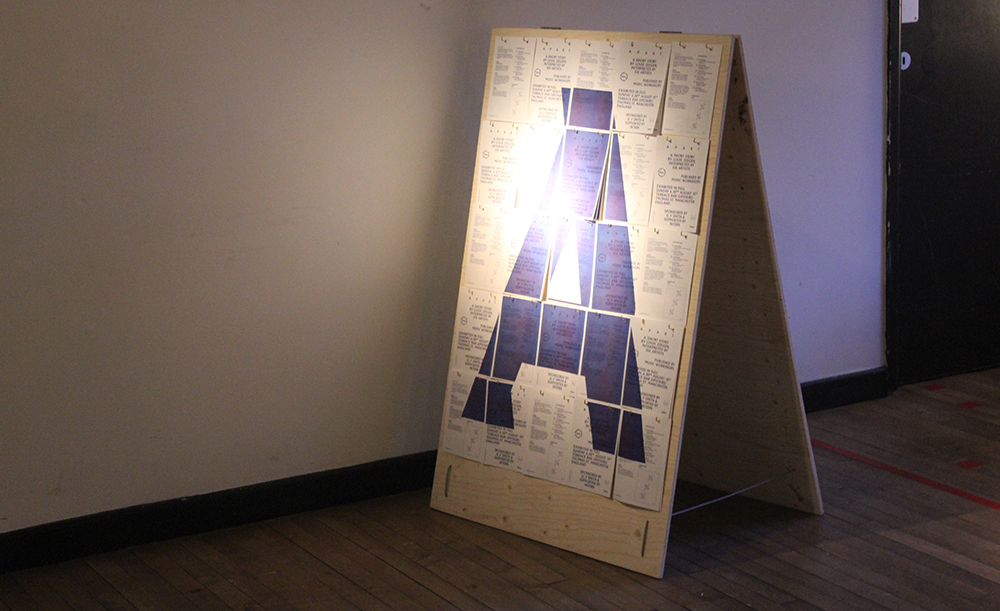 A couple of months ago, at the Stockport College graduation show I got talking to Jon Bland and Dan Lancaster of Music, a creative and branding agency based in Manchester. They were excitedly discussing a series of workshops that they had started as a new way of approaching the applications they received for internships.
With students and graduates based outside of Manchester often getting in touch, Jon and Dan felt that having people make the trip for an interview and portfolio review was pretty unreasonable, particularly if it turned out that they weren't a good fit for the agency. The pair decided to instead run weekend workshops where a small group of applicants could all work on a brief, the fruits of which would be turned into an exhibition and a publication. Off the back of the weekend, a number of the young creatives then go on to work or intern with the agency, the internships are of course paid.
Intrigued by the idea, we at Intern supported the latest in this series of workshops which began on Saturday morning, culminating in a fine exhibition last night. Curious to get a feel for the process (an integral part of any experience like this) I paid Music a visit on a dreary Mancunian afternoon to see how the six young creatives were getting on.
Having been greeted at the door by Jon and welcomed in from the rain, I was immediately enthused by the flurry of activity in Music's Lever Street studio. It was also really nice to see that a couple of the current interns, Ross and Lottie were getting stuck in too, after all, Louie Zeegen – the copywriter whose short story the brief consisted of – had also previously interned with Music.
Louie's short story A P A R T had been split into six segments, Jon & Dan had created a quick program to attribute each of the six contributors one at random and then armed with the studio printer and a selection of A5 Colorplan paper from workshop sponsor GF Smith, each had to develop an interpretation that included the text.
Given the material parameters of the task, I was instantly impressed by the variety of approaches taken by the youthful hexad. First up for a print run was Mark Simmonds' stretching of the fifth segment – a glorious injection of comedy from the perspective of an "atmosphere technician" on Top of the Pops, charged with delicately fogging the stage during Simply Red's performance of Holding Back the Years. Each contributor had one side of a sizeable A-board to fill in a uniform grid and while Mark had elected for the simplicity and impact of one A5 "tile", Rob Headley, Rachel Dalton, Liv McCarthy, Saori Masuda and Joel Burden each explored the potential of the grid format.
As the afternoon drew on, the exhibition was just a matter of hours away and the weather was conspiring to make the transportation of the final pieces and publications a little tricky. Fortunately, Ross and Lottie were on hand to weatherproof everything and handle the logistics, freeing up Jon and Dan to closely liaise with each of the contributors as their final pieces took shape. It struck me that in this relatively short time, that the Music team had drummed up an impressive team spirit – as soon as anyone finished their work, they quickly moved to see who could be helped next. It was proof of the openness and willingness of the six youngsters taking part and evidence that the experience was going to be worthwhile for all concerned. At the very least, over the course of a weekend and on a bit of a leap of faith, each of these six would have collaborated on an exhibition and publication turned around in less than 48 hrs.
With only a few hours remaining for everything to be completed, printed, transported and set up at the exhibition location (Terrace NQ) I decided to get out of everyone's hair and, after taking a few more photos waded back home, keen to see the final result later on that evening. I'd been very impressed with the preparation, could a truly engaging show be put together in such a short space of time though? I'd find out soon enough.
Despite no real break in the weather, upon arriving at the exhibition I was very pleased with the turnout. It was particularly impressive for such a short project, but testimony to both Music's innovative and pro-active approach and Manchester's resultant endorsement. The A-boards looked great, with a trio splitting to room and presenting Louie's story in a manner I'm quite sure he never would have envisaged.
The combination of the GF Smith paper and a surreptitious discovery when overprinting on the Music laser printer meant that the purple colour palette added a great depth and character to the aesthetic of the exhibition. Suspicion was that the heat of the printer was somewhat unsettling the toner on the second runs, the result had an almost risograph-like feel to it and worked beautifully with the texture and tones of the various shades of paper stock.
A limited edition publication, four more of which are to be produced, cleverly compiled each individual "tile" of the exhibition and made for a fittingly rich artefact to what had come together as a fine project. Rob Headley's visual illusion depicting a hand cleverly and instantly set the tone for what was a great mix of abstract interpretations and spins on Louie's story. Rachel Dalton brilliantly juxtaposed this with a map of text, each page offering a key of arrowed instructions informing you which snippet followed it – the confusion relayed in the narrative had been visually reiterated for the audience.
Liv McCarthy had dealt with one of the more nightmarish elements of the tale and her contorted text and imagery dealt well with the shrill tone of the segment, as the protagonist battled against his unnerving discombobulation. Saori Masuda's microscopic section of a bee's sting was subtly distorted and fading in keeping with the semi-conscious state of the tale. Mark Simmonds' Mick Hucknall –inspired comedic intervention took me on a different path all together but arrived at a perfect time, just before Joel Burden's photographic grid piece – a collaboration with Rachel – marvellously bought the story to its abrupt ending when a vision of a lover appears, only to disappear again as reality starts to set in.
Having discussed the weekend with the contributors and the organisers, it seemed that one and all were very positive about the weekend and I think they are completely justified in that. From a (relative) outsider's point of view, the opportunity to collaborate, create and make something is always worth taking a closer look at. Already, a couple of the contributors are being taken on by Music, others have been snapped up elsewhere. To think that all of this came from two guys thinking that is was a bit of a stretch getting people over to Manchester for an interview, quite frankly warms my heart. As we spend our time discussing, it's often hard working out (paid or unpaid) whether an internship experience is worthwhile on a personal level. What this weekend has underlined for me though, is that the more rewarding experiences for all parties tend to arise when the "employers" invest time and thought into their approach, add in one part each of human decency and passion, and you're left with something pretty damn good.
It was great to support this project and I'm looking forward to doing so again with the next workshop by Music. If you think this might be something that you would be interested in being part of, you can apply for the next edition via the following link.