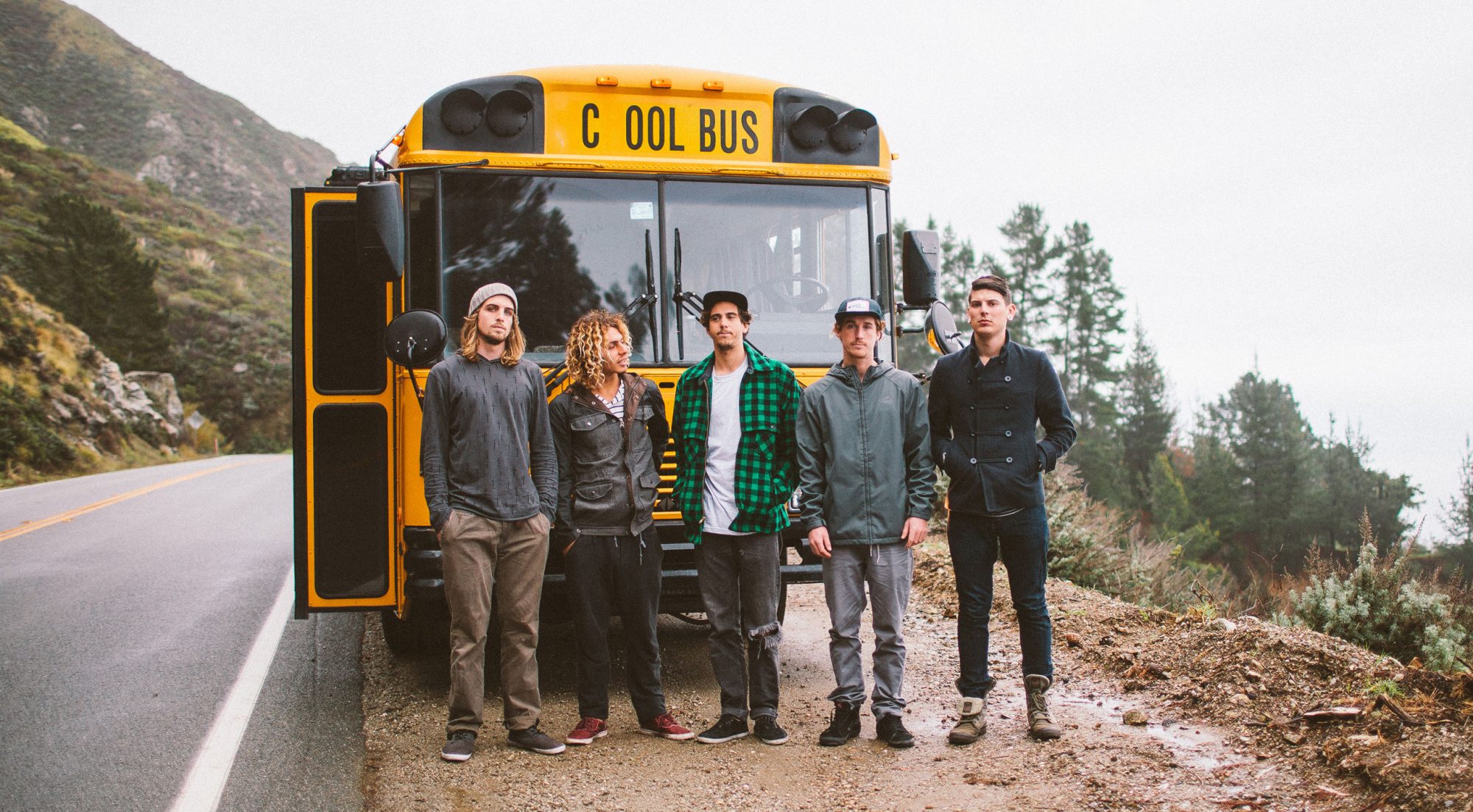 Cool Bus
The story of five friends who, rather than work unpaid internships, converted a school bus into a mobile graphic design studio and launched their careers.
One of the first things I notice as I step into Logan Meckley and Paul O'Dea's Brooklyn apartment is the hatchet on the wall. "We had it on the bus, to chop wood", says Logan. Now it's wall art.
In 2012, Logan and Paul graduated from Flagler College in St. Augustine, Florida with graphic design degrees. Then they and three other friends bought a school bus and travelled the country together for two months.
They hunted down freelance design jobs, worked collaboratively on projects, surfed perfect waves, braved vicious midwinter blizzards, and emerged still friends.
One wall of the apartment is a blackboard covered with chalk scribbles, and the guys are camped out by a wall screen where they'll look at photos from the trip as I interview them, since, as Paul points out: "We're visual people". As roommates, they collaborate on projects, discuss ideas, chat about surfing, or just hang out. You can't help but be struck by how seamlessly Logan and Paul have interwoven work and pleasure, collaboration and friendship, utility and aesthetics, in every aspect of their lives.  And that has everything to do with their time on the bus.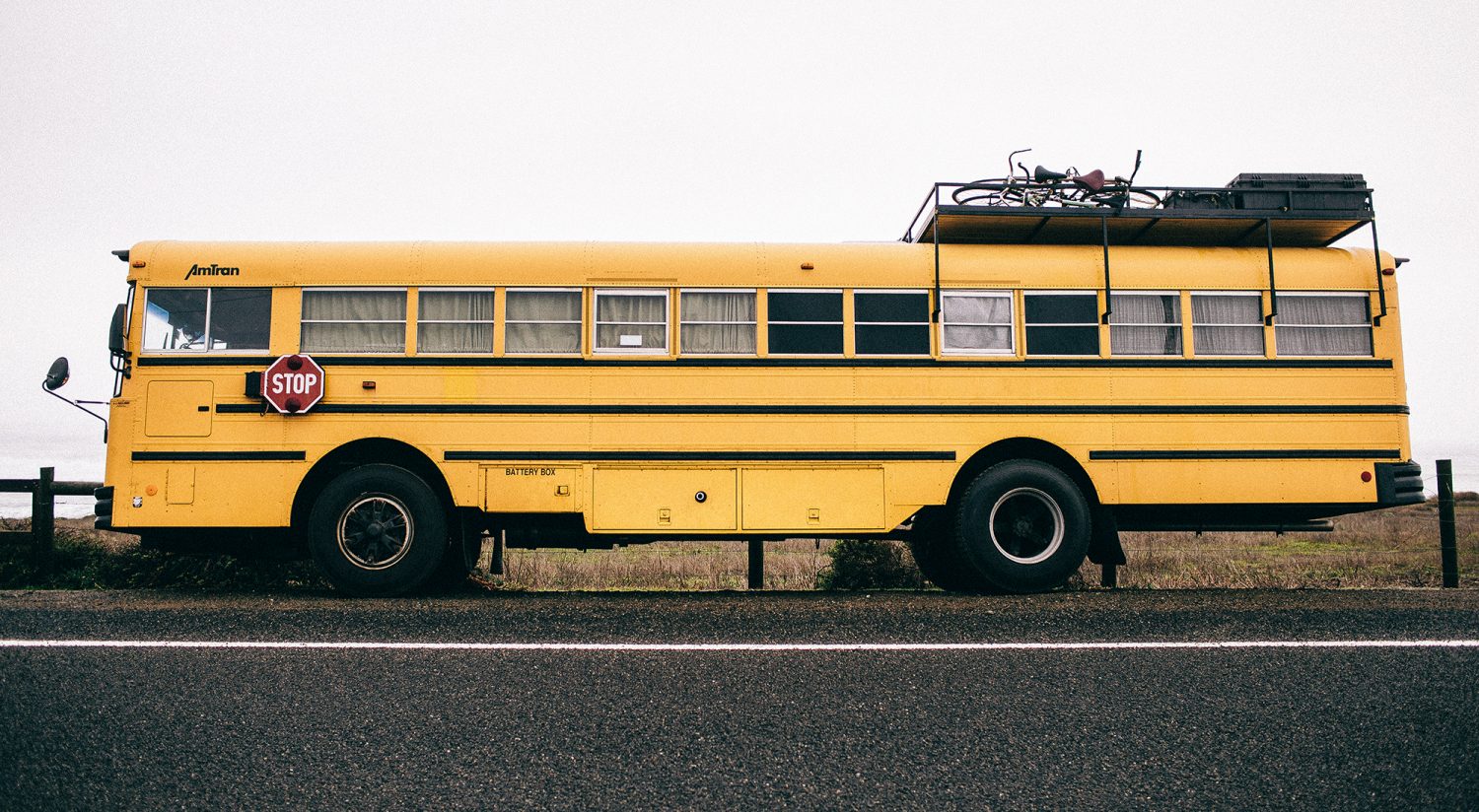 "We knew it would be a good bus 'cause it got the kids to school when it was a nor'easter storm"
Boxes Inside of Boxes
It all started in a restaurant in New Jersey that Logan inherited from his uncle. In summer 2011, he, Paul, and their friends Mike and Justin (J-Brawl), all graphic design students, worked there together. "We would be in a super small kitchen all summer long, and we'd be just spitting out ideas, just like shoulder to shoulder grinding", Logan explains. Paul points out that by the time they got on the bus, they were used to being productive in cramped spaces. The original idea was to take a food truck across the nation, but soon they began thinking outside the box.
Surfing was important, too. "We all met in the water" says Paul. "Surfing and art kind of go hand in hand … in the sense of realising, you don't always have to be this person, you can be this person".
So they decided to become the people who bought a school bus and lived their dream.
Each of the four pitched in $1,000 from his restaurant earnings. Logan and Paul began their final year at Flagler, and the other two discovered a lot in New Hampshire where they could buy a school bus. They chose a bus "made for mountains", Paul says, "so we knew it would be a good bus ['cause] it got the kids to school when it was a nor'easter storm".
J-Brawl drove the bus to Florida, where the guys got their first hands-on lesson in applying skills they'd learned in carpentry and woodworking classes. Logan and Paul also tailored their final projects in metal sculpture class to incorporate bus work.
Logan's final project was the roof rack.  For the final, he brought his classmates onto this "rooftop patio", jokingly reassuring them that his design would hold the weight of two elephants. But Logan soon learned that what worked in the classroom might need adjustment for the real world of cross-country travel. "We were like, 'Oh, we don't need to bolt it to the roof, that's too much work'" he recalls, "but as we were driving around … it had a little wobble to it … so [when we got to California,] we ended up just pulling over at a Home Depot and bolting it down".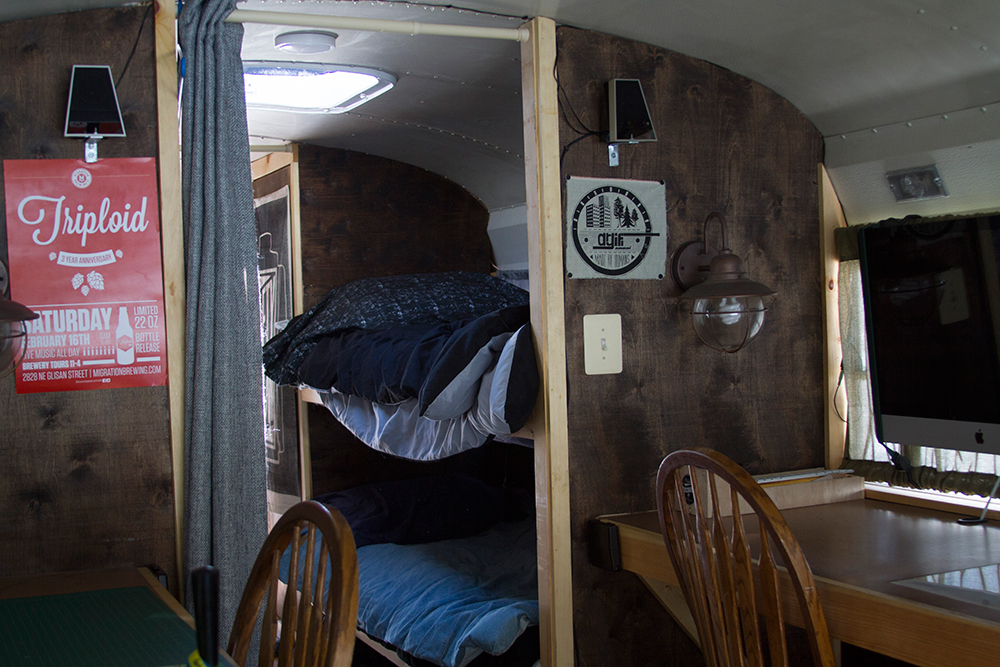 By the time the bus rolled out — bikes and surfboards stowed, generator stocked with gasoline — the 280 square foot interior was a functional living/working space with hardwood floors, bunk beds, work benches, two desktop computers and a flat-screen TV, all built with an eye to compactness and usability. Its crew had gone through several iterations, and now there were five aboard: Logan, Paul, Aviad, J-Brawl, and Josh. Their vehicle/home/workshop was built for efficiency, closeness, discovery: a "land submarine".
Minimalism was the watchword. "Just compacting it and understanding how we were going to put things in boxes, and boxes inside of other boxes, and then push that box underneath" proved to be a learning experience, notes Paul. Logan adds: "You go through weeks of seeding through what you're going to bring, 'cause you can't bring your whole life".
This was a one-way trip. The graduates were committed to figuring out how to move forwards, even if no one knew exactly how. In fact, that was the point.
Paul is usually the soft-spoken one, but he grows increasingly animated as he explains the bus' exploratory mission. "We had the urge to find a little bit more about what we did and learn who else was out there doing it, not just finding jobs but really learning about what people were doing and what the possibilities were" he tells me. "[We wanted to] find out more about ourselves and what we wanted to do … in life in general, without having to do necessarily an internship …  meeting those people and hearing what they had to say about it was super helpful".
It strikes me that Cool Bus minimalism was more than "boxes inside of other boxes". The crew elided cruising the country with career research. They streamlined the daunting duality of work and fun into one journey. They tightened the gaping sprawl of possibilities that terrifies every graduate into a focused and productive exploration. Talk about compact and potent.
And they surfed monster waves.
Meet the Band
The "crew" page of the guys' website featured the photo that opens this piece. It shows the final five standing in front of the bus, its door open, parked on a highway between lazy slopes of brushy mountain. I call it a band photo. Logan, consummate designer, points out that the balance of their heights cuts a parabola. Paul says they'd be a weird band. Be that as it may, they were a team, each one indispensable.
There was Aviad, the only non-designer, who held the others together with his infectious energy and positivity. His knack for making friends also helped them find work.
Josh, a hardworking multi-disciplinary artist, always made an effort to understand the others' work and help out. "Josh was like the inside of your head person" says Paul.
J-Brawl, "the captain of the ship", was the main driver as well as the impetus behind the crew's design firm, Argifi, and "an animal mechanically" claims Logan.
Never in our conversation does the ethos of the trip — unconditional personal and creative support — come across more clearly than when Logan and Paul talk about one another. Throughout the interview, they never miss an opportunity to point out each other's strengths. Paul raves about Logan's design talent and team spirit. Logan describes Paul's "innate understanding of layout" as "astounding" and "beautiful".
That's not to say that there was never any conflict on the bus. "We had more than one brawl" quips Logan, punning on J-Brawl's name. "We were redesigning on the fly, and it was awesome, but it's kind of harsh … but if you can handle [harsh truths], then it's pretty rad, because at the end of the day, you'll be doing something better". Paul adds: "We all had to push each other".
Paul's senior portfolio piece was a magazine representing his friend group in gorgeous photography that announces the intensity and intimacy of these friendships. Logan calls the magazine formally "eloquent" and it testifies powerfully to how finding the right people seems to erase distinctions like friend/colleague or pleasure/work.
"Everyone knew what needed to get done"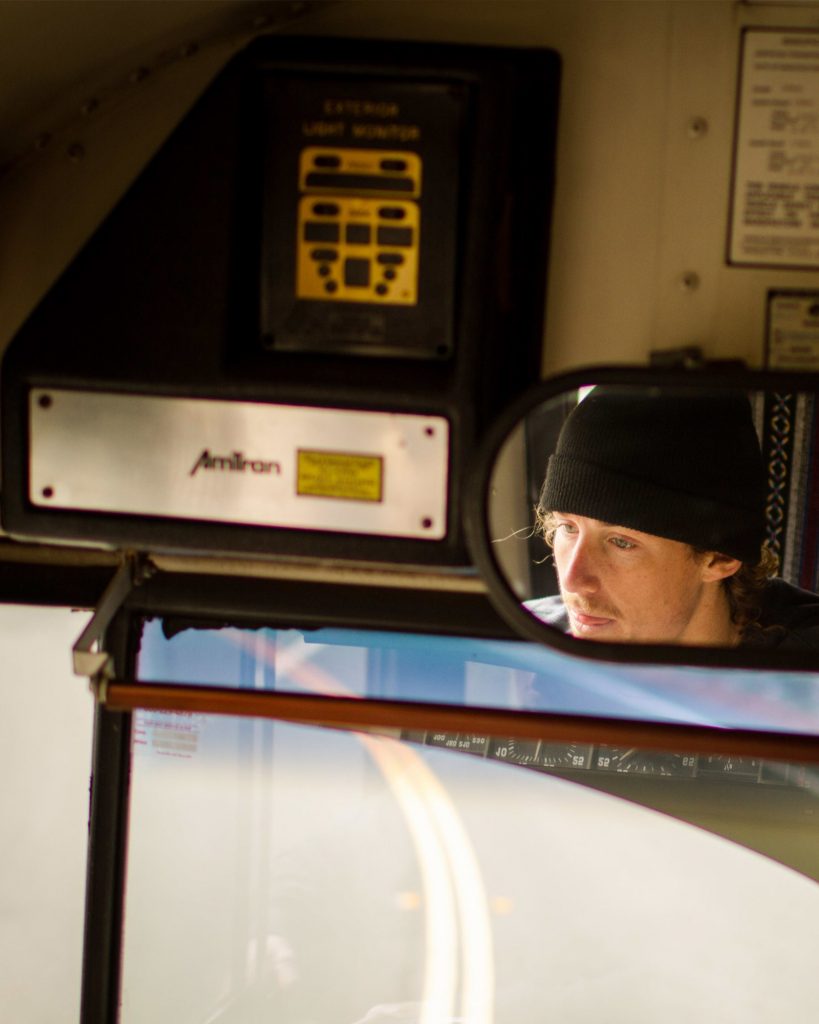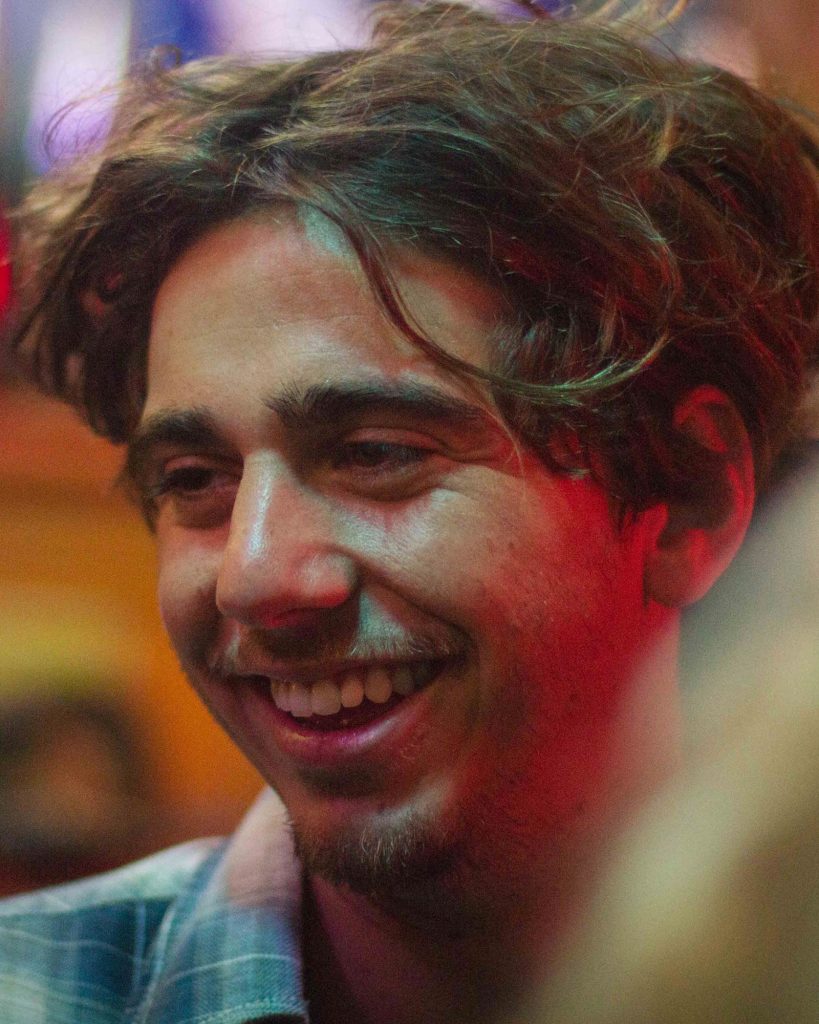 Balancing Act
One way to find work is to apply for internships.
Another is to navigate your school bus — shocking yellow in muting fog — over the unforgiving inclines of downtown San Francisco, then park it outside a Safeway, open the doors, and invite passersby to a barbecue on the roof. That's how the crew met two Forbes journalists and a seasoned bus-converter who tipped them off to a Macworld convention where they dipped their toes into the more "traditional" design world.
School had taught them efficiency and time management, and they were dedicated to balancing work and surfing. "Everyone knew what needed to get done" says Logan. In life, too: even with no shower — new acquaintances weren't only useful for job leads — they were committed to being "somewhat tidy and efficient". And since they were funding the trip as they went along, there was a financial impetus for keeping occupied; no work meant no gas.
"We were always busy" Paul tells me. In their down time, the guys taught one another new design skills, worked on photography and film projects based on the trip, or went out to find work in a seemingly old-fashioned but surprisingly effective way: by talking to people.
When I ask about the challenges of balancing work and play, Paul and Logan struggle to answer. What they come up with is that if you have the right people and the right mindset, it just works. Logan shrugs. "If you're thinking about the balance, then there's probably something not working".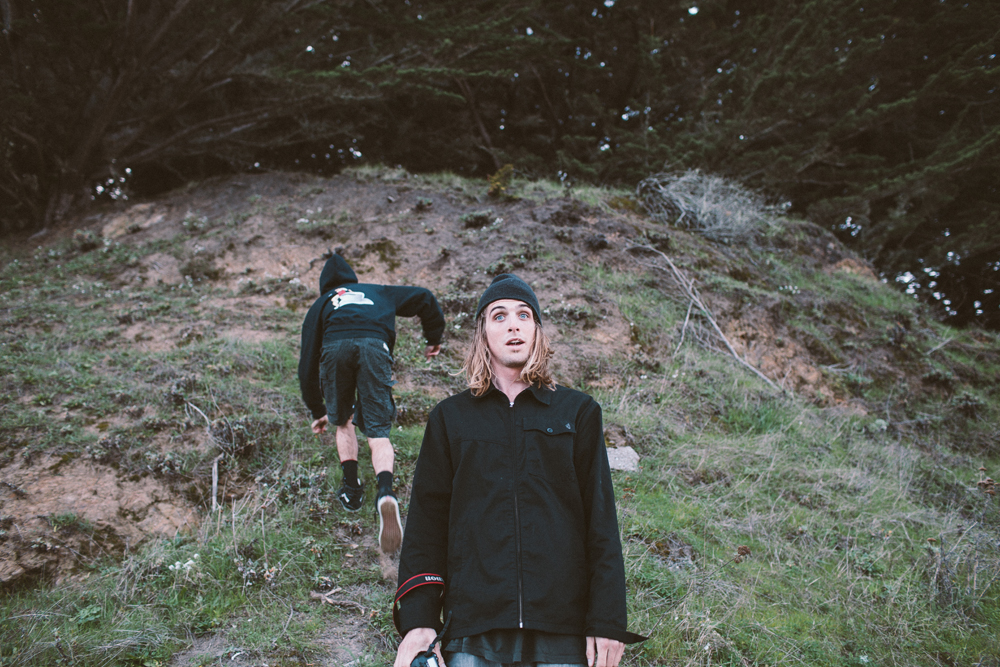 The End of the Internship
For the last month of the trip, the Cool Bus barrelled through a never ending blizzard. Paul calls the contrast between surfing in sunny California and shivering in Canada "a tale of two weathers".
By the end, the bus had rolled from St. Augustine to New Orleans, Houston, Austin, New Mexico, and Tucson. It had crawled up the California coast, skidded into Canada and Seattle, and finally returned to the East Coast.
By the night Paul jumped out of the back on a Manhattan street, caught the bags Logan and J-Brawl threw to him, and met his girlfriend, Alexandra, outside her apartment, the crew had dwindled to three.
The internship was over.
Paul was inspired by Alexandra's success at landing a job in the New York design world but unsure of his own exact plan. He realised that the most important thing he had learned on the bus was "laying things out and giving people ideas of how to look and manoeuvre, and how to see a page in the same way that I wanted them to see it", so he interviewed at The Wild magazine, expecting to follow instructions as a design team member. Instead, he was appointed Art Director. At first the transition was challenging, but once again, coming home to Alexandra and Logan's personal and creative support made all the difference.
"You realise that every moment is this beautiful scenario that you can learn from"
Logan's road was rougher. He tried internships, approaching each with the same eagerness to learn and all-consuming passion that comes through whenever he talks about design. But it turned out that he had already learned an intern's skills on the bus; he was the one teaching his supervisors. Currently, he works at Saturdays, a surf shop in Manhattan, and does art projects (including board design) on the side.
But Logan is ready to get back on the bus. He plans to start a mobile art community, a new alternative lifestyle.
They're both going somewhere fast.
Getting out on the road might not seem like an effective way to prepare for a future as a graphic designer. But the key is the more important exodus that took place. "You're in your own head, and it's comfortable" explains Logan. "When you work with other people, you realise that there're other perspectives [and that] every little tidbit could be something that's a lot more monumental than you think, but still minimalist in the big scheme of things … You realise how much it really shapes you. You realise that every moment is this beautiful scenario that you can learn from".
Even if (and it's a big "if") the behemoth Cool Bus — bellowing along past beaches, hills, and snow piles; past uptight border guards and Haight Ashbury hippies; hauling wetsuits and design equipment; carrying hatchets, cameras, and surfboards — was "minimalist in the big scheme of things", no one can doubt that this internship of discovery, of learning-by-doing-together, was a massive success.