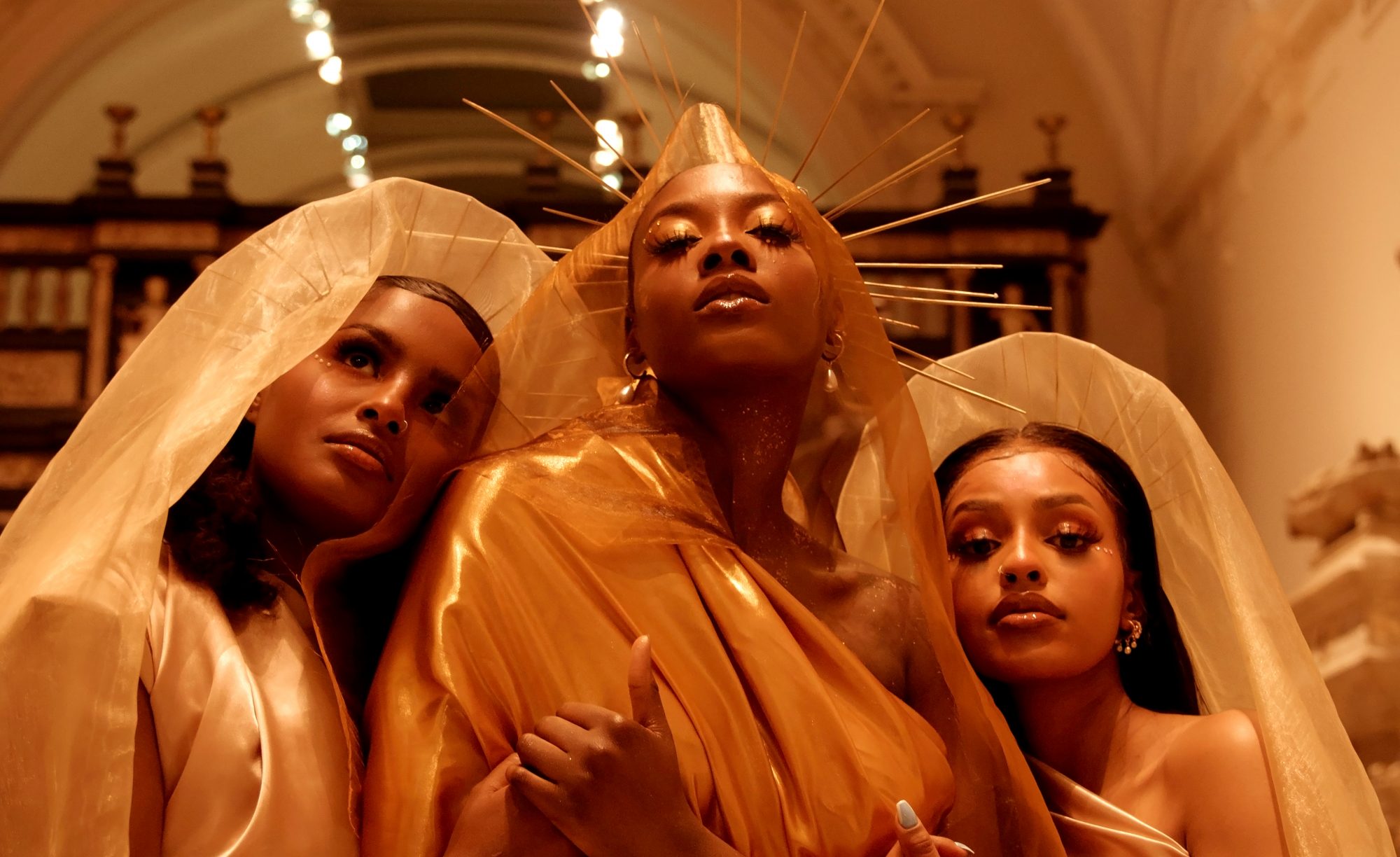 Aisha Seriki sees her photography as a way to affirm her Blackness and identity. There's an undeniably powerful air around each and every one of her images that celebrates women and notably, women of colour. Aisha is particularly focused on portraying women in this light as she feels they have too long either been kept subdued or kept out of society. Aisha is a weaver of stories, blending the personal with historical influences. Channelling this into her photography, she has an incredible talent for creating narratives of both sensitivity and strength.
During a trip to the Uffizi Gallery in Florence, Aisha admired the beauty of the paintings – however – it was terribly obvious who was missing. She recalls, "the clear absence of Black people in the gallery was hard to ignore. It is important to note that this absence is all too common in most Western art institutions". The photography series 'Heaven is not closed', is her incredibly powerful final work for the Night School programme facilitated by Yellowzine and The Brooklyn Brothers. It highlights and comments on the absence of Black representation in museums and galleries through similar compositions to the portraits in the Uffizi. "Even though museums have been a hotspot for representing cultures and experiences from all over the world, they have always underrepresented Black women. This is despite the contributions which Black women have made and continued to make to Western society", Aisha explains. For the portraits, she drew inspiration from Harmonia Rosales and her exhibition 'New World Consciousness' as well as the digital artist Aisha. "The centrepiece of the project is the three girls linked with each other, to highlight unity and also community. By using the museum as a backdrop, I aim to highlight that the art world is not closed to us", she discloses.
Born in Nigeria but, moved to South London when she was eight years old, Aisha takes huge pride in where she's from and who she is. Although a flourishing upcoming photographer, Aisha pursued another educational path alongside practicing photography as she studied. Aisha has recently graduated from the School of Oriental and African studies at the University of London. Now that her studies have come to a close, she is eager to be a photographer full-time. It's needless to say that her degree truly informs her photography and it makes it all the richer for it.
Underpinning all her work, Aisha is passionate about Black liberation. "My work is propelled by the ideas of Black activists and writers. I love Steve Biko, Bessie Head, Franz Fanon, Chimamanda Ngozi Adiche, and Ngugi wa Thiongo". Aisha draws from who she is, where she's come from, and where she's going. She's learning, telling, honouring and celebrating the stories of her ancestors, letting them influence and inform her photography. "I wanted to bring light to this because so many young Yoruba people today have no idea how enriching our culture is".
Aisha reflects on the tough time she experienced growing up as a Black woman in the UK. "My self-growth journey has involved me uprooting ideas of anti-Blackness which had been instilled within me. I want to use my work to inform and empower people the way I have been empowered". Aisha is a brilliant talent, who we're excited to see where she goes as she starts a new chapter.