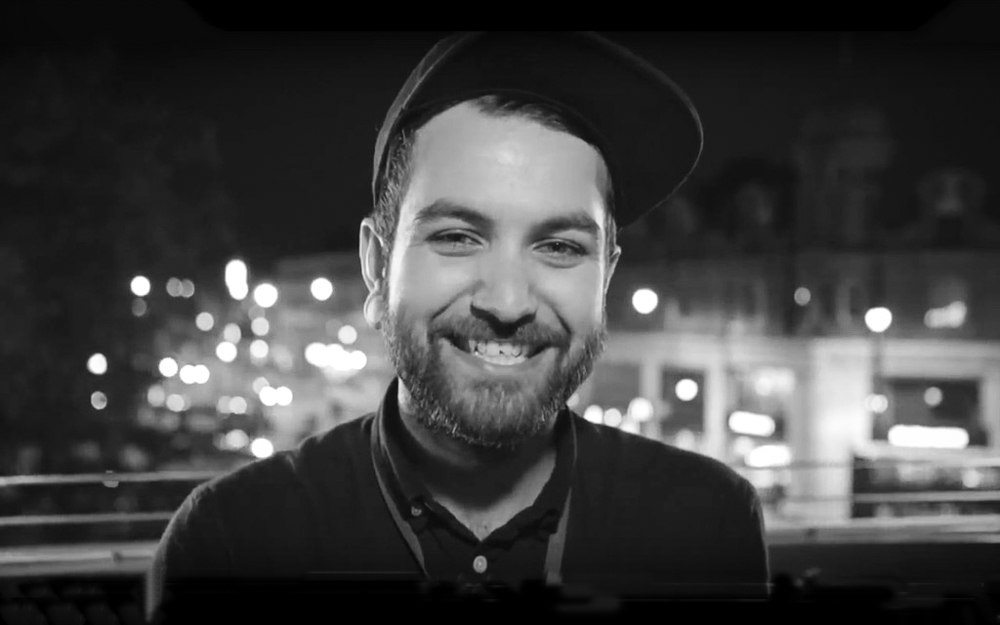 When working on a new issue and selecting the pitches that we want to develop with the writers behind them, we have to start figuring out the logistics of accompanying imagery. Some subjects are better suited to illustration, mostly because of their philosophical or theoretical tone. Others demand a photographic treatment and when Natalie Craven told us about her time working as an art curation intern in an NHS hospital, we knew the latter was the case.
It's one thing to organise a photographer to turn up at a place of work and photograph our interview subject and the space they do their thing in, it's another to get access to a place like a hospital, a proposition inevitably riddled with bureaucratic obstacles.
Fortunately, we had a submission from a photographer who seemed more than capable of handling these things, and whose documentary work was incredibly striking. Daniel Ali's thoughful, insightful and brilliantly composed projects expertly dealt with socially charged subjects.
A number of drafts of a 'release form' later and we sent Dan off to Frimley Park Hospital curious to see how he would be able to work around the restrictions placed on him for the shoot. He didn't disappoint, eloquently capturing the charm and character of the hospital's art along with some of the patients who were, at the time, surrounded by it.
A photographer who also works in film, it was a pleasure earlier in the week to catch up with Dan and quiz him about his creative roots, experience at university, career so far and the contrasts between photo and video work.
What was it that first drew you to photography and, in turn, film-making?
Photography has been important to me from very early on in my childhood.  I remember being fascinated by family albums that showed me a time when my parents were still happy and together (they split when I was 4/5 years old) and the places we travelled and the moments we shared as a family way before I could begin to retain the memories for myself.  Since then, as a child I was always insistent on being the family photographer on trips and special occasions, as a result often leaving myself out of photographs in order to capture the memories myself. 
I remember being in Malta and meeting the Irish football team and Jack Charlton who was the manager at the time, there are no photos of me just all the ones I photographed of my brother with the team.  Photography became apart of my life quite naturally whereas filmmaking entered my life by accident.  I had just moved to London, I had no idea how one could get on the ladder in the photography world and a friend who was establishing himself as a DOP dragged me on a shoot and it simply stemmed from there.  For three years filmmaking was purely a way of making money and it wasn't until the start of 2015 when I started to dabble in the more creative side of it, that I felt the need to start approaching subjects and topics I was interested in with a video camera instead of a stills camera.
You worked for a while as a projectionist, was that a good way to explore another side of film?
I still work as a film and digital projectionist at both the Ritzy cinema in Brixton, London and recently I started working for the Tate.  I learnt that filmmakers can be a right pain in the arse!  Through witnessing the filmmakers stress about how their films will sound/look minutes prior to being screened I learnt that you have to be fully aware of where your work will be shown and be ready for that and if not you just have to let things go.  Of course you're naturally going to want the best presentation for your work but sometimes you just need to trust the experts!  On the flip side it has been very interesting noticing the difference between standards you expect as a projectionist and what the customer expects.  Often much like the filmmakers we stress, making sure everything is a perfect as possible when the customer wouldn't even be aware of any minor issues in the first place.  
The Ritzy is an amazing cinema for programming so I have seen a whole load of films I would never of been aware of as well as having the honour of playing some modern blockbusters and classics on 35mm film.  Interstellar was a difficult one though; with the very shallow depth of field and the moments of abstract sound everyone became a 35mm expert, we received a lot of flack when in actuality most of the "issues" experienced were exactly what Nolan intended.
Overall as a projectionist I'm in a privileged position to watch a lot of films and that gave me and still does a general understanding of what people appreciate or not and in general taught me a whole lot about filmmaking without even picking up a camera. 
Having studied Photography and Media Arts at the University for the Creative Arts you went on to complete an MA in Film, Video and Photography at the same institution. What was it about UCA that made it such a good fit for you?
Studying my degree was very mixed emotions, I had no idea what I was doing.  I knew how to take a photograph of course but had no idea why one would want to photograph for anyone else's benefit other then their own.  I was fully aware of subjective interpretation and because of that I butted heads a lot with tutors.  I resented the marking system; filling out sketchbooks, formulating ideas in minimal time and then moving on to the next project and the next project.  I was getting good grades without trying and more importantly without being satisfied with my own progression. 
Overall I resented the lack of participation of many of my fellow students.  Don't get me wrong I hated school, bunked off a lot and never tried that hard but at uni I never understood why people would turn up late of waste each others times in tutorial and crits with half arsed efforts and a general lack of care for what they were producing.  However because of the general attitude I pretty much had the darkroom to myself and fell in love with the whole process of shooting on film and printing by hand.
I came into my own in the third year where my major project was about the last days of my grandmother's life whilst she suffered with dementia.  The third year felt like my first year and by the end of it I felt like I still had a lot of things I needed to work through especially with the support of an institution.  I lucked out because I was offered a scholarship for my MA and because of the rejigging going on in the UCA (the process of the Kent Institute of Art & Design becoming the University College for Creative Arts and then finally the University for Creative Arts) there were rumours my campus would close, so many people applied for other schools instead and in the end there were only two of us on the course with 3/4 full time tutors, numerous part time tutors and priority access to all equipment and darkroom. 
All in all it made sense to bust out another year of hard work and be in a better position to enter the art world. Thankfully I was spoilt with two tutors in particular, Adrian Lovis and Andrew Kotting who were key to opening my eyes and John Sullivan who was a technician and absolute legend.
You've picked up an impressive array of awards since graduating. How important is it to enter awards? What has been the best thing to come from them?
I don't think the awards I've picked up are much to show off about, they are very very minor in the grand scheme of things.  Don't get me wrong it feels great to be recognised but you get forgotten about very quickly.  Winning more major established awards is the long term goal.  
I'll be honest, other then some very very nice people telling me how much they like my work nothing has come from what I have won so far!  Having said that I'm still all about the awards and that's for two reasons; the first is because I would love to be picked up by an agency and it seems like that's a key way of getting their attention, the second is the prize money, with having a kid a year ago I have to be less frivolous with my money therefore it would be great to win grants or cash prizes which can then be funnelled back into my personal work. 
The stress of spending your hard earned cash on a project that might go belly up or you won't receive much in return once it's all done and out there puts many of my friends off from the very start and most of them don't even have kids or the extra financial worries.
Your personal work or 'stories' are what really caught our eye in your submission. What is your process when planning one of these documentary pieces?
First off I find out where my friends or family are around the world.  The great thing about documenting is that it gives you a license to go anywhere and find out about whatever you want with the pure motive of documenting the people, the environment or simply the time and place.  I work very differently to many other photographers I know, in that I like to get a sense of a place or person/people in a relatively short period of time then shoot and leave.  Long term projects put me off a little, this probably mirrors my attention span. 
After finding a location I research to the deep dark depths of google about various and interesting subjects, history or things that make that particular place unique or different to here in the UK.  Once i've settled on a topic it's time to find contacts on the ground.  These have come through various avenues but generally I always have at least one solid contact who has already done a bit of ground work for me.  I aim to present my stories in a way that hopefully opens peoples eyes and gives them a different opinion or view, different from the one they already have or have been presented to them by mainstream media.
I listen to my subjects and the people who know them and I try to take them at face value and present it as such.  I do not try to discover anything ground breaking I simply focus on a subject or story I feel is misrepresented or misinterpreted and I go about finding the story which helps me offer a counter to that of what I perceive to be the general perception here in the UK.
Each of these works is opened with an artist's statement, how did that come to be a regular part of your projects and what is the importance of doing so?
Deciding upon placing the statement at the beginning of each project was actually an issue for me and it only became standardised after feedback from multiple people.  Through all of my education and exhibitions I was always of the opinion that one should be able to look at a work or a series of images and be able to form their own ideas whether that be accurate or not. 
Initially I was far more interested by the tangents ones mind would go on when trying to decipher and work out what my work was about. Obviously you should be able to provide enough clues in the work for everyone to be on the same kind of wavelength, but I truly believed there was something much more interesting in the presumptions and conclusions one comes to through making pure judgement calls based on their own experience and knowledge.
I soon came around though and realised albeit an interesting experiment it defeated the purpose of me tracking down my subjects and portraying them in a different light to how they may otherwise be perceived.  I'm telling and showing factual stories with real people and therefore I now feel it's necessary to ground the projects with a basic factual explanation.  And I mean basic, I don't go much further then stating where the project is, who the subjects are and maybe a slight personal opinion on the situation. 
What has been your experience of the freelance world in both photography and video?
Freelancing is difficult.  I still rely on projection work for a third to half my income.  I have been freelancing for three years and yes it's slowly coming together now but it's still nowhere near where it needs to be.  It also stresses me out, right now I can't imagine purely freelancing wondering whether that next job will ever come knocking.  In June I took the month off to visit my family in the US and ended up missing out on a couple of thousand pounds because I wasn't around and then the next two months were the quietest I've had in a long time.
I've found the video world to be a lot more accepting, social and there are a lot more roles in the general production of a shoot that I can get paid to do.  I kind of entered photography through the side door, I already had a lot of experience through my own photography and through video work but photography seems a lot more hierarchical which I don't like.  There's a lot more dogs body work when you're starting off in photography, making teas etc whereas in video, I'm the guy with the camera and that's that whether it be B camera, Behind The Scenes, it doesn't matter how minor your role is it is always crucial.  I spent the last year camera assisting on a feature length documentary, maybe because of the nature of documentaries, I ended up camera operating on a bunch of shoots.  My shots actually ended up in the final film, I can't think of anyone I know who has needed to or been asked to pick up a camera on a stills shoot and their shots actually made the cut, it's unheard of.  
You've worked commissions for a wide range of clients, what's your favourite type of assignment and why?
Branded content has to be one of the best.  Generally where there's a personal story or video portrait which is then associated to a brand.  It basically means I can do what I love most, portray someone's story whether by an interview or voiceover and blend that which imagery, literal or abstract to tell the story as a whole not just with a voice but with moving pictures.  Basically I can get creative and work on developing a tone and texture in the film in order to carry the story.  I'm still waiting to be sent on an assignment abroad where my job is purely to document how people live or to capture an environment, that would be the dream.
You travel a lot with your camera and last week you were in Mexico, what project took you there?
I was lucky enough to be in Acapulco, Mexico last week shooting a behind the scenes and helping out on web content for a high street fashion store who were shooting their 2016 Spring/Summer range.  The production was extremely challenging and our lives weren't made that easy but I can't complain really, getting to swim in a warm beautiful sea everyday and tequila on tap made me forget about my troubles pretty fast!
What would be your one piece of advice to student photographers who aspire to work freelance?
So everyone always gives these two bits of advice but it's true, get into work and shoots as soon as possible even whilst at uni and create a good circle of colleagues and peers around yourself.  I work a lot with friends now and they often put me forward for jobs that they can't do, not to mention you always need help on shoots so getting to know stylists or people that love running production are always going to be handy in the long run, not everyone can be the camera guy. 
There is no better time to start working then NOW!  That's the only way you make contacts, learn crucial skills about how to behave with and amongst other crew members and obviously it's how you pick up practical skills.  It's a numbers game contact as many photographers, production companies, DOPs as you can and politely hound them until they give you opportunities(maybe I should take my own advice, it takes a lot of energy and optimism to keep at it).  And don't forget to keep doing your own personal work, I'm surrounded by far too many friends and colleagues that wish they had time to do their own thing.  It all comes back to this fear of never working again, I get much more satisfaction out of my own projects then I do any pay cheque.
_______
To dive in to Daniel's brilliant photo and video documentary pieces, head over to his site via the link below.