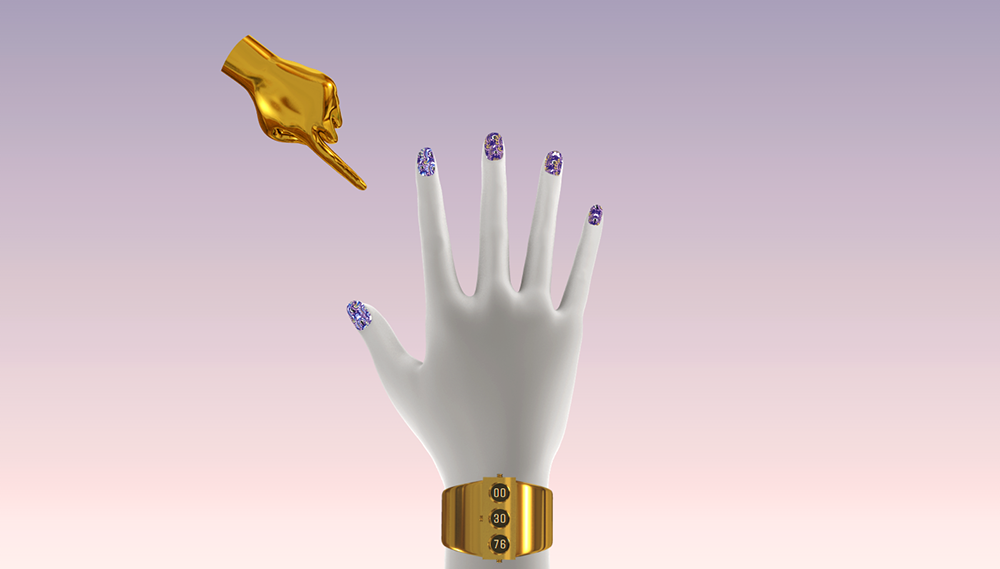 After meeting during their graphic design studies, Kim Boutin and David Broner began collaborating under the moniker DVDTKM. Then, after time spent independently on master's degrees, internships and first forays into the job market, they reconvened, moved to London, dropped a couple of letters and formed DVTK.
Focussing on digital art fit for the internet age, the duo create animations, games, videos, 3D worlds and websites, and collaborations with Kenzo, Tate and our good friends at Internet Age Media suggest all's going to plan!
How would you explain the overall approach that you take to your work?
Kim: We're actually currently asking ourselves this kind of question, and recently found a baseline to describe our approach: 'We aim to make the internet a happy place for people'. For us, the main purpose is to strive for entertainment, although never with vulgarity.
David: In order to create unique interfaces, we generally try to break free of design principles, guidelines and rules. If you want to create new forms, and you're aware of the rules, then breaking them can be a solution. Following along these liens, we are trying to design like if we weren't designers. This usually leads us to make websites that don't look like websites.
Tell us about what you've been working on recently.
Kim: I recently had the chance to be invited at random (co):jams, a first of its kind creative session organised by Tate and Internet Age Media. 3 random teams of artists and designers had one day to put their heads together to prototype the future of the museum. It was such a rewarding challenge!
David: We created a poster to celebrate the Roboto font for Open Foundry, a new platform for open-source fonts founded by Stefan Endress and Alaistair O'Shea.
What attracts you to your aesthetic?
Kim: We certainly aim to create strong visuals, but we try not to be defined by a specific aesthetic. Our projects often involve 3D, but it mainly interests us as a means to an end, rather than an end in itself. In fact, 3D allows us to create any shape, abstract or concrete, realistic or stylized.
We also try to avoid being confined by traditional web design tools (mainly Adobe softwares). This freedom is attractive, and we're always looking for immediate gratification from the interfaces we design. Indifference and boredom scare us more than failing or not impressing.
David: We feel a sense of accomplishment when, despite the singularity of our work, our client recognises themselves in it. For us, that's when we believe we've solved the brief.
Do you find you both assume natural roles when collaborating, or do they change?
David: It took us time to be aware of each specific skills and weaknesses. At the beginning, we lost a lot of time trying to do everything together, which wasn't efficient at all.
Kim: On the theoretical level, we question ourselves all the time and talk a lot — sometimes even until quarreling about trivial things. We always put our heads together, and since we have different backgrounds, confronting our opinions usually leads us to creative ideas.
When it comes to production, we have very different expertises and found how to make them complementary. I mainly focus on user experience and interface design (wireframes, mockups, front-end development), while David takes care of visual aspects (art direction, animations, sounds). Then, we always take a critical look at each other's work which usually leads us further.
How did your respective educations help you? What did you learn from them?
Kim: While my undergrad degree in multimedia and visual communication was completely pointless, my master's degree in digital communication, and an apprenticeship where I discovered interactive design, taught me the basics in interface design, and the importance of teamwork in digital projects.
David: As I started design studies at 16, my teachers had enough time to instill a theoretical approach in us. My favourite exercise was the study of existing works, mostly architecture and product design. We had to track down the designer's creative process and explain his choices. I realized that good design is supported by meaningful decisions and an overall vision which can be critical, political or even philosophical. Then, my 3D studies taught me that masterizing a tool opens up a lot of artistic possibilities…
How has it been in London?
Kim: Intense, and even more rewarding than we had hoped! We moved to London because it brings together so many talented people from all over Europe. This makes the city incredibly dynamic and challenging. I can hardly believe that it has already been almost 10 months since we moved. Time flies!
David: It's quite hard to consider this without much hindsight but I would say it's definitely been positive. We share our workspace at Studio 3 among designers we admire the most like Marc Kremers or Thomas Traum. Every day at work, I feel like a rookie drafted by the San Antonio Spurs.
Anything exciting in the future that you can tell us about?
David: We are working on our new website, trying to find a good balance between being functional, clear and experimental. Easier said than done…
_______
Check out more of Kim and David's work: