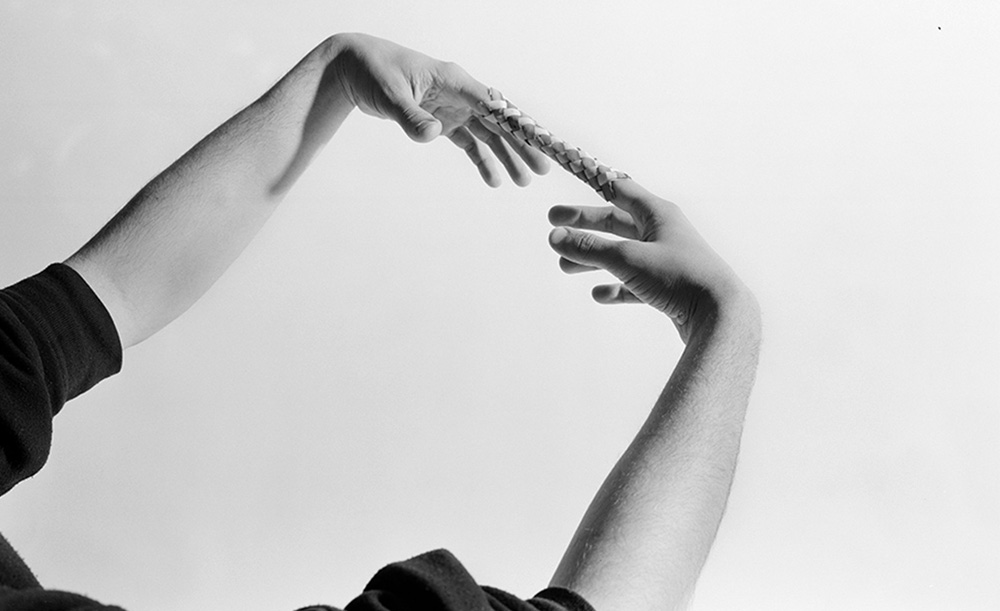 As Swedish artist Emma Bäcklund comes to the end of her photography MA at the Royal College of Art, she's building up some admirable momentum. Last weekend saw her work as part of Tom Lovelace's exhibition 'At Home She's a tourist' at Copeland Gallery for Peckham 24. "Tom wanted to include artists in various stages of their career and for me it was a learning process and very inspiring", she explains. "The space made the visitor enter into various intimate rooms and engage with art works that encouraged different emotions. The private and the public merged, home and exhibition space".
Emma describes herself as an artist who uses photography, but within her work she pulls from a combination of other mediums. Often slipping between image, object and subject, Emma's approach to her photographic practice takes influence from her background in dance. "I believe that the photographic space and process is very performative. It is a constellation and whether I work with objects or people it inevitably incorporates elements of performance and construction".
Drawing on this aspect of her background as a stimulus, Emma uses everyday banal objects to explore aspects of performance carrying a subtle playfulness through many of her photographs. Through the alienation of certain body parts, her work encourages the viewer to ask questions of behaviour, function and form. "I think in general that the challenge for me is to communicate complex ideas in a simplistic approach" she reveals. Yet, by taking further inspiration from aesthetics of 1950's and 60's advertising and 'how to' manuals, there is also a sense of constraint throughout the work. This is represented not only in the subject of the images but through choices and limitations within the photographic process that Emma uses, due to her interests surrounding ideas of control.
Her work favours a central framing of the subject and consists primarily of black and white photography, in part to clearly direct the viewer's gaze upon her images. "I enjoy printing black and white because of the physicality and direct touch with the hands while printing", she discloses. "There is a certain violence to this process which also requires a large amount of endurance, attention to detail and focus. I think this forces me to challenge myself and to be present". It's an element of Emma's practice that is both demanding and fulfilling. "There is a solitude which I enjoy while printing where the image and oneself become detached from everything else, it's an approach that transcends the photographs".
Set to graduate imminently and keen to explore different environments to make new work, we'll be sure to keep our eyes on Emma's beautiful and evocative work.