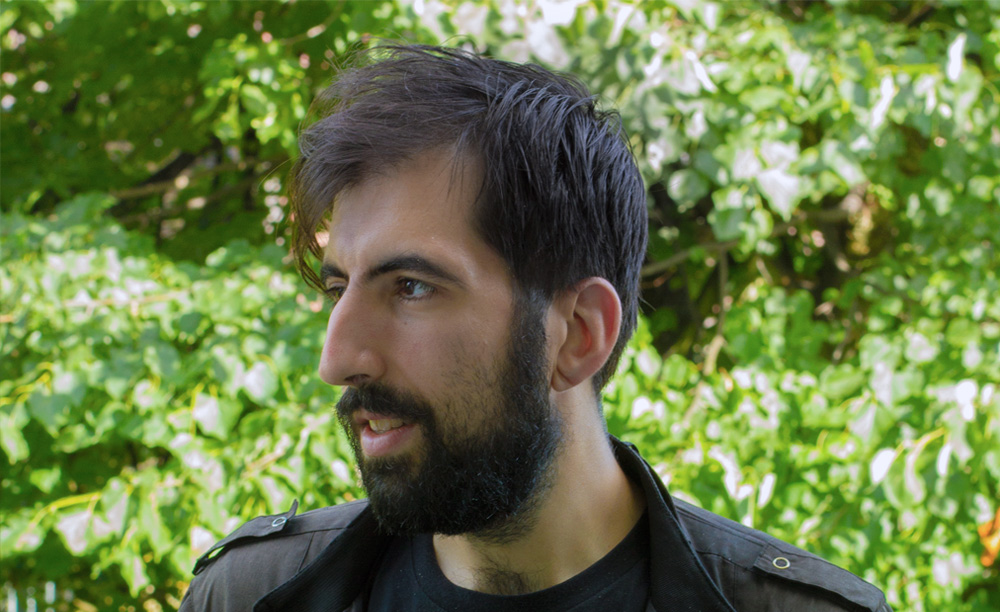 From my first meeting with Anthony, he always had an infectious drive and enthusiasm. He introduced himself to me at an event and having talked that evening, got in touch in the build up to our second issue. It seems quite obvious to state, but my experience so far with the magazine has been that the people most passionate about it, create the best work for it. That's certainly the case with Issue Four and was also the case with Anthony.
He accompanied me to Jean Jullien's studio in Dalston back in March 2014. The feature remains one of my favourite in the magazine to date, due to both Jean and his ex-intern Toufan's openness when discussing their time spent working together.
Anthony brought with him a beautiful medium format camera, and a 35mm. His precision and clarity of vision ensured that in the few frames he did capture, we had exactly what we needed and that crisp, sun drenched morning is now faithfully committed to print.
Usually, we feature contributors to our current issue in this series of interviews, but upon hearing last week that Anthony was opening a new solo show in Milan, it seemed an ideal opportunity to catch up with him. Interestingly, it's a show consisting of his collage work, painstakingly created using found imagery, much of it from a bygone era. They're hypnotic images, which I find myself drawn into by the subtle colour changes and puzzle-like configuration.
We start by discussing how Anthony balances work as a photographer, artist and graphic designer, three disciplines he has amassed plenty of experience in. With freelance work becoming more popular within the creative industries, many believing that having a broad range of skills goes some way to guaranteeing work, it made for a topical start to our conversation, which plays out after the jump.
You worked with us on Issue Two, photographing Jean and Toufan in London, although your practice spans photography, art and graphic design. How do you balance these three disciplines on a day-to-day basis?
To be honest I don't, really—each practice sort of fades in and out, which works out well because each one remains fresh and new for me. Right now I'm in an extremely collage-centric mode, which will probably change in the new year, and last summer I was deep in my photographic practice. Design functions peripherally to the collage and photography, and really ends up being a skill used either in service to the other two, or beholden to the imagery I'm creating for it. I don't really see it as central to my practice as I once did.
Is there one more than the others that you get the biggest creative release from or do you find it easy to immerse yourself in each project you take on?
It depends from project to project. Work like my new show was incredibly creatively satisfying and I think that shows, but I'm equally satisfied by something feeling "finished" or coherent in itself, whether it's a large scale commission or a single photograph. With contract work I tend to lean pretty heavily into it, getting very, very immersed and creating lots of options. So that's good on the one hand because you get the satisfaction of creating many iterations of a thing, but a bit of a problem time-wise when you're trying to balance a big client list.
You studied graphic design at OCAD, how did those studies shape or influence your creative output?
I was really lucky to have very conceptual design teachers teaching me, to the point where their curriculum was almost abstractly design oriented (my first design course was equal parts readings of aesthetic theory, self-guided projects and intensive in-room tutorials) and more about the thinking behind images and aesthetic choices. So I think in as much as they shaped anything, they made me conscious of what it takes to be an image-maker in the 21st century and how an art or aesthetic practice needn't be one thing; how it can house multitudes of voices within it.
What's the journey into your career been like since graduating back in 2012? Do you feel like your studies prepared you well for the world of work?
I do and I don't. I had dinner with my thesis advisor on a recent trip back to Canada and I sort of berated him for not preparing me for the working world, but I think what he actually prepared me for (and what I told him) was for a career of my own design, not beholden to the studio system or any particular job. I'm lucky enough to be able to do a lot of things at once and constantly be busy, so in that sense the journey into my career has been an exciting one. Moving over directly from Canada after graduating made me acutely aware of how difficult it is to break into a new city, especially somewhere as big as London, but I think I've done that. It's been a satisfying career, so far.
As a graphic designer, you've both freelanced and worked for studios. Which set-up do you prefer and why?
Well, definitely as a freelancer, although I probably shouldn't say that as I do enjoy working in studios. But it's a lot more satisfying being (more) in control of all of the aspects of any given piece of work, from client meetings, to budgets, to deadlines, to the actual work itself. And it's nice being able to look at something once it's finished and say, "that's mine".
We were big fans of your Box Elder project, which you funded via Kickstarter. In hindsight, what did you take away from that project?
Oh wow, so, so much. Not least of which is: be careful how you parse an experience when talking about it after the fact. I got into a lot of hot water with a lot of Utahans for the way I spoke about Box Elder, and reading some of that writing now I realise I need  to stop speaking so hyperbolically. But that's just the tiny negative side to a vastly, amazingly positive experience: going out there, and the way we got there (driving south first, then heading over via Georgia, Alabama, Louisiana, Texas, and New Mexico), and the kind of mania that grows over the course of five weeks on the road, all of it was such an amazing experience, and made me crave that kind of throwing-myself-into-a-project project, that lasts for a relatively short amount of time but carries with it huge rewards for your work post fact. I realised that my friend Troy, who was driving the whole way, is both inhumanly patient and one of the best people I know. I realised I want nothing more than to be in control of my life and able to do the kind of work that gives me the sort of euphoria I felt when I was out there.
Your solo show 'There Must Be More To Life Than This' opened week night in Milan. It's been quite a long term project, what can you tell us about the concept and the process behind it?
The process has just been cutting out tiny squares and seeing what that means as I keep doing it. Which is totally reductive, but kind of true! But the project has been going for forever so I think the concept really has grown and modulated as I worked through it. When I started making collages I made what could charitably be called "immature" work, and as I kept them I got sicker and sicker of "traditional" collage—things like a record player pasted over a naked woman's head who's pasted onto a photo pulled from National Geographic and there's like eight different very different and very badly juxtaposed elements in there—I started trying really hard to reduce my work to the simplest form possible, using the least amount of materials, and then using that simplicity, and the process it engendered, to try and say something complex and emotional.
Within most of my work (be it collage or photography) I've been dealing with the idea that the ephemeral elements of the past are confused and forgotten almost instantly, and that our recollections aren't of specifics but rather of tones, moods, and textures, and I wanted to turn that thinking to people and places, as well: how a photograph of a mountain and a photograph of a person become progressively equal in grandeur as time goes on, or how a person's face becomes obscured and blurred into a wash of colour. So I think concept and process are inexorably linked, and always will be.
In a world that often veers towards the digital, how important is it in your art to physically make the pieces?
Incredibly important. Undeniably so. Even when I'm working digitally (which, with a lot of commissions, I have to), there's still an analog core to the work. I think using your hands and working through ideas in a physical way is very important to a creative practice. It's a different way of thinking, it's meditative, and it's fun. The idea of staring at a computer all day and not delving into the physical seems ludicrous.
You've shot a lot for magazines, what is it about editorial photographic work that suits you so well?
I don't think it's particularly editorial photography, because that actually makes up a very small percentage of my creative output, but I do think being in the moment, talking to people, learning about them, is just so fun. It's amazing to meet someone you admire and connect with them through image-making, or to go somewhere you're curious about and try and say something new or different about it. I think I like editorial commissions so much because I just approach them like I do my personal work, and I'm able to, which is nice.
What one piece of advice would you offer to students who, like yourself, work across a variety of creative practices?
Just keep working. Set goals for yourself. Don't become enmeshed in concepts. Concepts and theory will come from production. Excessive work, to the point of burnout, will make you think about your practice and what it means to be a maker in a highly conceptual way. If you feel like things are getting stale, change or move onto something else. Never stop producing work and never let yourself get complacent. It's corny but the 10,000 hours thing is totally true.
Aside from your show, where else can we see your latest work in the not-too-distant future?
I'll have a new photo essay about Venice and nighttime appearing, along with some writing, in the new issue of Oh Comely. My friends at The Leaf Label have just released Julia Kent's amazing new album, Asperities, which I did the artwork for, and I've got a few more LPs coming up in the new year that have my work on them. Otherwise I've been keeping my head down and making a lot of new work, getting ready for the new year.
Anthony's website provides a far more faithful representation of the breadth and variety of his creative output, we heartily suggest you click through via the link below and check it out.