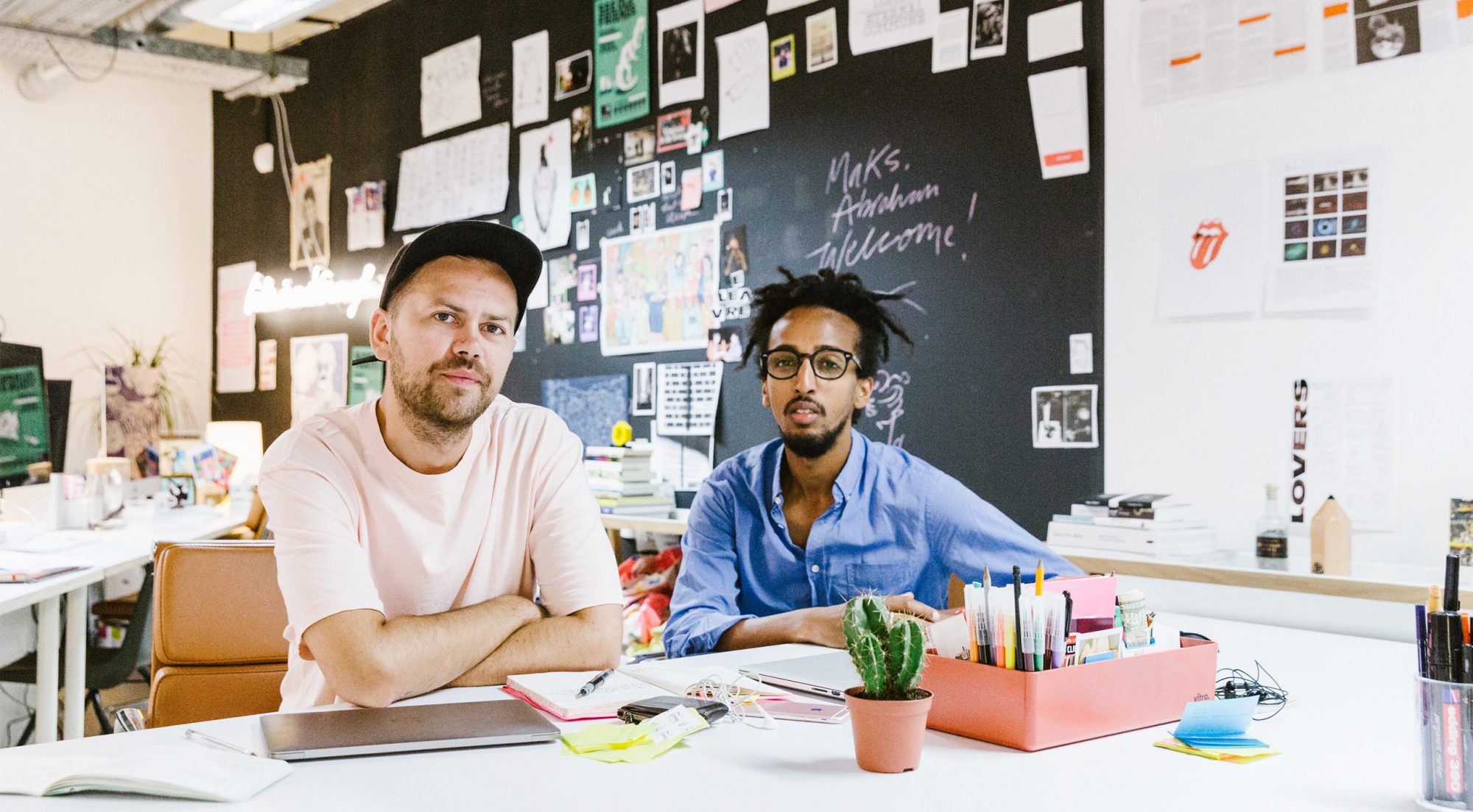 Everyone is Creative
Having developed a workflow that makes everyone central to the creative process, The Pop Up Agency travel around the world to share their philosophy
Five years ago, six students met for the first time having freshly enrolled on Hyper Island's Interactive Art Direction programme in Stockholm. Two weeks later, they made plans to create a company, perfectly suited to their shared needs and values. Today, two of the six remain on board and have turned that concept into a fast growing, disruptive agency that visits dozens of countries a year, helping their clients to refresh their creative processes.
Abraham Asefaw and Maksimilian Kallhed's ambitious mission to democratise creativity has arisen from all that they've experienced and learned since formulating an initial concept for The Pop Up Agency back in the classroom at Hägersten. It's a journey that's had its ups and downs, but one that gives the duo a self-assuredness, which combined with their natural charm and magnetism, makes them great role models and mentors for students at Central Saint Martins and Hyper Island where they also hold part-time teaching roles.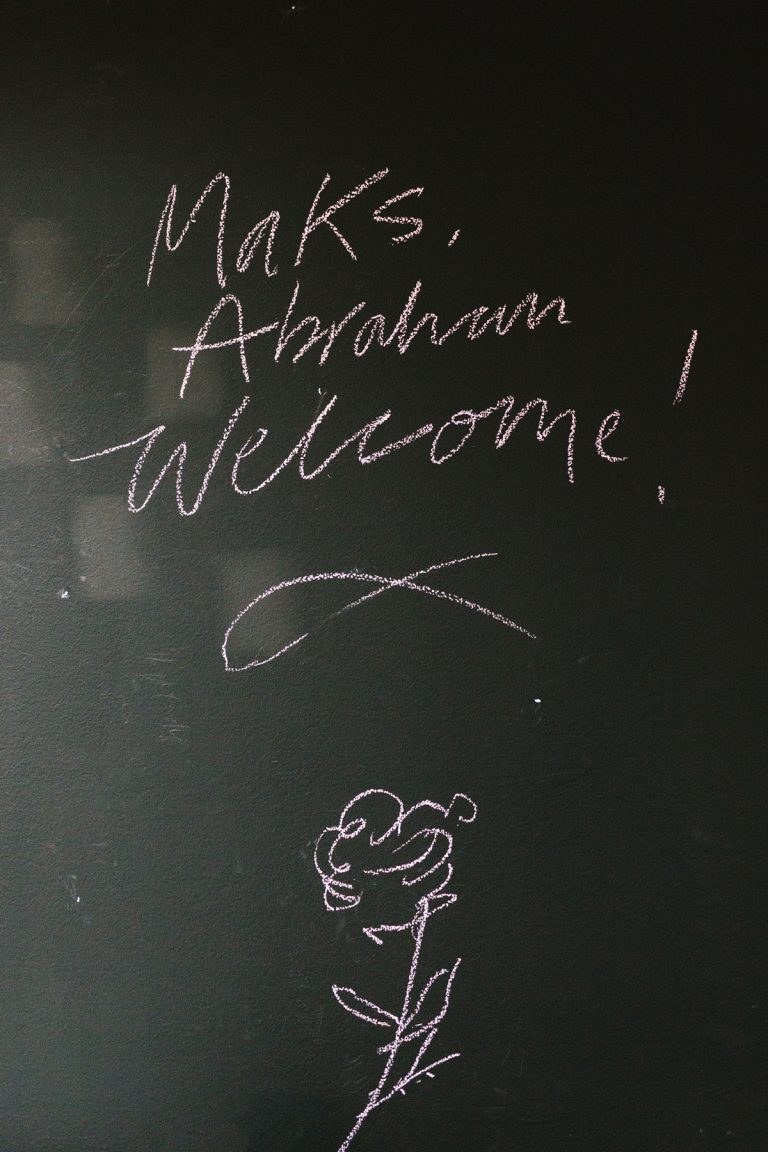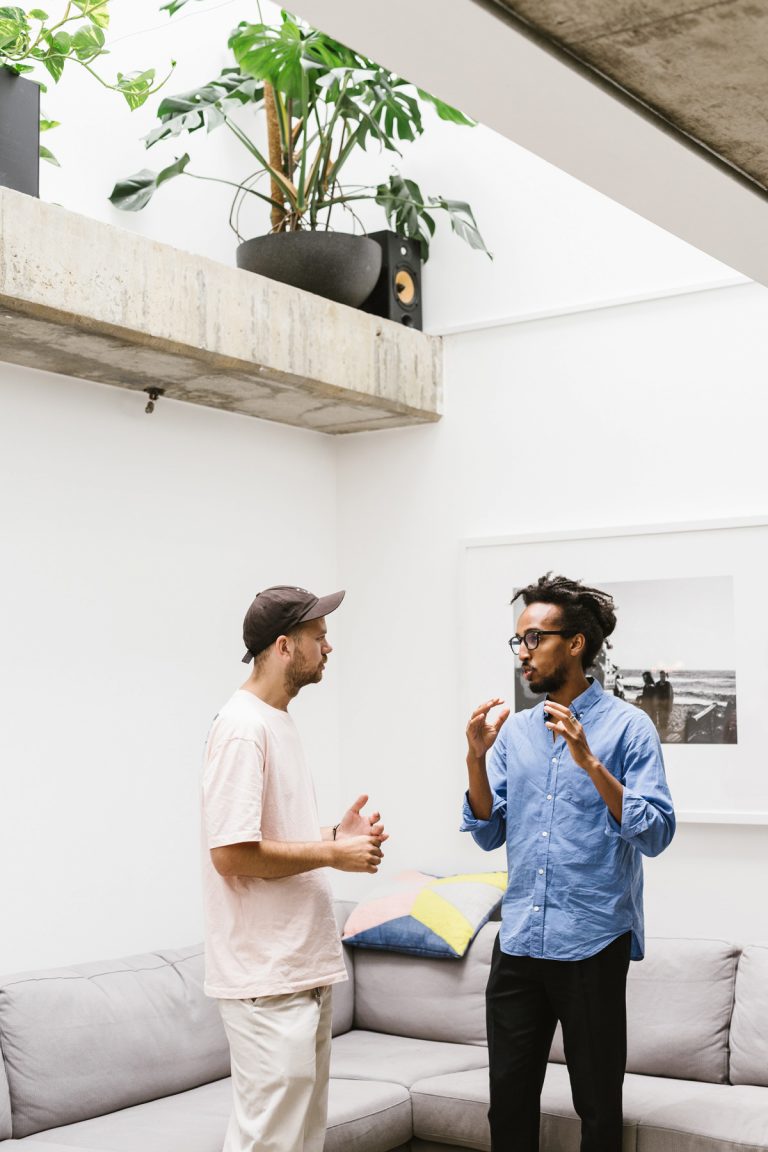 Initially Pop Up was a creative agency that would solve briefs in 48hrs. "As students we only had the weekends to execute work", Abra explains, revealing that during their year at Hyper, the "fictional business" they prototyped and launched completed a staggering 26 jobs in 15 countries. That doesn't seem too fictional to me. Rather than going on the designated three month internship required of Hyper students, the duo along with their four other founding members, Zlatko, Julia, Wout and Alejandro proposed an ambitious world tour to launch their agency. They set out to work for 15 clients, in 15 countries, in 15 weeks. These were students with "no money, no experience, just stubborn minds" according to Maksi and with only a couple of gigs lined up by the time they flew to Finland, you could have forgiven them for getting nervous.
"My mindset was 'even if we only make two countries, it's better than zero countries, that experience will probably buy me something or get me somewhere'" Maksi recalls, but the team pulled together and hit their target quite sensationally. There was no need to trade in a half-finished job or a failed concept, Pop Up had proved themselves capable, innovative, exciting and, quite unintentionally, on trend.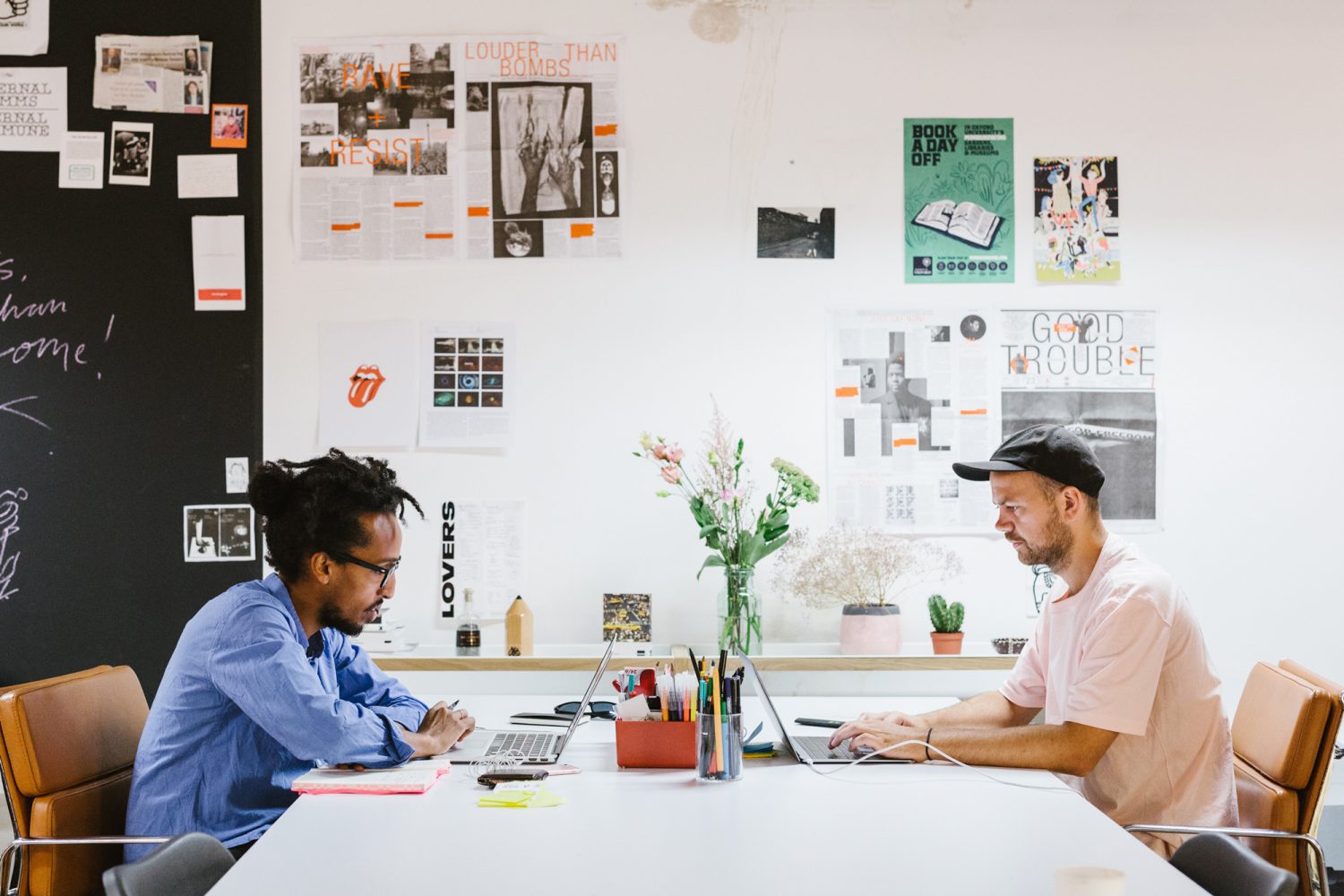 "The goal needs to be crystal clear and everyone's actions need to reflect that"
Upon graduating and moving to London — the most sensible base for their ongoing operation — the daunting task of turning this project into a sustainable business commenced. There was no drop-off of interest in Pop Up, who were regularly heralded as flag bearers of the nomadic work movement, but their goals and motivations were changing. Freed from the constraints of a taught schedule, the 48hr notion, while still important was no longer the focus of their offering. In the process of figuring out what that new direction was, they realised that the something fundamental had changed. "We didn't have the same goal anymore" Abra reveals, "we'd got so caught up in surviving and making it sustainable that we'd totally forgot about that. But the beauty of it was that we hit the core of the issue and it never became personal". Friendships firmly intact, Pop Up became a two man company and rather than "six founders with five directions", Abra and Maksi were united, finding a clarity in their new vision.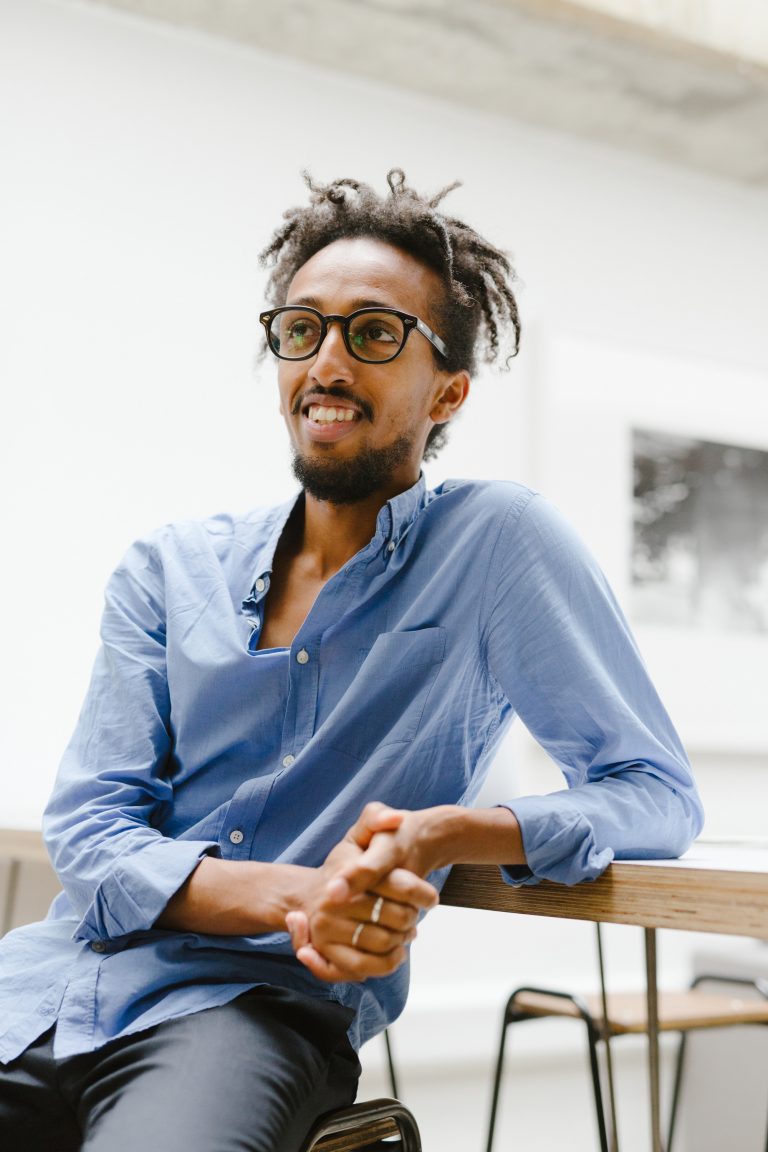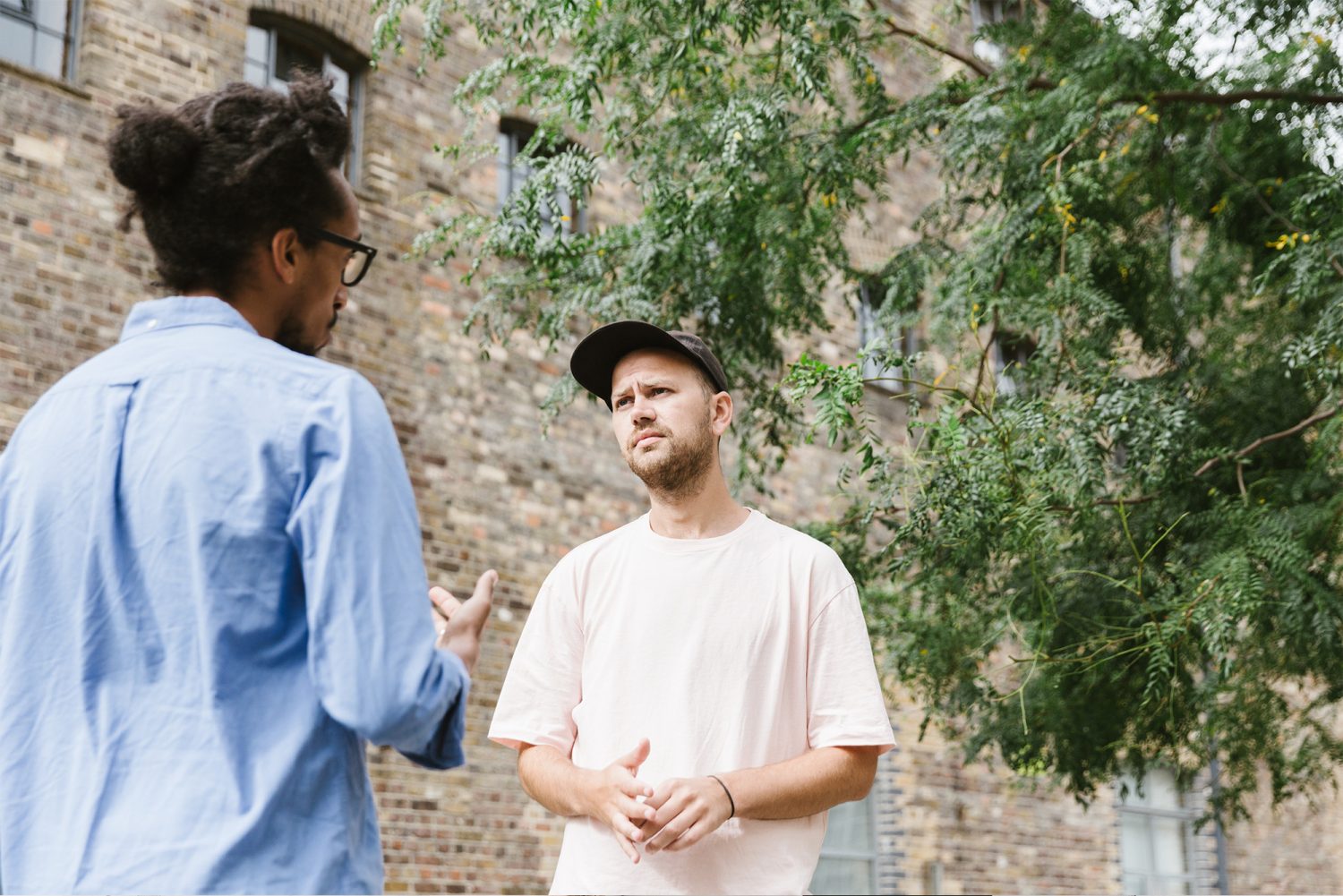 Pop Up offer two main services; consultation and training. The former is still delivered in 48hrs, yet both are hinged around the philosophy that everyone — and every department in a company — is creative. It's an approach that promotes the benefits of a flat organisation over a hierarchy, allowing everyone to have ownership of ideas, be invested in projects and feel like they can freely voice their opinions. For Abra and Maksi, 'mindset' is key to both the creative process and the business side of a creative company. Neither has a formal background in psychology or sociology, yet they strive to make workplaces inclusive, teams empathetic and to pre-emptively strike against potential conflicts throughout the projects they have a hand in delivering. "So many companies don't have a unified feel to them" Maksi asserts, "whether you have five or five thousand employees, the goal needs to be crystal clear and everyone's actions need to reflect that". Building the foundations for that process begin with dismantling the assembly line approach and taking each department out of their respective bubbles. Through a series of workshops and exercises, handily outlined in a book soon to be launched on Kickstarter, Pop Up effectively reset workplace culture and provide that eternally valuable commodity in a creative environment, a clean slate.
"Everyone possesses creativity, it's a state of mind"
But what of this assertion that everyone is creative? It strikes me as a sentence likely to daunt students and graduates who have invested three years and racked up a significant debt, only to find that jobs are hard to come by. Maksi is keen to clarify his perspective, "if you've been practicing for three years, you're far more skilled than someone who hasn't, but everyone possesses creativity, it's a state of mind". The duo believe that graduates often need reminding that they are creative, as they understandably lose faith when faced with the 'dog eat dog' nature of the industry. "It's a key element missing in a lot of creative schools" Abra stresses, "that business grounding, it helps you to understand your value".
Value is a vital concept here, it's what enables you to position yourself within your field, work out how to pitch your services and plan your strategy. Abraham can recall word for word the meeting with one of his board members when he realised that their price points were all wrong. "He sat facing me and placed his phone on the table, 'I've got two iPhone 6's in front of me, one costs £50, one £500'" he begins, using his own iPhone 6 as a prop. "He said 'the £50 one sounds too good to be true, so I'm going to stick with the £500 one. Right now, you're the £50 one'". His point being that Pop Up were grossly undercharging and in the process, putting off a lot of potential clients. It's a pattern that I also see play out with graduates who are feel awkward about charging at all for work. As Abraham cutely puts it, "It's like branding, but with money". Finding the confidence to charge enough is a prime means of making your career sustainable, however channelling that confidence to take calculated risks has also played a big role in their success story.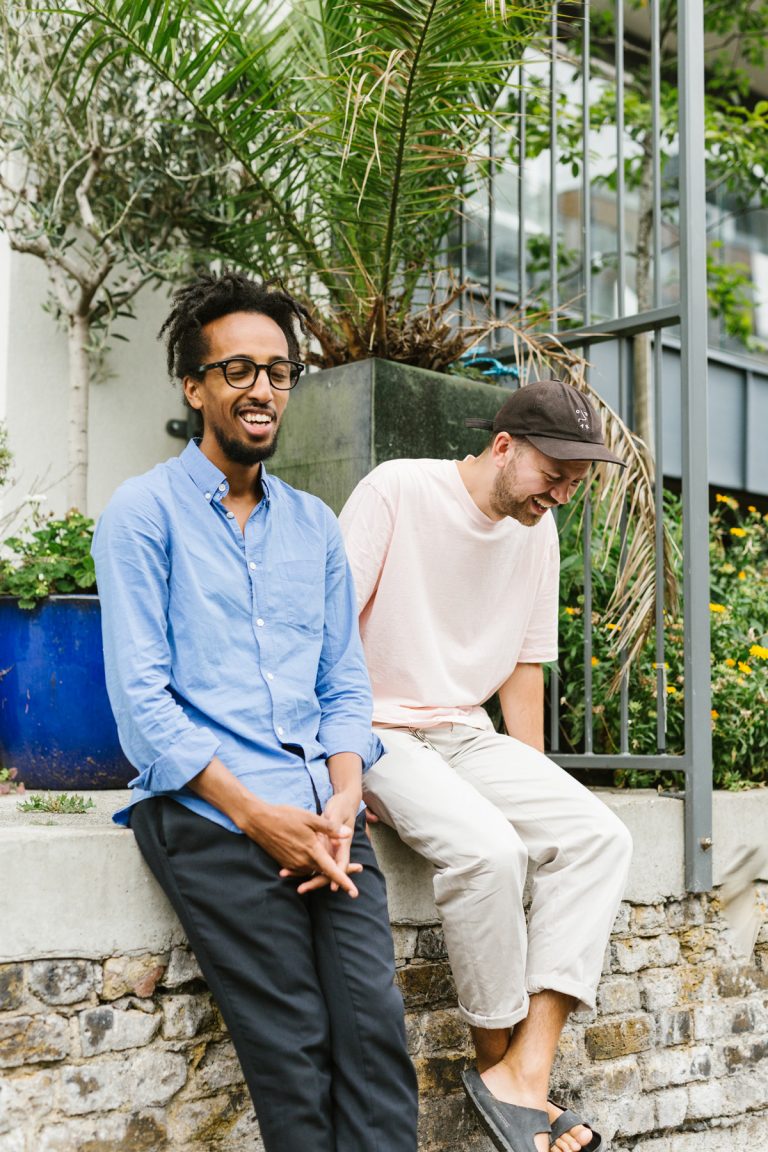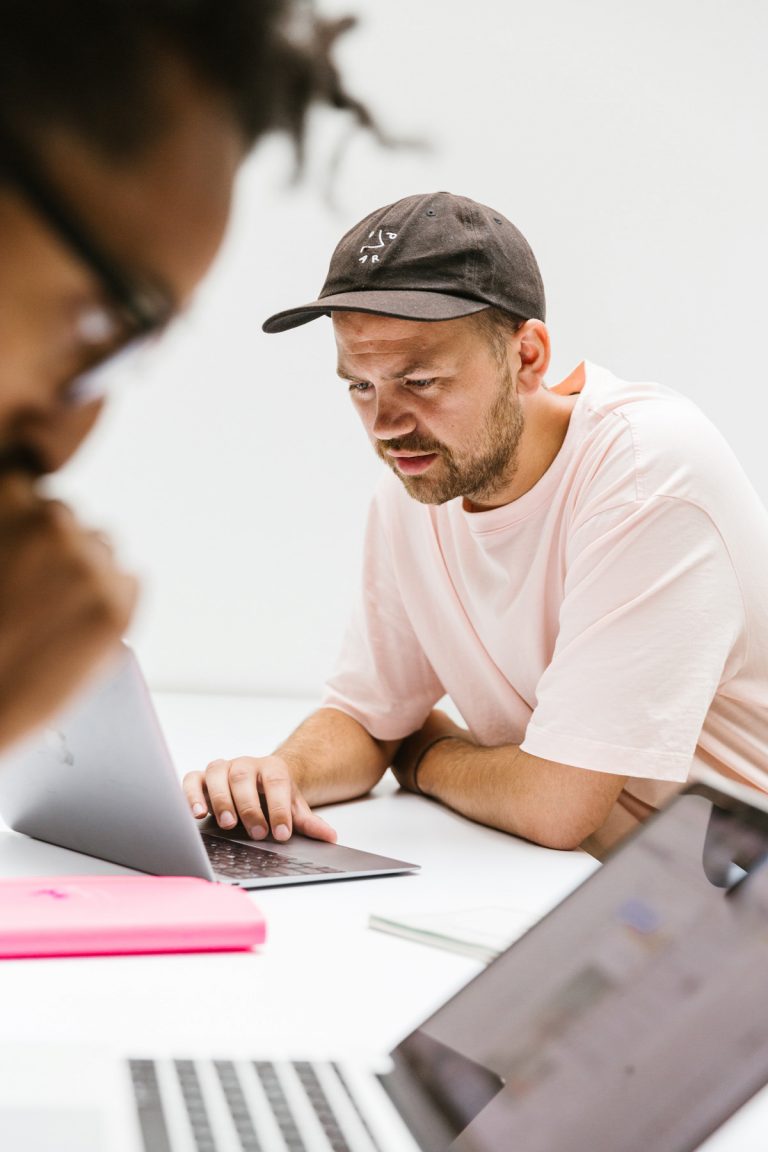 "What's the worst that can happen?" Maksi proclaims, "We'd have to move back home and live a boring dork life in cold Sweden". By this stage in the conversation we're sat in canal-side cafe Toconoco with Lauren Maccabee, having finished our photo shoot with the guys. Using Lauren's decision to move to London as an example, Abraham picks up on Maksi's point "London is one of the biggest creative arenas, you've got to have big ambitions to move here for work and it means that there's even more risk attached to what you're trying to do". Lauren's year of unpaid work mirrored the early days of Pop Up, as has her success. It's the tale of her recently photographing Cristiano Ronaldo that has Abraham once again joining the dots. "So, if you hadn't have come to London, chances are that you wouldn't have been photographing Ronaldo within two years", he begins. "Same for him, if he had of stayed in Portugal, he might have been the best in Portugal, but he went to Manchester and played and evolved there for six years. Then he went to Madrid and evolved even more before becoming the world's best player".
"Your career should work for you, just as much as you work for your career"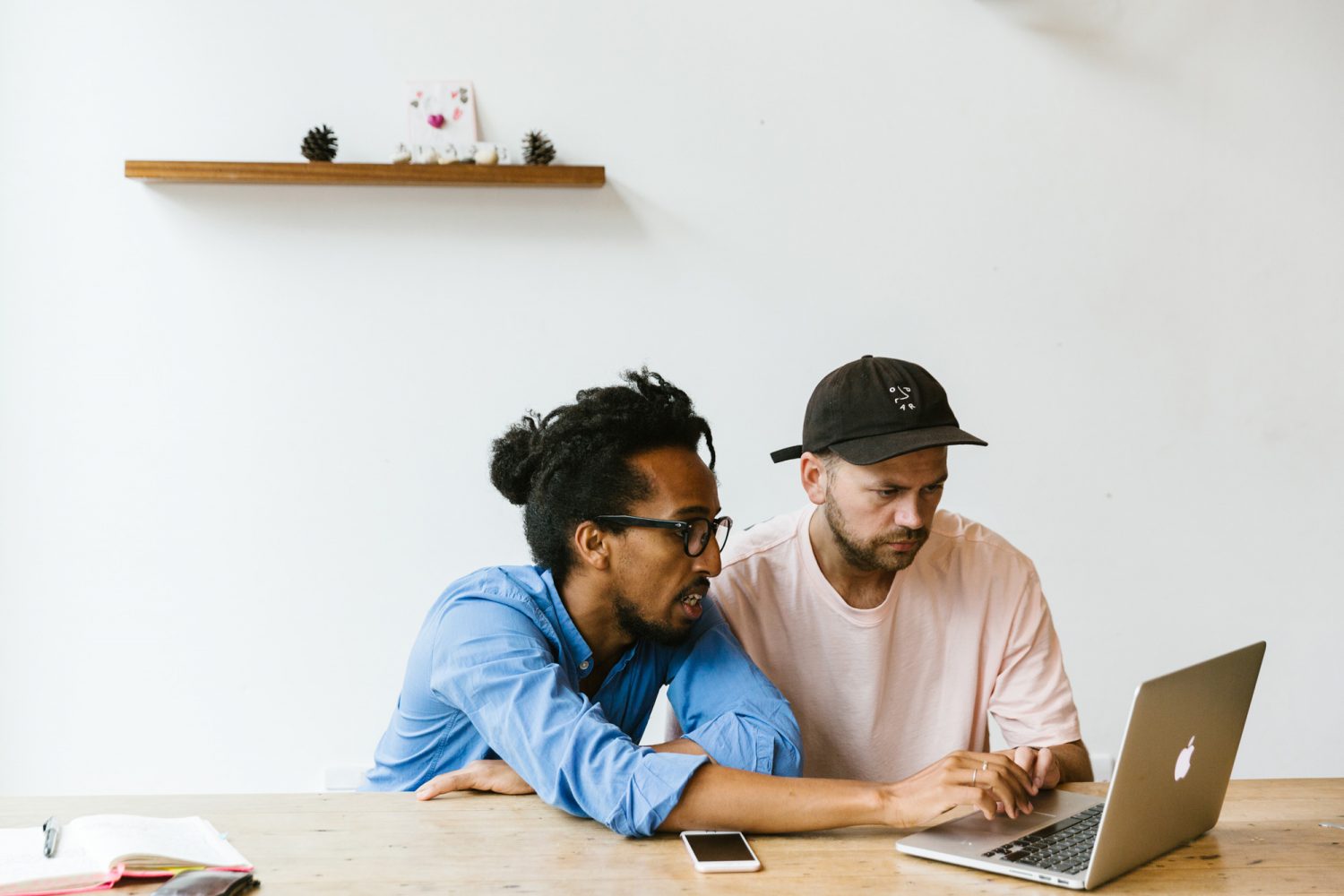 Ambition and risk taking have always been embraced by Pop Up, but it's never what dictates their focus, which seems to me to be key to both their success and contentment.
Instead, they still regularly ask themselves "what's most important to me right now?" and are completely honest with each other in sharing those feelings. It's an exercise that the company use routinely to ensure that they still have a clear and shared goal, just like they do with their clients. "The more that I kept going, I started to realise that the risks I was taking and investments I was making, even if I fail, will give me so much more than if I didn't do it and just played safe" Maksi reasons.
A more traditional gauge of their success came recently when he received a "crazy job offer" from a major agency who attempted to buy him out of Pop Up. The pair consider it a benchmark for all of the struggles and sweat that have gone into the growing company. "I turned it down" Maksi admits. "My parents weren't happy, but it confirmed that my theory is true and now we know our price as well".
There's a lot to learn from Abra and Maksi, far too much to cram into one article. I think that's due in part to their strategy of putting their needs and values at the centre of Pop Up. It's all too easy to become fixated on a preconception of what your goal or purpose is, particularly when you're your own boss, so perhaps the biggest lesson to take from this agile, disruptive company is that your career should work for you, just as much as you work for your career.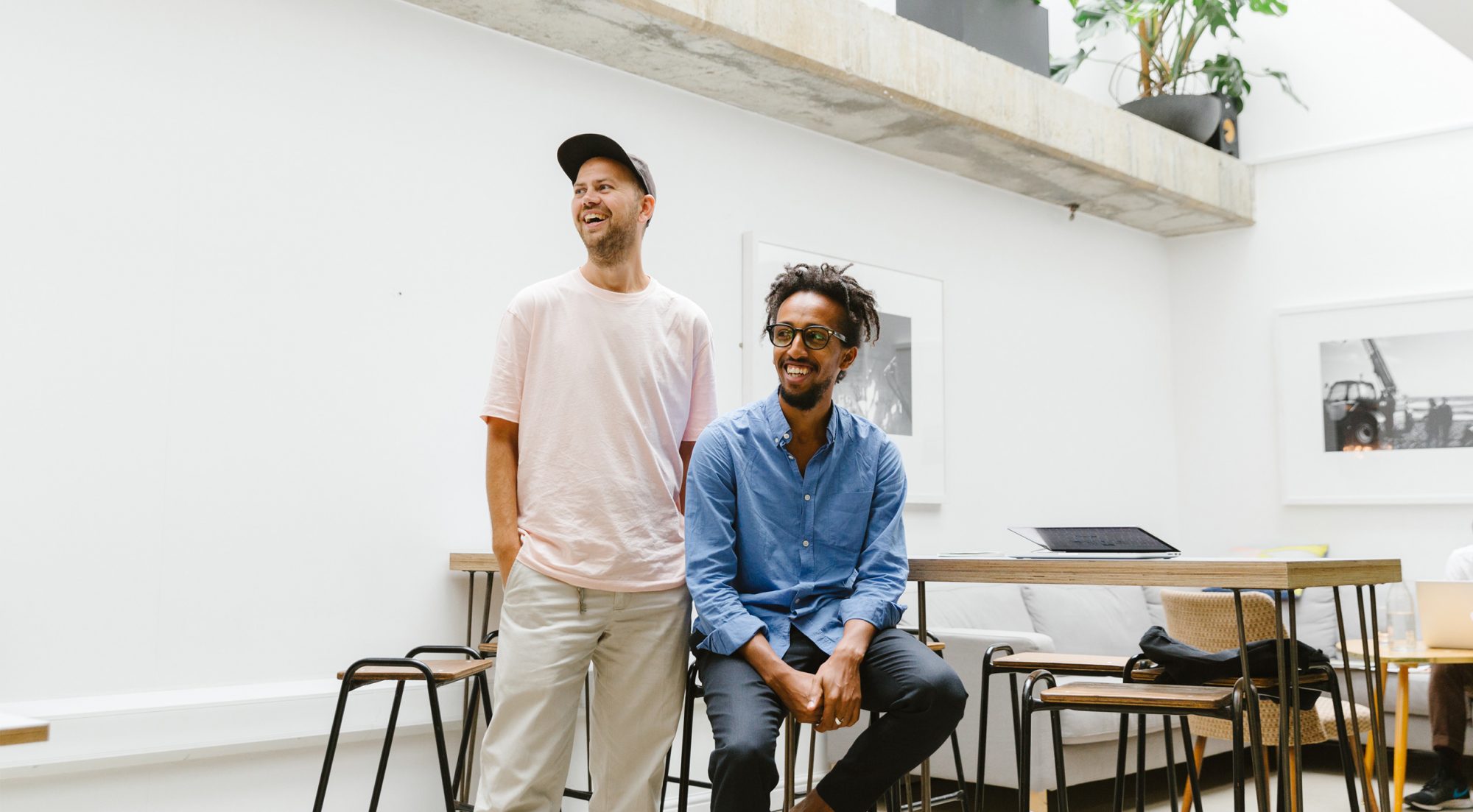 It's getting harder and harder to pin this pair down these days, but they're in London for Eurobest on 28-30th of November along with a who's who of the European creative community, so be sure to check out those early bird passes. You can follow Pop Up on Insta here and Twitter here, where you can keep an eye out for their Kickstarter campaign and be amongst the first to get your hands on that definitive guide to creative processes. Finally, if somehow, you're not already following our photographer Lauren, don't waste another second, she's here.