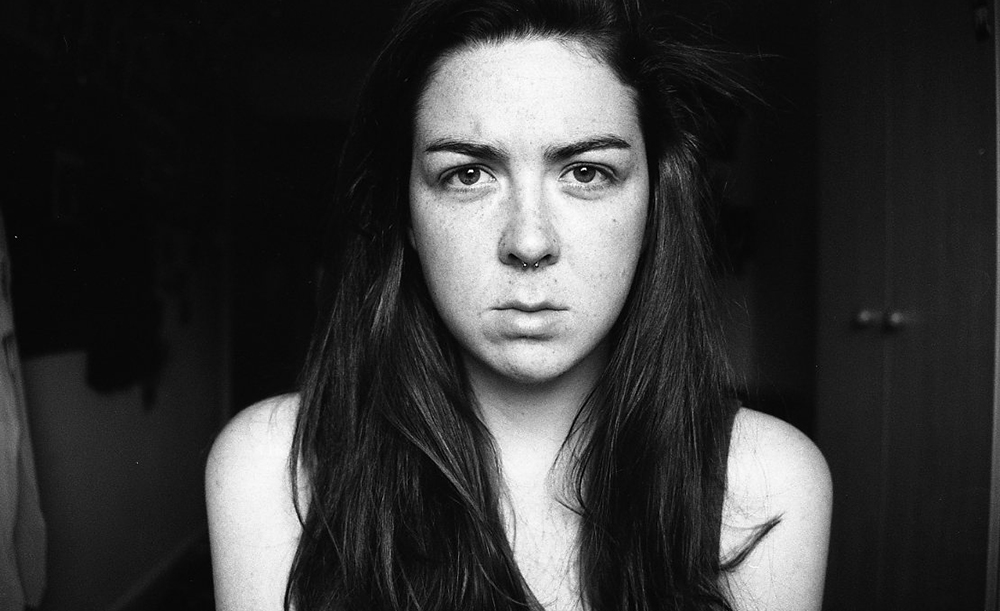 It was January 20th of this year when a succinct, impressive email arrived in our submissions box from a second year photography student. Phoebe mentioned that back in 2009, she had interned with Rankin and hadn't done an internship since. Looking at her work, all analogue and shot in black & white, I was mightily impressed by her composition and intrigued by her self-portraiture. It was something of a rarity to have someone submit self-portraits to us and I was keen to learn more.
Another uncommon thing about her submission was that she was studying at The School of Art in Manchester, so for once, it was an opportunity to sit down for a face-to-face meeting with a prospective contributor. Over the course of nearly two hours, we talked about her work and how it could fit into the magazine. I've always had a soft-spot for monochromatic analogue photography and felt that the uncoated section of Issue Two could look great with Phoebe's work. We kept in touch and when she sent me a series of self-portraits in March, I knew that I wanted them to form the backbone of a feature.
"Phoebe-framed" was the result, an insight into her motivations for pursuing a vein of photography unpopular with some tutors and one that isn't particularly common beyond the mobile phone-induced S-word. As part of our ongoing Meet the team series, I caught up with Phoebe yesterday to further explore her motivations and inspirations as a means of introducing her and her work to our burgeoning online readership.
In Issue Two, we look at what self-portraiture means to you as an artist and the feature opens with you being told by an academic to avoid it, what first drew you to it and how do you feel about it today?
As a child I was always photographed, certain members of my family were keen to document my childhood when they could. When you get to a certain age these images just stop being made for many reasons. It was around this time that I began taking photos. So naturally I turned inward, still needing to see myself in photos.
The fact that I was the ever present constant in my life is a strong reason why I made self-portraits, and why I still make them today.
I was much more private about making self-portraits when I was younger, but now I feel like that area of my work has been validated in some way. I do feel that I now need to reverse this though, to keep everything more private. I believe this will pay off in the long run. Almost like keeping a secret. One day I will use them but there will be a time and place. Shoving photos into the virtual database isn't what I want to contribute to this year.
You also mention that your studies (you're just about to begin your third year at university) rarely set self-portraiture briefs but that you often manage to work them in. Have you had many disagreements with tutors in the last couple of years?
The first year at university at Staffordshire the briefs set were pretty rigid, which I think is to be expected on most courses.  With my second year at Manchester Metropolitan things were much more open. It was the "Pre-Conceived and Constructed" module that I jumped on mostly because I knew I would be able to focus on self-portraits.
Disagreements? I wouldn't say that. But this year has certainly ended on an interesting note. It has made me reassess a great deal of my work, what I put out there, what I write and allow people to know about my processes and reasons for making work.
As an artist I am unable to stand by and watch an event unfold out of my control when it is so connected to me. If I feel betrayed or disagree with anything under the universities 'protected' environment I will speak up and openly disagree with the tutors.
Is it difficult to objectively assess your development as an artist when working a little outside of the regular parameters of the course structure?
Being at university is just giving me the time and the opportunity to make work. I don't really assess my development as an artist at university. I look for validation from outside the university environment. This gives me a much more interesting and honest gauge of where my work fits into the bigger picture.
Being at university, you can get lost in the bubble that surrounds you.
You shoot entirely in analogue, how has that affected your work both in terms of output and craft?
Luckily I have made so much time for processing film and printing the images. I couldn't have had it any other way. I know I haven't perfected printing but it is only possible to improve. This year I have taught myself so much.
Over the last year the darkroom has been very quiet. It's always great when I walk in and it's empty. It's a great space to work in and when I'm alone I am much more productive and the work just multiplies.
Can you see yourself switching to digital in the future?
I don't think I will ever switch, but never say never.
What are your plans career-wise following your studies?
A great deal has happened this year alone, so a lot will depend on what I can throw myself into this year.  The plan is to intern again. I need to integrate myself into the field of fine art photography somehow, interning may be the best way to do this.
When we first met, you mentioned that you had interned with Rankin, what can you tell aspiring photographers about that experience? Do you look back now and feel it had a profound effect on you?
I was nineteen when I got that internship, it symbolised a turning point for me in terms of photography and life. I do still think about it now. It not only gave me a great insight into photography, but also a great sense of accomplishment for the first time.
The time I spent there was mind-blowing for a small town girl, but I expect it would have been mind-blowing for most. I can remember the day before I went when I was so scared of change and jumping into that world, but once I was there it all fell into place.
Being surrounded by influential artists, Damien Hirst being one, was just incredible.
You really are a nobody. But Rankin throws his interns in head first. From assisting in shoots from the beginning to being the general dogsbody, and then in another moment being tested by Rankin and instructed to take photos during a Swatch shoot, it all feels like a dream.
I watched and learned, I soaked up everything I could in that experience.
I understand that you're sitting on a bunch of film from this summer that you're yet to develop, what can you tell us about that body of work?
Moving back home from Manchester I was aware that my work would change. It makes me nervous sitting on this much film but it will give me a foundation to begin my year on.
In my free time I have added to my diaristic work. For the first time since coming back home after a long period away, I have returned and actually been quite mesmerised by my, once so ordinary, surroundings.
There is one important series of work I am on the very edge of creating. I am sure it will pave an interesting path for my self-portraits this year.
_______
You can check out more of Phoebe's work (including some recent colour photographs) over at her site via the link below. I for one can't wait to see how her work progresses this year, next year's graduate show already boasts an exciting personal highlight.