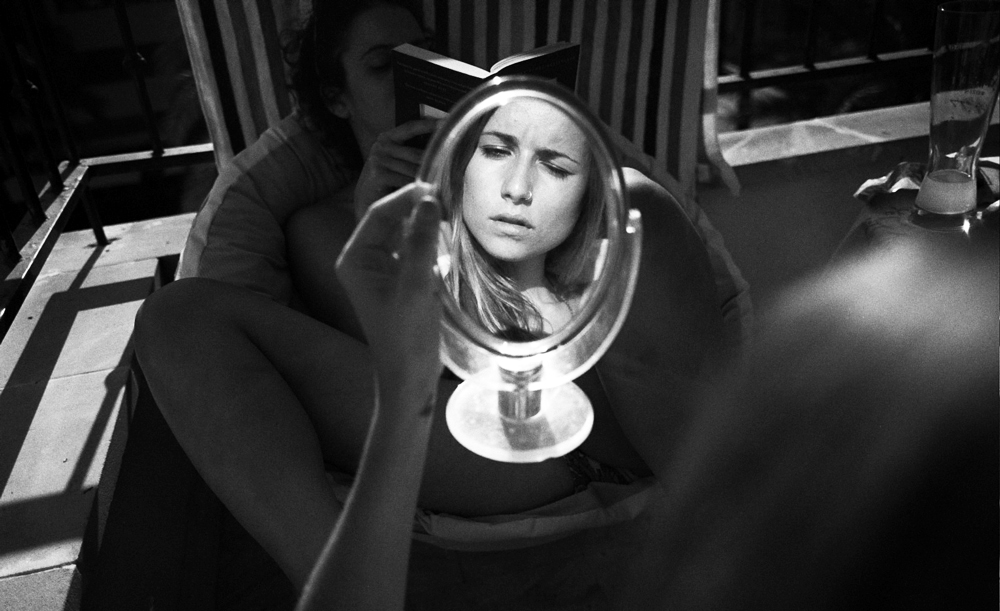 Today's Meet the team arrives at something of a landmark time for it's subject. Tomorrow, Monica Lek moves back to the United States having successfully applied for a US visa. This is particularly nice news for us here at Intern, as I wrote one of the letters of recommendation for the application. Monica has been part of the Intern family for a while now, her and I collaborated before the mag existed and she was one of the first people I lined up for our début issue. Outside of the editorial quintet, she is the only person to date to have contributed to both our first two issues, after swooping to our rescue by shooting Jessica Walsh earlier this year. That feature has just been published on Archinect as Issue Two is becoming harder and harder to get hold of, and it serves a timely reminder of what a great photographer Monica is.
Quite unbelievably we couldn't find anyone in NYC willing to do the shoot. With about three days to spare, an online appeal saw Monica get in touch. I knew that I could trust her 100% and she didn't disappoint, producing images that worked perfectly in the mag despite only having a short time to get them. That was a side of her work that I hadn't experienced yet and it taught me a great deal about just how good she is at improvising, a skill that often comes into play with her documentary work.
Upon hearing news of the visa being granted, I wanted to use the opportunity to introduce her properly to you, our readers. Born in Spain (or the sea, depending on who you ask), she studied art direction and film in Barcelona before moving to NYC for two years. She has been between home and Istanbul for the last twelve months shooting her first documentary feature about a drag queen called Lou Lou. Enough from me, here's what happened when we had a chat over the weekend.
So, you're off to the US tomorrow having written about your previous stint in NYC for Issue One. What are you looking forward to the most?
To be surrounded by my favorite people. To find and apartment. To live, to enjoy myself with a new perspective and mix it with what the city has to bring.
Is it still a city for dreamers? If so, what are your dreams this time round?
I believe so. We know that life can change in less than a second, it's a fact, but in NY I think that's even more intense. The rhythm of the city gets in your blood, it's a constant lubricating flux, and if this helps you to fulfill your dreams, it's worth it.
I always say NY its like a relationship or lover with its ups and downs. You love it, you hate it, you need a space, it fill your desires, it can kill you, it's where you learn what you want for yourself . Big inspiring things live in the city, for that reason, you produce more. There's something that unites all the artist in NY, it's kind of unspoken, but sooner or later, if you live all those experiences, you find your place.
Last time we checked in on you, you were working in video with your project Lou Lou. How do you compare the two crafts and which is taking the lead at the moment?
I'm totally focussed on film right now, even though I never stop taking pictures and will never do. Film is my way to connect to other realms of reality. To capture an instant in time that I want it to last eternally. I'm asking something that will be revealed to me or to my subject in another time and space. In documentary films you don't recreate reality, you don't have control. Life happens at it is, and that is one of the most sacred lessons you can learn – stop taking control, let go.
People say my still pictures have a cinematic feel and now I want to keep on recording, not just shoot. I want to tell a story that has never been told this way. I want people to empathise, to see themselves reflected. If that experience helps them, I feel like I've done what I've set out to do. You might not remember the words, but what remains is how that person made you feel.
How do you find that different cities and environments influence your work at the time? Is it the people or the place who have the biggest effect?
They do, obviously both have a huge effect. We create those cities we live in. Furthermore, you create your own family, circle, vibe, environment. What I'm trying to say is that it's the people that matter. If you think about any specific city, you don't think about the Empire State or Taj Mahal, you think about that person who is waiting for you there, with whom are you sharing the experience in that chosen environment. If you are with the right person, you would go wherever.
One of the favorite people in my life, wrote a book called "Nueva York no eres tu" (NY it is not you). My response it that it's you, it's us, it's everyone living here, it's us who give the city identity.
Your work often takes a documentary form, what is it about people that you find so captivating?
It does, it's abandoning myself, adoring people I love and even the ones I don't know. I love them in that instant for many reasons.
I know myself and my aim when photographing someone else is to capture the essence of that person by reflecting the beauty of life. I'm an observer and I want to record what seems invisible to the eye. I just want to make some magic. Everyone of us is unique, a hero if you will, I'm just looking to mirror that and make people stop to take notice.
You saved us at the last minute when you shot Jessica Walsh for Issue Two. On the day, unsurprisingly, Jessica didn't have much time yet both you and Anne nailed it. What are the most important factors to consider when you are on an assignment that doesn't offer you as much opportunity as you would like?
Feel the subject, the environment and know how much time you've got. Make your subject do something unusual. The expressions and body language in between the pose is what's going to tell you the most. With Jessica, I figured it made sense to play with their interns, I wanted something that wasn't just a standard shot sat at the computer.
You and I have been collaborating now since 2012, how would you sum up the last couple of years for you spiritually and professionally?
All these years have taught me, how to understand – and how important it is to really know – the kind of creature I am.
We're shaped on the one hand to be selfish, struggling for resources, pleasure and prestige. On the other hand we're  hive creatures who long to lose ourselves in something larger. We're social, in need love and attachments and we are industrious with needs for effectance. We have to balance all of these desires and urges throughout our lives and I've learnt that happiness is not something that you can find, acquire or achieve directly. You have to get some of the conditions in place and then be patient, other conditions require relationships to things beyond you: just as plants need sun, water and good soil to thrive, people need love, work, and connection to something larger.
It's worth striving to get the right relationships between yourself and the others, between yourself and your work, and between something larger than yourself. If you get these relationships right, a real sense of purpose and meaning emerge.
We've been asking our contributors for pearls of wisdom to pass on to our readership of recent. What advice would you give to young creatives trying to break into the freelance world?
What makes you unique from the rest? Explode it, squeeze it, make art from it and realise it. Respect your own biological time, never ever compare yourself to others and be sure to do what you love, it will make you live longer. Remember that you are not alone, we are all one.
_______
Indulge in more of Monica's free metaphors over on her site, we're going to be keeping an eye out for her latest documentary, maybe you should too.