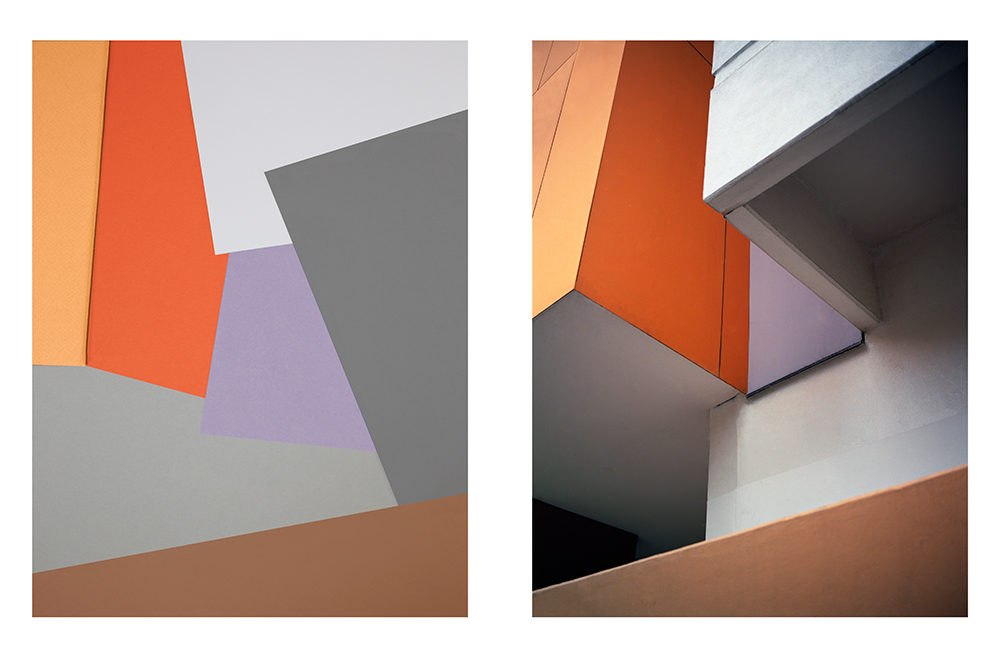 Having studied photography for eight years, Falmouth graduate Nina Band recently began to move her practice in a new and compelling direction. During her second year, she created a series of images inspired by architecture, shot on her mobile phone. Experimenting with a 'glitch app', Nina discovered that the abstract forms and shapes of which the photographs comprised, were ripe for experimenting with.
Architecture has since become the main focus of her photography, with the initial idea of trying and recreate the elemental forms of her photographs on Photoshop leading to a very interesting body of work. "I wanted to introduce my audience to a new and possibly more interesting way of viewing architecture", she tells me. Nina began by closely studying 'dated' buildings that seemed overlooked or that are now generally considered 'ugly'. It was within these structures that she found elements of real intrigue. Colourful, concrete, unusual compositions that seemed far too compelling to ignore.
After a long period of making documentary photography, what really excited Nina, was the opportunity to "create something new, in response to something existing". Rather than simply recording these spaces, she wanted to challenge her audience's perceptions of them and the images themselves. Those initial experiments on Photoshop grew into something tactile and physical, as Nina began to recreate her photographs with coloured paper and card. By reducing the lines, shapes and colours of the photographs to their most basic, she creates an image that has an intriguing dialogue with its original. It's this allowance for play and simplification that makes the work so engaging. Patters emerge, others are dismissed, altered and the minimalist dimensions take on a life of their own.
For Nina, it's this whole idea opportunity to respond to something existing, yet possibly secret, that drives the work. Her approach has resulted in her examining buildings in a very particular way. "I always look for shapes within architecture that could be deemed as two dimensional, so that it challenges the way I see the components when I'm reproducing the original image in paper".
The structure of and support present within the photography course at Falmouth have been key to Nina's journey so far. Being challenged during her first two years to scrutinise her concepts and outputs, she also benefitted from the freedom to explore and experiment with different styles and approaches. Right now, she sees her work sitting somewhere between her fine art approach and her clean-cut, contemporary aesthetic.
With a personal interest in fashion and an acknowledgement that fashion and architecture are referencing one another quite directly at the moment, Nina is keen to work in a space that combines the two worlds. With a recent trip to Japan sparking no end of ideas, we're excited to see how she responds to that most fascinating of intersections