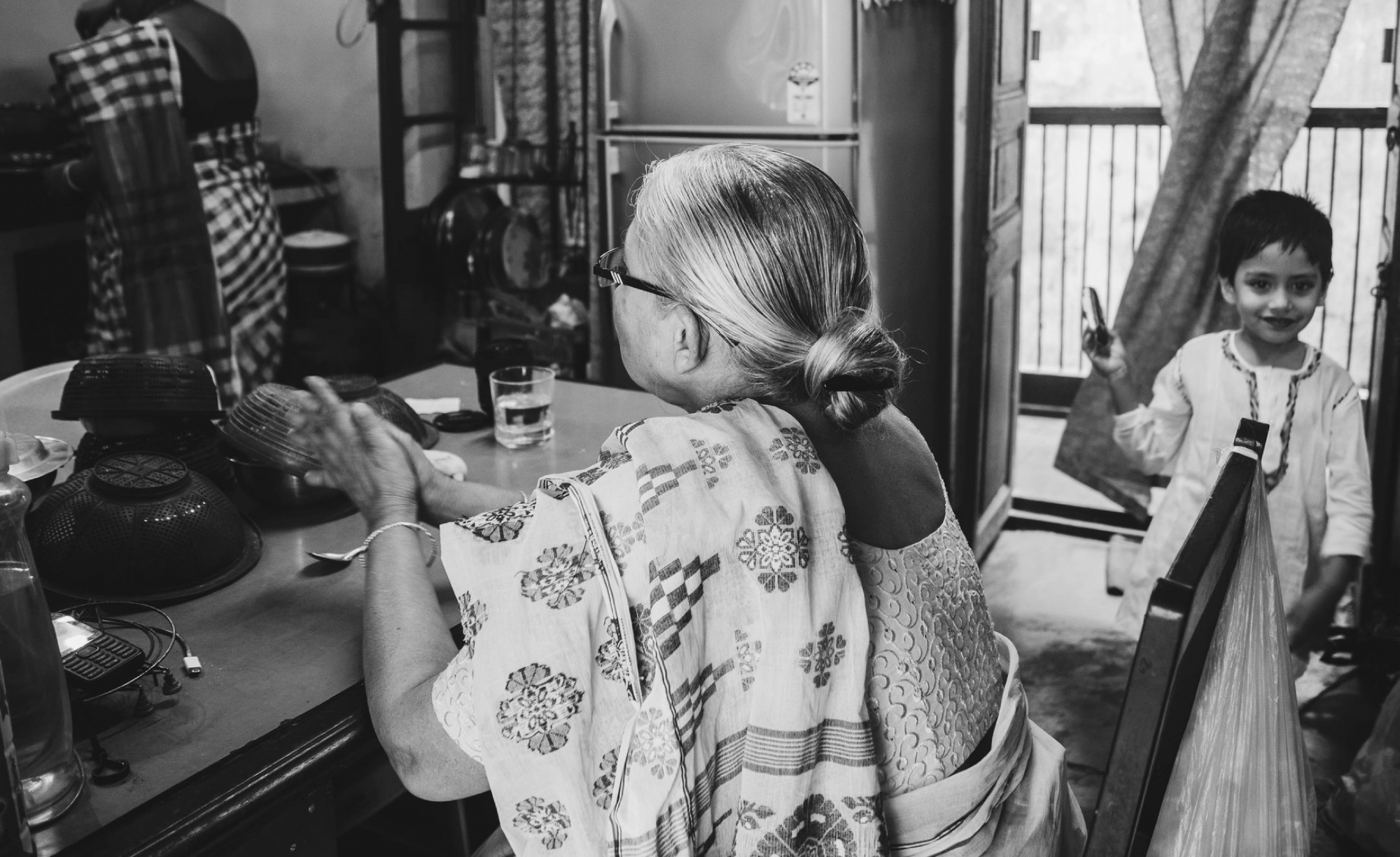 When photographer Rakshita Mittal was sifting through ideas for her degree project at Srishti School of Art, Design and Technology, her thoughts kept circling back to Calcutta, a city she'd forever been in love with. Steeped in art, literature and music, Calcutta is a city unlike any other in India: one that hasn't completely shrugged off the colonial hangover and, yet, a city poised for the adventures of tomorrow. With an eye for the subtle things that make a city what it is, Rakshita decided to explore Calcutta and its people through the lens of the city's most potent passion: food.
Her photo essay 'Rani O' Ranna' or 'The Queen in Her Kitchen' creates a rich, layered narrative. Through portraits of women in their Calcutta kitchens, Rakshita questions how this highly gendered space affects their sense of identity. "When the idea of 'Rani O' Ranna' was conceived, it felt like a transition and evolution of ideas from an interest in food and culture, to the power and politics around it," says Rakshita. "It was also a search to find out how women have evolved over generations, and where we are headed to. Why do we as women feel the need to embrace and reclaim the identity of a care-giver time and again? For that woman, does the dominance over her kitchen truly make her powerful, or does it reinforce her lack of control over any other sphere of her life? These kitchens, for me, thus became markers of different identities through the experiences, objects and the memories that lived in them."
To anyone who's familiar with the intricate history of women's relationship with food and kitchens, Calcutta seems like an obvious setting for a project like Rakshita's. The rich vegetarian cuisine of Bengal, that it is known for today, originated from the kitchen of the widows; in the past, young widows were not allowed to consume meat, and only cooked with simple vegetables, herbs and spices. The idea was to deprive them of worldly pleasures and nutrition. But over time, it gave birth to a new cuisine in itself. "This power of the widows' kitchens and its significance in Bengal food history has been one of the crucial reasons for me to start this project in Calcutta," sums up Rakshita.
The stirring images move through kitchens and living rooms – at times lavish, and sometimes only a few feet wide, with towers of spice boxes piled over one another, jostling for space atop wooden cabinets. The warmth of these women is almost palpable; they flip through handwritten recipes, play the piano and flaunt prized equipments that help them do their magic. "In this journey, my camera and I have grown together. We have learnt to laugh with the gullible and grow sensitive to the silence. The idea was not to cry out for a change in these spaces, but to understand them as they were. Through this project I have tried to find answers to questions that have followed me through the years, as a woman from a conservative family growing up away from home. This, for me, is an attempt and a start to be able to make meaningful connections, and look beyond what is inherent and understood."