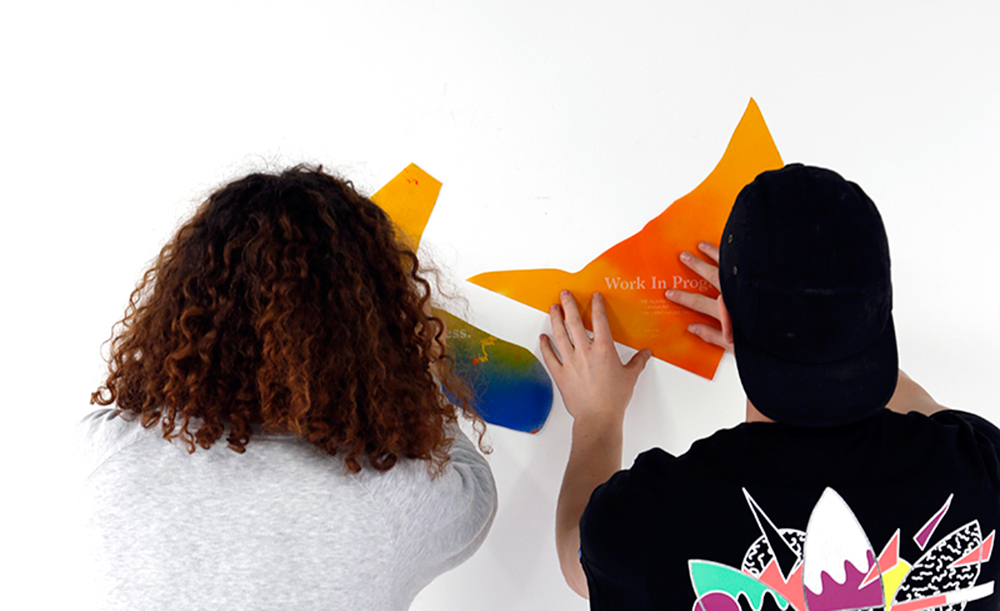 Portrait by Benjamin Haywood
When our Photo Editor, Hollie picked out Rosaline's work in the build-up to Issue Two, it was clear that we we're dealing with someone very much on the rise. Despite not yet graduating from her BA course at London College of Communication, we asked Rosaline's opinion on crossing over into the world of professional photography. She cited the importance of the contacts she had made during her time at university and also told us that it was never too early to start working real jobs.
Little over six months after graduating, she has won not one, but two awards for her graduating project, opened her first solo show and keeps adding to her already impressive list of editorial clients. She's even been featured by The Telegraph and Nikon in a joint video piece about her working process.
It seemed as good a time as any to catch up with Rosaline and discuss her brilliant 'Far Near Distance' project, the solo show 'Nothing In The World But You' and what the future holds for one of the UK's most exciting young photographers.
Your graduate body of work for your BA at London College of Communcation received two awards. 'Far Near Distance' features your cousin Sahar, who lives in Tehran and offers a rare insight into the life of a young Iranian woman, due to your publishing the work in the UK. Presented alongside the photographs are letters sent between the two of you which provide insight into the restricted, traditional nature of Sahar's life. How did you begin to develop this project?
Yeah. Well, we used to write to each other when we were really young. We'd always send each other photographs and bracelets. These letters always seemed so well thought out and precious. You approach writing on a whole different level as opposed to the constant messages we generate via email, text, whatsapp etc. When I write I seem to take my time, really think, and I think for these reasons the letters immediately become more valuable and personal. Anyhow, with developments of the digital age, Sahar and I had remained in contact via Facebook and email. However, the Iranian government are constantly clamping down on what websites they filter on their network so it has become increasingly difficult for me and Sahar to remain in contact which is when the idea came to me that we should go back to writing letters. There is something about the distance these letters have travelled too which relate to the distance between us. Alongside the letters, I also presented the envelopes with the stamps. These envelopes identify themselves as different, and clearly outline the differences in our cultures – along with the contents of the letters where the reader can discover more and more about the how our social conditions effect our daily lives. However, our sentiments and values always remain close, and similar.
You've talked before about Sahar as a "personal connection to Iran", a chance to experience what life might have been like had your parents not emigrated to London following the Iranian Revolution of 1979. Do you find the societal barriers that she deals with day-to-day difficult to accept when you visit her?
Yeah absolutely. I've always looked at her as a sort of mirror of myself if my parents hadn't have moved. Which really easily could have been the case. I really admire her for the way she deals with things. It really puts things into perspective for me. I don't find it difficult when I visit her because I know I'm going there and I'm prepared for what I have to take on. It's not all challenges. It's a different way of life, particularly for Sahar but Tehran is one of the most beautiful places I've ever visited. The people, the culture and the country itself is so rich in beauty. It's just a lot of the social life is lived indoors, hence why I've photographed Sahar at home. It's the only way in which I was able to engage with her on an intimate level. When outdoors, everything is composed and masked. It's a very different etiquette to ours. But it's not a choice, it's a way of life. And that's why most 'life' is lived at home. We rarely see photographs of Iranian women close up or at leisure so it was important that I could capture Sahar in this way, because that's the way I see her.
How important do you feel that projects like this are in challenging government controlled representations of women in countries like Iran?
I think it was a real eye opener for a lot of people, but I have more recently begun to see more and more candid photography coming out of Iran. It was funny because I remember when I initially proposed the project to my university peers and tutors, they were confused that I was going to shoot a project about my cousin in Iran. They thought it had nothing to do with my way of shooting, as they immediately had clear ideas of how my project would look. This is because of the amount of heavily conceptual art you see coming out of Iran. Most work has been created so that it could still be published in Iran. For these reasons its often through metaphor that a message is delivered. This is most common in Iranian cinema. But I wanted to do a project about my cousin in Iran but it wasn't going to be about just Iran. It's about her. And I've photographed her in the same way in which I photograph girls in the UK. But going back to your question… I can't say the project is the answer to the issues but I can definitely say that my work asks questions which raise awareness.
Your work often features female subjects and carries a real intimacy to it. What first drew you to female subjects and how do you establish the level of trust with them required to get the shots you're after?
I guess I first began taking photographs of my friends, and obviously being female it meant that these were photographs of girls. I've always consistently photographed my boyfriend and male friends in the same way too, I've never drawn the line there. These photographs of my friends were really raw – I was like a fly on the wall and I was just documenting our relationships or times we spent together. The photographs were very much about the people. I still strive to photograph in the same way. I rarely give much direction, most of my subjects are photographed very naturally. I like to spend time engaging with my subjects and making sure they feel fully comfortable. The trust between photographer and subject is so important for me as it really effects the result of the image. When thinking about photographing women, a quote by John Berger has always come to mind: "Men look at women. Women watch themselves being looked at". Women are great at composing themselves, they know how they want to be seen. It's not as though they're 'victims' of the male gaze, I see it as empowering. They know how powerful female beauty is and that's another reason why I hardly have to direct.
You recently opened your first solo show 'Nothing In The World But You' at Notting Hill Arts Club, which runs through March 5th. How would you compare that experience to the group shows you've been part of?
It was great to have an opportunity to work on a show on my own. I've made so much work so it was nice to sit down and look at everything and reflect. These photographs are almost 'unintentional' photographs… They're all portraits I've taken of my friends over the years. They sum up our salad days. They're really intimate and capture the essence of my friends and our youth. It's really about the human connections and relationships which my camera has continued to document. Notting Hill Arts Club's informal setting felt perfect for the work. I think the photographs say a lot about my subjects, as well as myself.
2014 was a pretty great year for your commercial work as well, with commissions for DAZED, AnOther and TANK among others. How does editorial work rate against the other jobs you do? 
Yeah it's been great. I've enjoyed every minute of it. I really like all aspects of my work whether I'm working on a personal project, photographing friends, shooting for editorial, putting on a show, teaching… If it's photography related I'm generally 100% there. I value all of my work for different reasons. Editorial is fun, it's such a different pace and it's always great to collaborate with new teams or clients. I love bouncing ideas, it's a good energy. My personal work has really informed the way I work editorially. I always want to deliver in the same sort of way so I try not to treat them as separate entities.
What has been your most challenging commission to date?
I see every new job or task as a new challenge. Maybe London Fashion Week is the most challenging because I have no sleep and I'm editing whilst shooting, whilst running, whilst drinking a coffee, whilst taking a phone call, whilst lighting a cigarette, whilst navigating… But that's just the madness of that. I find every new project challenging because each time I want to push myself to do better than the time before. I hate repetition, so for these reasons everyday is a new challenge.
You spent some time assisting Tom Hunter, your tutor at LCC, how has that affected your craft?
Errmmm… maybe the crooked back from carrying his 10 tonne tripod across stone henge?! Only joking. Me and Tom got along really well as soon as we met so it's been more about our relationship rather than our craft. I wouldn't say our styles are particularly similar but I guess we are both interested in people, but we definitely approach it in our own ways. He has a really incredible process and background in photography so whether or not I have incorporated it into mine, it's still a valuable experience to work with him. I guess our love for analogue has always been there too.
What would you say is a good way for young photographers to gain experience and get noticed?
Work hard. Trust your gut. Take good photos.
Finally, can you tell us anything about what you're working on next?
I have a few projects coming out soon which are under wraps for now. Follow my instagram for updates.
_______
Be sure to head on over to Notting Hill Arts Club to catch 'Nothing In The World But You' until March 5th.
For a closer look at Rosaline's projects, check out her site via the link below.