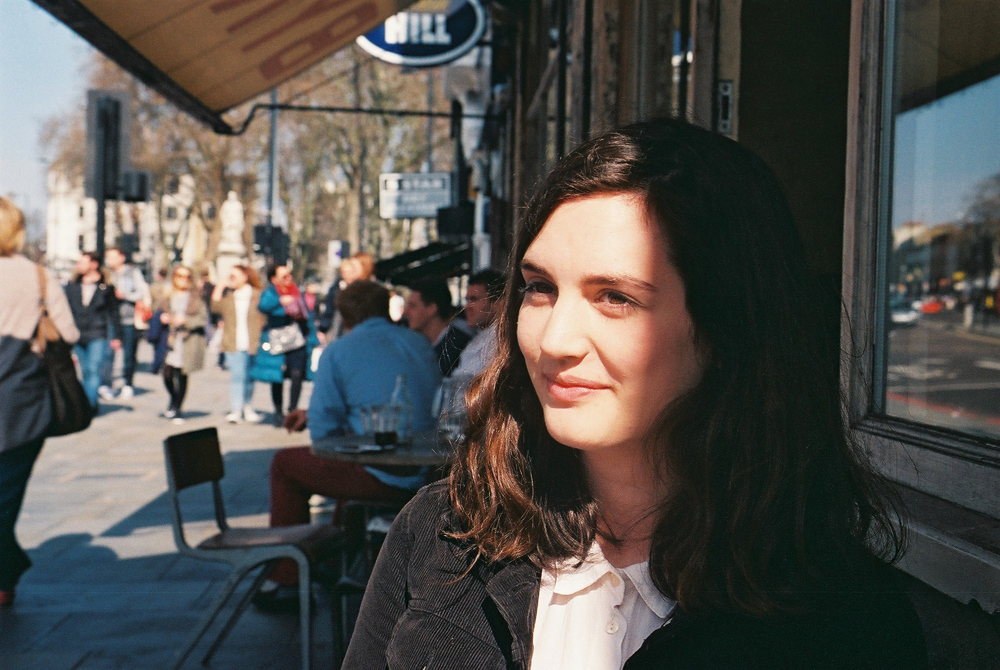 Following on from my chat with Cécilia Poupon last week, this past weekend I caught up with another photographer from the 'Precious Cargo' feature in Issue One, Sophie Davidson.
Our Photography Editor Hollie was very keen on Sophie's work and I felt that she added a dimension to both the feature and the magazine that we didn't have. So much of the photography that is submitted to Intern is of female models, shot on a soft focus and there is nothing wrong with that (although it does result in me being accused of "curating the world's most boring adult mag" on Twitter). Here though, was someone who seemingly shot as many men as she did women, if not more. The skill of composing such pure and beautifully balanced images is an incredibly difficult one and Sophie is a fine exponent of it.
Emerging from the two noticeably long escalators at Angel tube station to a roasting hot spring day, it was a pleasure to actually have chance to sit down with Sophie. The past few times we've seen each other, it has been for five minutes here and there. I was relishing seeing what she was up to professionally, what follows is an edited version of our conversation over a pair of messily eaten burgers.
So, what does the average day in the life of Sophie Davidson look like these days?
I don't think there is one, if I actually worked it out it would probably involve waking up at 7:45, drinking a Capri Sun and eating a chocolate wafer for breakfast, working in a bookshop, eating a really big sandwich, working some more and then going to get drinks/food or going see an exhibition, film or talk. Pretty normal for someone in London who's looking for a way into the creative industry I guess. I do try and have plans every day and that's going OK at the minute. If it's a weekend I try to do a shoot or see my friends. The last few Saturdays I've had to write a time table because living for the weekend and trying to be a photographer is kinda tough to keep track of , also it makes me feel a lot more popular than I actually am.
What have you been up to since we worked together on Issue One?
Other than drinking and dancing too much I've had a few more assisting jobs and some freelance work which has been pretty good! I went to Paris on a commission and have had another from a New York magazine which has was pretty exciting for me, mainly just so I can tell my parents something that makes it sound like my degree was worth all the time and money.
How has your assisting work been most beneficial? 
Assisting has been really great, it's a good way to learn and it's always fun. Whether you want to learn technical skills or social/professional skills I think it's good to do it hands-on. Also I think photographers generally tend to be pretty friendly and most of the time shoots are catered, so I have a good time. The other day I assisted on a shoot where we had the whole of the Barbican Conservatory to ourselves for 4 hours and that was pretty dreamy so it's definitely worth doing. It's pretty fun assisting Jamie Stoker because I've been working with him for a couple of years now and it's really encouraging to see how well he's doing. Also just because he is the nicest person to work for.
Didn't you meet The Horrors on one of the shoots?
Yeah I did! That was when I was assisting for the wonderful Nic Shonfeld. It was pretty fun and they were really nice guys. I felt like if I could tell my 17 year old self that was what I'd be doing in 2014 I'd be pretty pleased with myself. Actually, my current self is pretty pleased, who am I kidding?
You photograph men quite a lot, what draws you to them as a subject? 
I was going to say I like photographing men because in general they're more relaxed  and you don't have to worry so much about make up but I don't think that's true, they're definitely not any less vain. Sometimes it just seems a lot simpler. I think there's a lack of male fashion photography that isn't overly sexualized, I'm a big fan of the way Venetia Scott shot the men in her Margaret Howell campaigns and Ryan Mcginley's road trip portraits are barely sexual and I like that. At the same time I am nosy and love relationship photography, Elizabeth Peyton's "Prince Eagle" is one of my favourite photo books as well as Corinne Day's "Diary". I always enjoy the work of Lina Scheynius and Sandy Kim whose work is very open and sexual. Obviously it's different if you're working with someone you're in a relationship with, it's always going to be more intimate and when I'm in a relationship I photograph the person and our surroundings constantly. I really wish I could transfer that intimacy into everything I do but I guess that's something I've got to learn, that's the reason I shot boys for my final major project at university but I don't think I've finished with it yet.
What are you working on at the moment?
I'm just trying to keep working really, doing more personal work. I found I had a "post grad depression" phase where taking pictures seemed like such a chore and I hated everything I did. It was also really frustrating dealing with clients who, (duh!) don't want to pay someone who has just graduated and looks about 17. I think I'm over that now though and I'm just enjoying creating images again, so there isn't so much a project in mind at the minute, although I am thinking about a few book ideas.
Has anything interesting or helpful happened as a result of you being part of Issue One?
A lot of people have told me they've seen it which is nice! I got a text from a friend I work for the other day who runs a pop-up restaurant called The Groundnut in Deptford with some pals saying that he'd had some people down to eat from Leeds because they'd seen my work in Intern.  They'd done some Googling and discovered them through my site, which is pretty great because their restaurant is really something special and I'm glad more people have found out about it.
_______
Sophie's assisting work is a great example of a way to develop as a photographer and have the hands-on experience of working real briefs for real clients. Often, as she alluded to during our conversation, the management of clients can be one of the hardest parts to working as a freelancer. The opportunity to see how others cope with those situations is invaluable, despite it not being the most  inspiring.
Speaking of inspiration, much can be garnered from Sophie's portfolio, to which plenty of new shoots are being added as a result of her policy of making herself do a shoot per weekend.