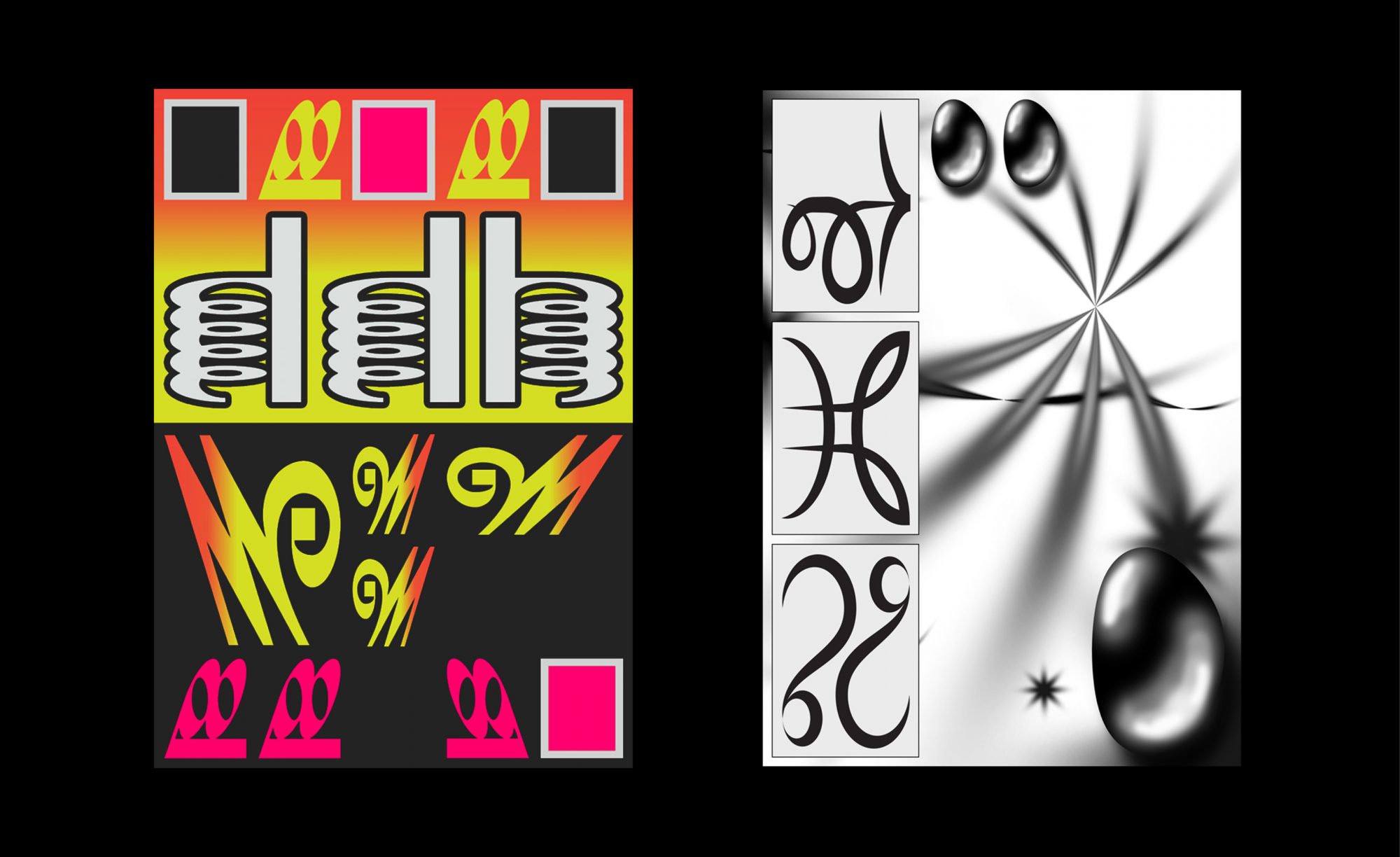 Callum Abbott's creative education began in the architecture school of Edinburgh College of Art, but after realising that the technical and creative rigidity wasn't for him, he turned his hand to graphic design. Finding the broader scope and faster outcomes to be a far better fit, Callum quickly found his niche within the discipline when he discovered 'anti-graphics' movements and aesthetics. Over the years, this initial foray into more alternative forms of design developed into a deeply experimental practice that intelligently bends the rules of traditional graphics to investigate acutely contemporary issues particular to our digital age.
This work is profoundly ingrained in a world of 1s and 0s, from the themes it explores to the means and methods employed in its creation and distribution. That deep entanglement with the digital world is informed both by Callum's desire for "fast and forgiving" processes and his formative experiences as a teenager in the wonderfully bizarre corners of the early internet. "Growing up with the internet, sites like Tumblr were a big part of my personal and creative coming of age," he recalls, "so I feel very connected to digital ideas and techniques."
Underpinning this work is Callum's keen eye for the uncanny threads which connect age-old customs and current trends. Particularly interesting to him are the ways in which ancient acts of devotion and spirituality are recycled and reborn in a networked society. "Spiritual practices, like horoscopes and tarot card reading, have grown in popularity through YouTube and Co-star," he explains, "and the visual languages formed in this joining of worlds is really interesting to me." Callum combines these ancient and emerging vernaculars to create work that feels deeply familiar yet entirely new, as though it could have been resurrected from a very real past or plucked from some imagined future that doesn't quite exist.
The icons which populate Callum's work stand out as the most prominent manifestation of these ideas. "In a time like this, where we are taking control of our identities, be that political, religious or personal, we use symbols as an indicator of our deepest beliefs and values," he muses, "so their power is more relevant now than ever." The historical and cultural context of this iconography provides Callum with a rich tapestry of significance to draw from when creating his ever-evolving alphabet of glyphs and symbols. These icons repeat and mutate across Callum's work, forming sprawling constellations of meaning that operate across pieces, imbuing them with an aesthetic and conceptual depth which only unfolds further on repeated viewings.
This smart and experimental work has bagged Callum well-deserved stints at Dazed, Dateagle Art and Caterina Bianchini Studio. He's still creating exhibition identities for Dateagle, an experience that has been invaluable in highlighting a potential path in the industry after he graduates next year. "This crossover of graphic design and art is an avenue I'd like to keep exploring, so hopefully there'll be more to come."