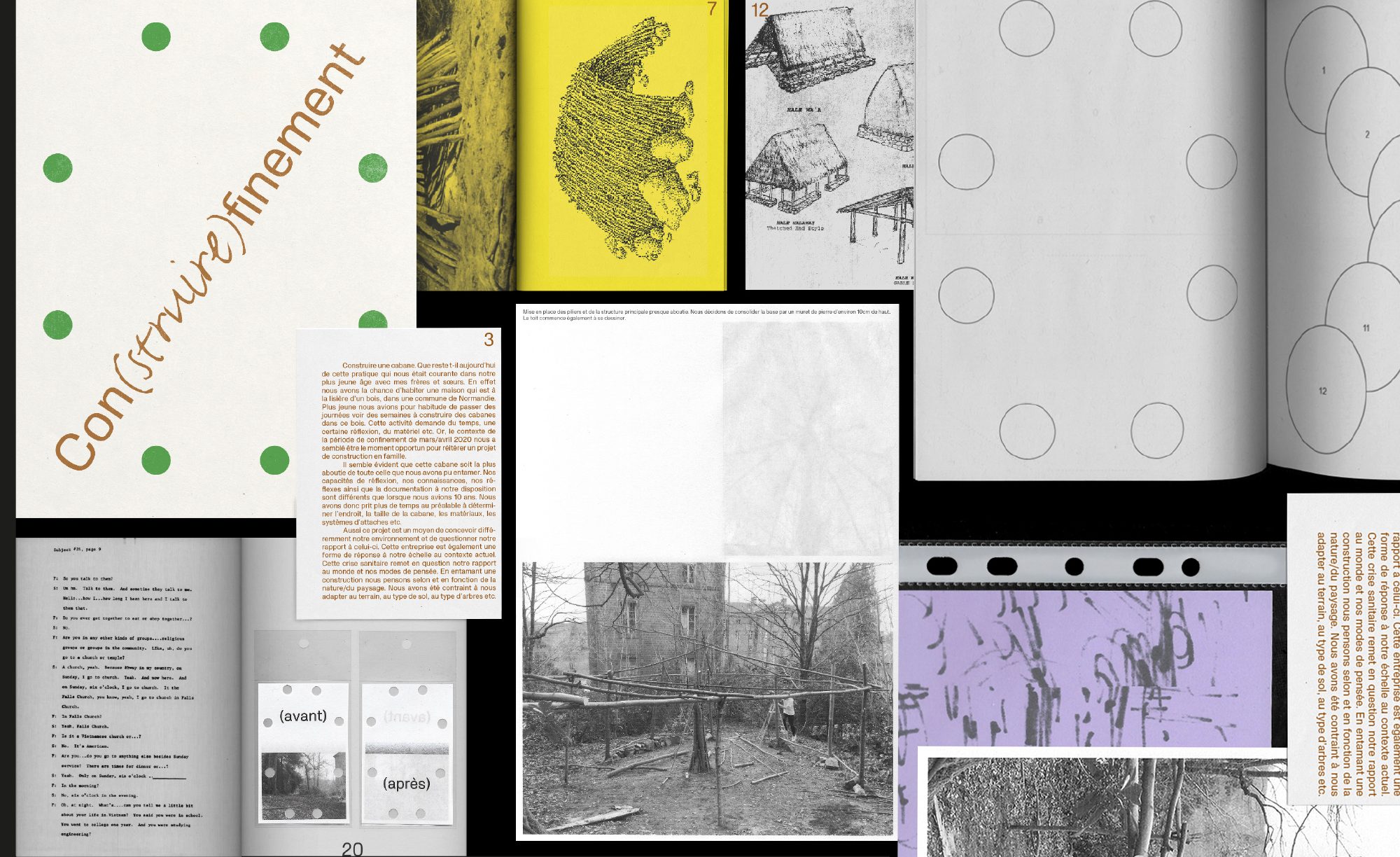 Robin Guillemin works across graphic design and typography, with a playful and high skill for his craft. Combined together, they powerfully visualise Robin's ideas and research. Robin tells us he enjoys working with print and materiality as it's an opportunity to be tactile with his designs. This allows for play, as Robin explains, "I like to think of it as a play space where several perspectives are looked at. In my mind, a book or a poster is an opportunity to be experimental, where everything is possible".
Robin's latest personal project 'Con(struire)finement' is a self-initiated undergone during the lockdown. It's an editorial body of work that follows and retraces the construction of a wood cabin. As a series, the editorial matter is broken down into various sections that glimpse into the different stages of the build. Composed of research, drawings, and images, Robin brings them together through design. Robin explains how the various sections form an issue of the series: "One issue archives several alternatives of geometrical visualisations and spatialisation of the cabin structure. Whilst another is designed as a technical sheet, as part of a sketch for the shelter". Robin tells us about his process behind his body of work, "I believe that each project exists in a unique context, posing unique questions and problems. I have my own ways of working and thinking but, it is important that they are adapted to the type of project. In any case, I always ask myself why I do things and I refuse to go towards preconceived solutions".
Originally from Normandy, France but, has been based in Paris for six years as he pursued design education. Robin has recently graduated from the École Estienne school of typography. Over the past few years, there have been many incredible students who've graduated from there and Robin is no different. Before enrolling at École Estienne, Robin completed a masters degree at EPSAA on the graphic communication course. Knowing his obsession with books and the powerful potential typography has, Robin felt he needed to specialise in typography and editorial design – leading him to École Estienne. Here he studied for two years, and fondly reflects on his time there. "The tutors and their philosophy of education is great. It's the kind of community of people that share their work and knowledge", Robin discloses. He looks to have learnt the strong fundamentals of design and theory as he applies both – creative expression and an eye for detail.
Aware of the transition period, as he moves from finishing education to looking for work, Robin is using this time as an opportunity to reflect on his next steps. Realising the personal projects he's been dreaming of doing for years, he's now working on new typography and self-initiated editorial projects as he continues to look for job opportunities. As a fresh graduate, Robin already has a strong portfolio that keeps growing and we can't wait to see what he designs next, whether that's graphic design, typography – or both.