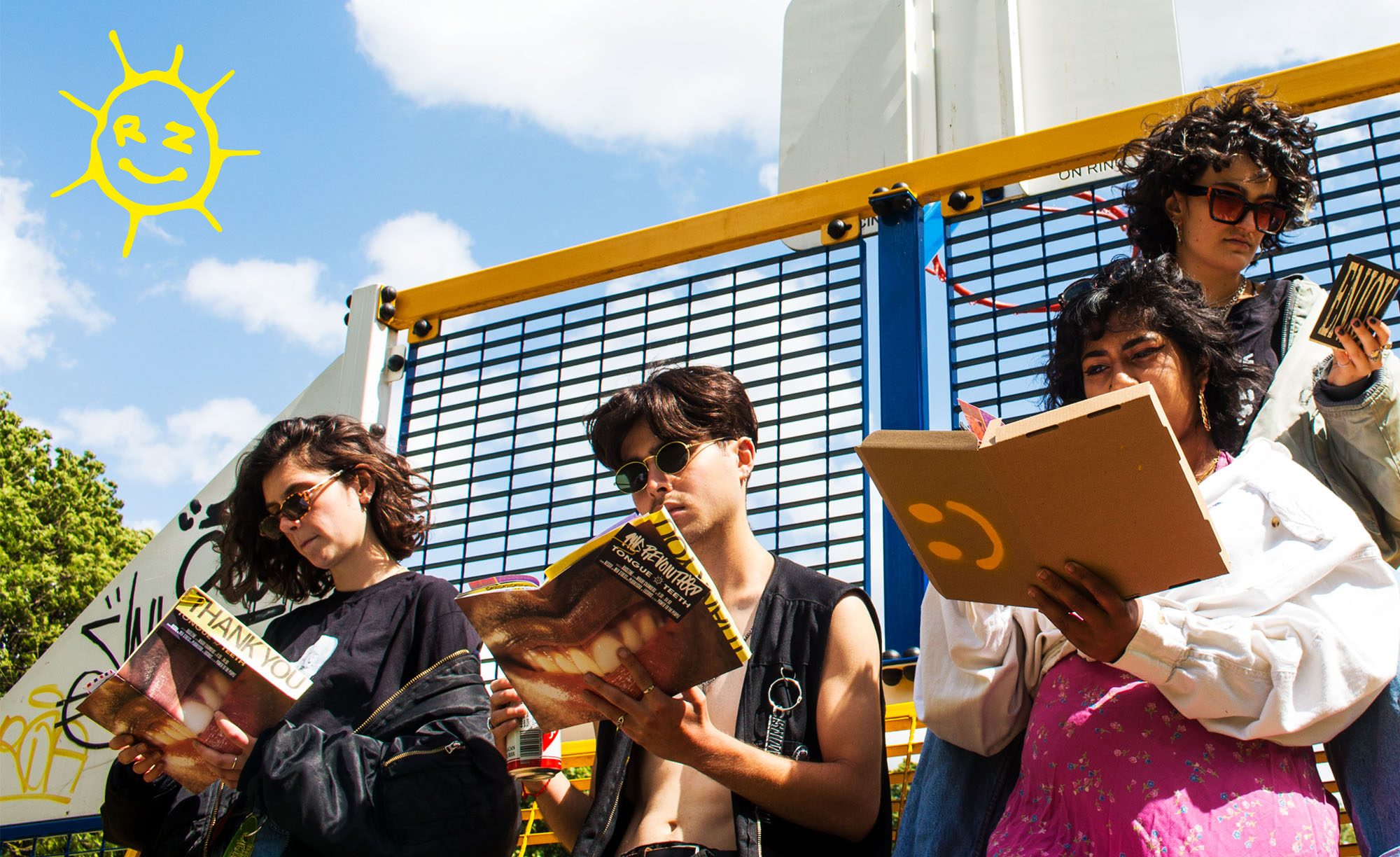 Without a doubt, Okocha Obasi has a huge love for bringing people together. One look at his socially-focused design work confirms as much but he also pours out big-heartedly into the events and club nights he organises. Okocha thinks locally and globally about the change that needs to happen and, then he throws himself into creating it.
Okocha recently graduated from Leeds Arts University with a BA in Graphic Design and opened up to us about his initial feelings of joining the course. "When I first came to university I realised I was the only black mixed/African student in a class of 70. You automatically become a subject to the other, the quota, the statistic to make a university look more 'diverse' than it actually is. Which only manifests a painful experience of imposter syndrome". Rising above, he founded RACEZINE as "a way to explore how to talk about race, raw narratives, and vulnerability" and to open up spaces that facilitate a place to feel connected with the youth of Leeds.
Alongside the magazine, RACEZINE runs club nights such as 'TONGUE N TEETH'; a space that embraces people to be sexually liberated, expressively free, and politically engaged. Each event's name is spun from a topic that is prominently circulating the media at that time. Okocha tells us more, "'The End of The World' event was focused on climate change and 'The Revolution' about the general election". These events are a unique place for youth to connect, learn, and engage, uniting a community as they seek a better world. "It means a lot to me because of what it means to people from all walks of life, attending my events, feeling safe and comfortable, often leaving more informed and inspired than when they walked in", he reflects.
Whilst studying, Okocha has been experimenting and expanding, finding that a multi-disciplinary approach suits him best. At present his practice "moves between illustration, philosophy, activism and textiles" but it's an ever-evolving output, using the necessary means to articulate the issue at hand. Okocha has recently moved back down to his home city of London and later this summer, he"ll begin a residency with The School of Speculation. As a fresh graduate, already jumping into another opportunity to learn and grow, we're looking forward to seeing how he gets on. 
The dream? Okocha has exciting ideas and hopes for the future, as he tells us, "for RACEZINE, maybe I'll turn it into a creative agency down the line, working with institutions in making more inclusive content and directions and working with independent artists to develop visual identities". "But I have a whole lot of time to work that out". As an individual though, his ultimate goal is clear, "I hope to be able to have a positive influence on my industry in shaping better systems that encompass all forms of raw talent". Okocha is an exceptional creative, who radiates a passion for the work he does. We're keeping a close eye on him and suggest you do too.
okochaobasi.com / racezine.com