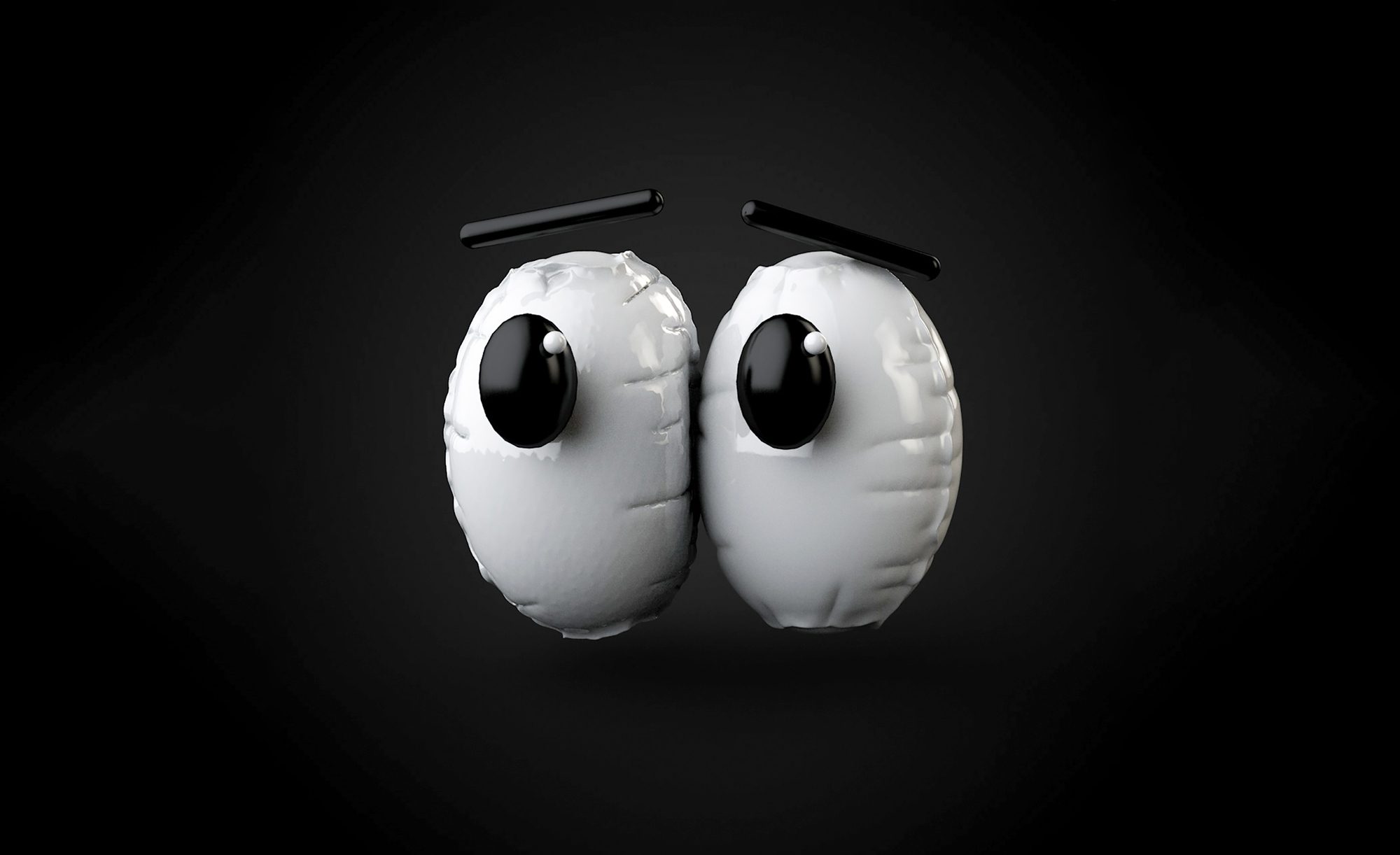 Dutch designer Eva Cremers can't lay claim to a childhood of "drawing all day" and in fact studied international business for a year and a half at university before making "a triple u-turn" and quitting to pursue graphic design. What a great decision it's proven to be. Graduating this summer with a nine out of ten grade from Art Academy Minerva in Groningen, Eva expertly applies her playful and impactful style to all manner of mediums.
Her final exhibition piece 'In news we trust' was one of the most eye-catching installations in the old factory building transformed by Minerva's graduating class. Graphic elements made from foam and MDF were driven from the back by rotating barbecue motors. It was a tricky install, but the final piece mischievously critiques the kind of click-bait headline writing that more and more news outlets are turning to in the face of the internet's impact on reporting.
It's always nice to see graphic designers who are prepared to work in three-dimensional physical spaces, but for Eva, "there is so much to discover" across the spectrum and she's showing no signs of settling with one particular type of work. "I'm very eager to learn different things and I like to explore new techniques and styles" she explains, "overall I would call myself a graphic designer as opposed to an illustrator or animator, but maybe not a very traditional one!"
At Minerva, experimentation was freely encouraged and Eva intends to carry that forwards, trying out set design, 3D stills and animation, typographic experiments and craft-based outputs. Over time she feels that her work might "evolve into a more coherent style" but is keen to avoid settling, recalling the Anthon Beeke quote "Having a style is like being in jail". If there's one thing omnipresent in Eva's work, it's fun. "At the end of the day you've got to make money and it won't be a big pink happy circus each day of the week" she ponders "but I'll try to squeeze in as much fun as possible". It's a quality to her take on subjects that draw you in as a viewer and one that always makes a point beyond drawing a smile.
Considering her satirical approach, it's no surprise that she found herself interning at SNASK recently. Eva's time in Stockholm taught her that "everything is possible" and to "do something different" along with the importance of working hard and having clear self-branding. Since graduating, she's been focussing on personal projects that further outline her brand and has been hatching plans for the future which may well see her move to London.
Eva's current experimental obsession is Cinema4D and we're looking forward to watching her hone her skills and bring those magnificent ideas to life in even more ways. Before we leave you to enjoy this visual buffet, can we just ask this? Have you ever seen anyone else make Dutch fried food look so cheerfully appealing? Didn't think so. Someone buy Eva a battered Mars bar.