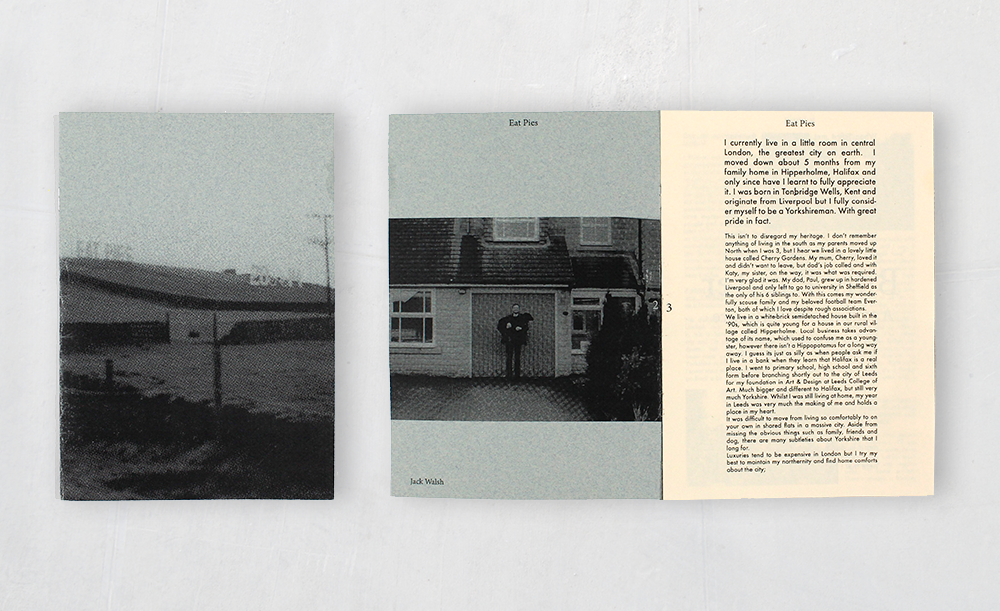 Aged fourteen, or thereabouts, Jack Walsh designed a logo for his junior squash team using Microsoft Word. It proved to be popular, and soon the young Yorkshireman was brimming with pride, seeing his creation on everyone's shirt around the club.
It was the start of his interest in graphic design, although he wasn't referring to it as that quite yet. A GCSE in graphics followed, and spurred on by a great teacher, Ange Duffy, his fascination with visual communication was fortified. A foundation year at Leeds College of Art preceded his enrolment on Graphic and Media Design at London College of Communication.
Editorial design is what Jack has gravitated towards so far. It's an interest that's seen him piece together some beautiful print projects, two of our favourites being the zine 'Eat Pies' and newspaper 'Neutro Copa'. The former was inspired by his hometown of Halifax, Yorkshire and shares its name with a cult piece of recurring graffiti found on a variety of motorway bridges in the region. Armed with a roll of black and white film, Jack tasked himself to capture the essence of what he'd left behind in moving to the capital on a weekend visit home. Having then discovered a photocopier at LCC loaded with cream paper, he produced a beautiful tome, mixing bold yet clean typography with the cut and paste punk aesthetic still held dear in zine culture.
Currently in his third year, Jack is engaged in his 'Diploma in Professional Studies', a year long assessed and graded part of the course that takes place in industry. LCC work with students to arrange conditions for paid internships which look to ensure that a mentor is identified within the workplace. One such mentor was Dirk König, creative director of MoreSleep, with whom Jack spent three months. Under Dirk and his team's watchful eyes he worked on the last issue of Companion, a newsprint magazine produced for 25hours Hotels. It was an ideal project for Jack, who loves to work collaboratively, observing others and experimenting with new approaches.
His most recent internship with Pentagram in London, has proven to be a great experience so far as well. "It's worked more like a freelance job, where you get a bit more respect and responsibility" he explained to me last week. "I've broadened my horizons in terms of craft and been gifted some great opportunities like directing photoshoots, sitting in on client meetings and going to proof a magazine before 15,000 copies were printed". Indeed, his only quandary now, is deciding a direction to move forward in. "I'm looking forward to getting back into the university setting though, to put all that I've learned this year into practice".
For Jack, the year in industry has been quite the adventure and seems to have borne some invaluable fruit. He's started to work with typography and web design, made some great friends and contacts, had a real role in client projects and has been paid throughout. From here, it would seem that the DPS programme at LCC has potential to prepare Jack and his fellow students pretty well for life after graduation.
For more from Jack, head on over to his portfolio site. We'll be keeping a close eye on him and are looking forward to seeing what he puts together for the graduation show next summer.