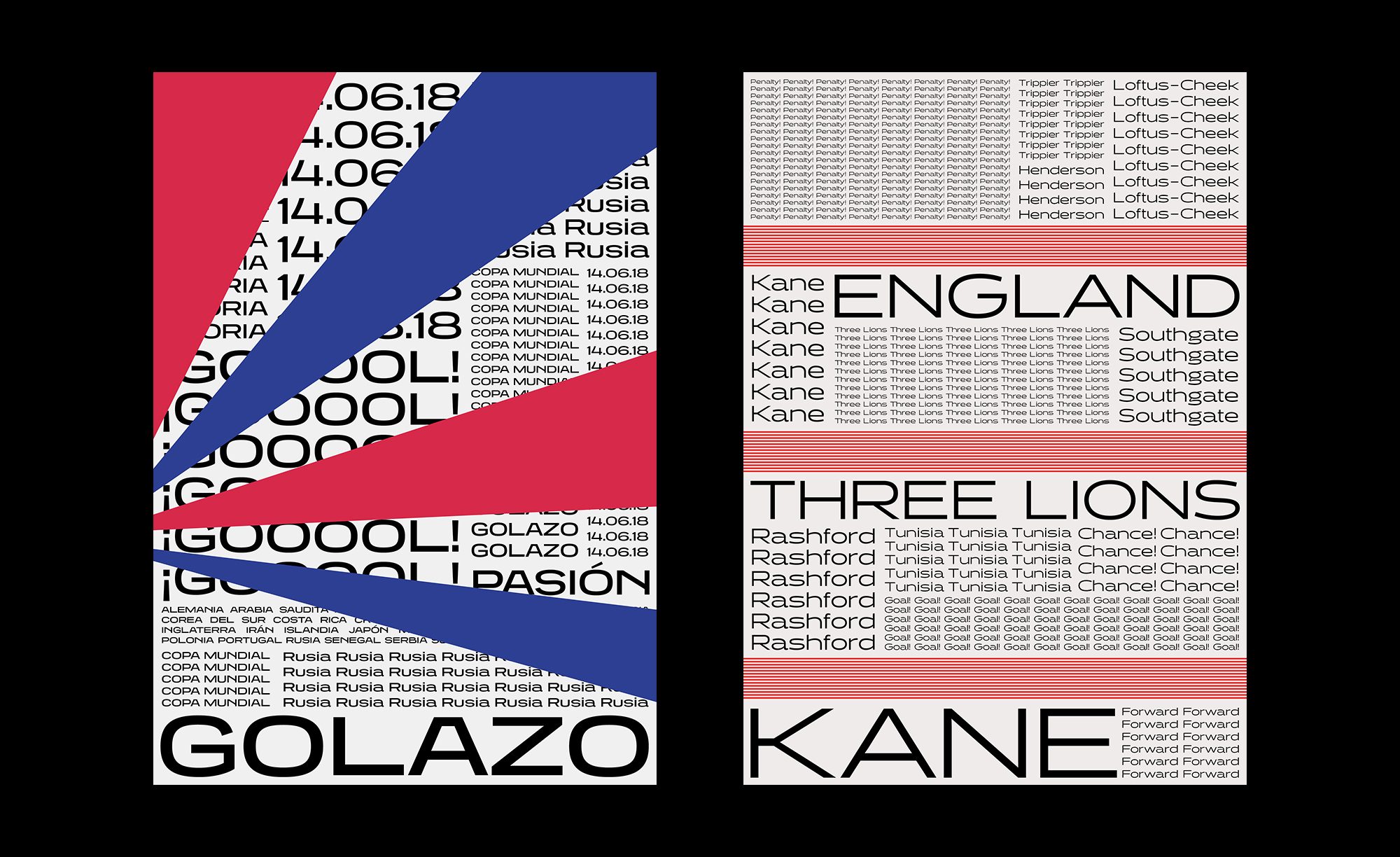 We first noticed Joseph Lebus' Instagram feed a few months back and were immediately struck by the confidence and clarity of his work. Typographically, his experiments with posters were consistently striking and when he had introduced movement, it always seemed to add something of value to the composition. In the build-up to and during the World Cup, Joseph — much like England — seemed inspired to up his game further, bringing a colour palette and immediacy to his feed that elevated his work above much, if not all of those exploring the same theme.
Astonishingly, Joseph's journey in graphic design only started this year, completing a full-time three month intensive course at Shillington. Prior to that, he'd attained a first class honours in modern languages from Durham University. That career path though, wasn't really ticking the boxes. "I left university and jumped straight into an analyst role that required a knowledge of languages. I didn't find it stimulating, and it didn't push me creatively or conceptually" Joseph explains. But why graphic design? "It seemed like an amazing way to push my conceptual thinking in an aesthetic manner. The process of visually creating using my imagination was really appealing". As you can imagine, packing graphic design into three months makes for an intense course, but for Joseph "if you put all your energy into it, and I mean every last ounce, then you can get so much out of it".
Whenever we've discussed Shillington with design educators from traditional institutions, we're met with eye-rolling and a general disregard of the possibility of being able to "teach" graphic design in three months, but the stats paint a very different picture. Their graduate hiring rate is consistently impressive and Joseph is another who has landed a job quickly after completing the course, joining the team at Otherway where he's "learning so much every day".
"I think it would be a shame to look beyond somebody for this reason" Joseph muses with regard to those who might not value a Shillington graduate, "in my opinion it comes down to mindset. If you're willing to give all your energy and focus to becoming a great designer and working in a great studio, then your education shouldn't come into it. The important things are the passion and willingness to keep learning". Joseph's quality of output confidently backs up his outlook and his Instagram feed continues to act as a test bed for his latest visual musings. "I don't see the point in creating something or exploring an idea unless you're going to share it with the public" he reflects, adding that "being in touch with your audience is crucial to successful and impactful design".
His willingness to learn, desire to constantly find feedback the his cultural awareness developed during his linguistics studies are proving to be a very solid foundation for Joseph's slick graphic design. That attitude is going to take him far and we're sure that he's going to continue going from strength to strength. Keep your eyes on this one.