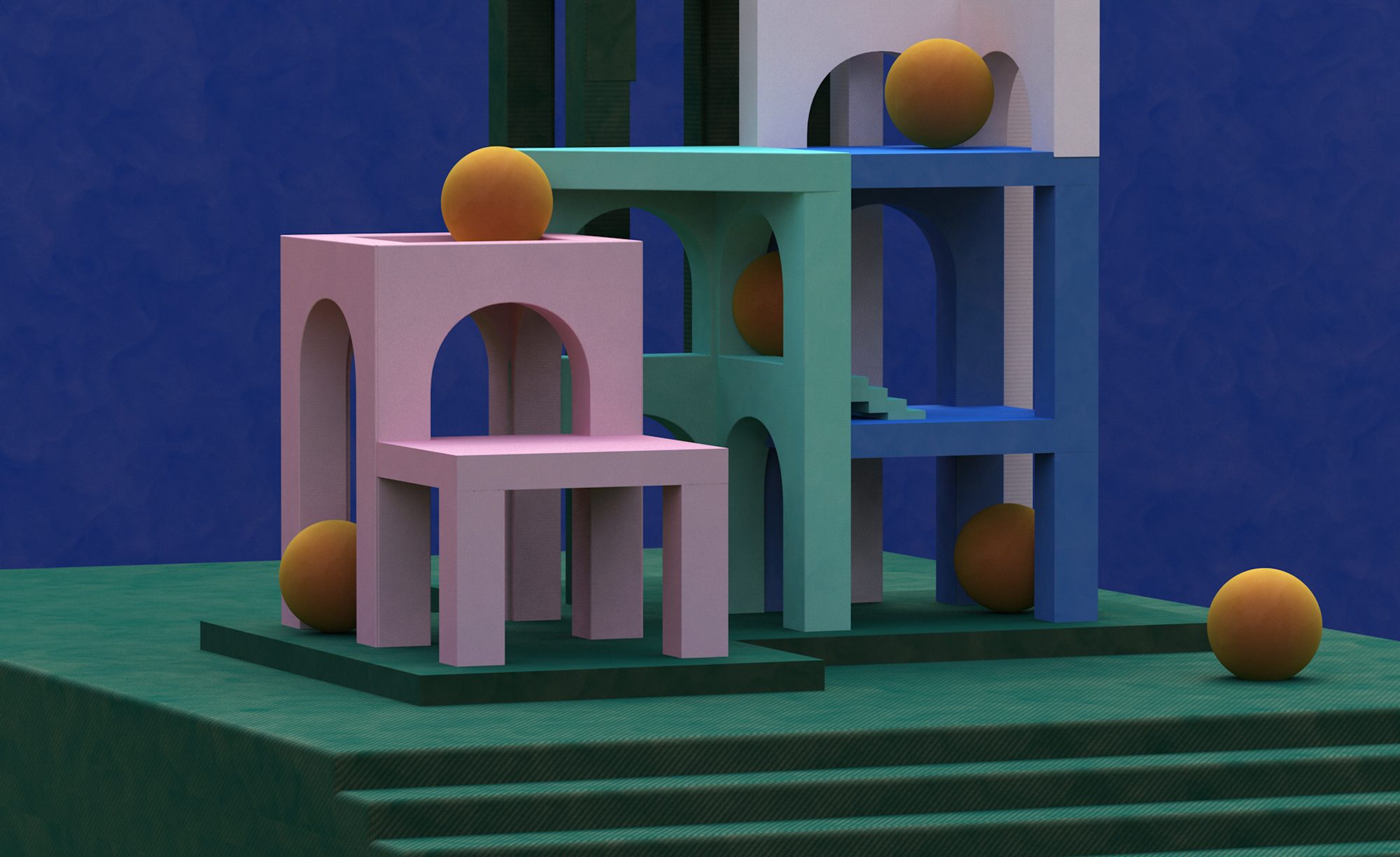 Khyati Trehan's tactile and textured 3D artworks are inspired by an incredible urge to visualise the intangible: a passing memory, a lingering smell, or the flavour of a velvety ice cream. Often these ideas are sparked by a stream of questions like: "what did that vintage store smell like? How can I visualise a smell? What would that store look like if I squinted my eye?"
Her latest project, 'Memory Palette' began as a way to build explorative palettes of Pantone's Colour of the Year, Living Coral, but soon evolved into something entirely different. "I built compositions of soft 3D shapes that would present the palette in a space. As I kept fiddling around, I chanced upon colours that took me back to a memory. The project morphed into an exploration of sensations and memories and had nothing to do with the Pantone colour anymore." A juxtaposition of geometric shapes in shades of peach and beige evoke the flavours of butterscotch ice cream, while a towering composition in pearlescent green became a snapshot of city life in Berlin, where Khyati lived until last month.
Khyati developed the habit of letting her thoughts run wild since her years at Mirambika, a free progress school in Bangalore, and credits the openness of her schooling with chiselling out her creative streak. "At Mirambika, education meant drawing out the potential that was already there, instead of prescribing it. We'd make bridges over ponds to learn about architecture, go to France to learn French and do pottery and carpentry between math and science. Because we were exposed to creative disciplines at the same time we were learning our alphabets, I realised pretty early on that I loved working with my hands," she reflects.
While studying at the National Institute of Design, Khyati realised the importance of "building a strong foundation and sharpening [her] senses". The graphic design course emphasised learning "béziers and basics before attempting fancy 3D renders." However, her love for 3D developed after college, in between commissioned projects for leading design studios. "I was drawn to 3D because you're essentially whipping up spaces and objects that are close to reality, out of thin air. Designing in 3D has added a new dimension (pun intended) to the way I visualise ideas. But it has also worked the other way; there are so many concepts that surface just because I know the possibilities of what I can achieve with a tool."
In a material study project titled 'Suede Dreams', Khyati builds plush still life compositions inspired by "something as mundane as the feeling of the suede bag [she] carries to work every day." She constructs abstract architectural spaces with unusual sculptures and marshmallow-esque objects suspended from a gilded axis. "The compositions reminded me of the calming feeling of brushing my palms against a suede surface," she says while describing the sensation that sparked the project.
After a stint at Zalando in Berlin, Khyati is soon moving to Munich to join IDEO. We're crossing our fingers for her adventures on faraway shores and await the next stunning project she adds to her portfolio.