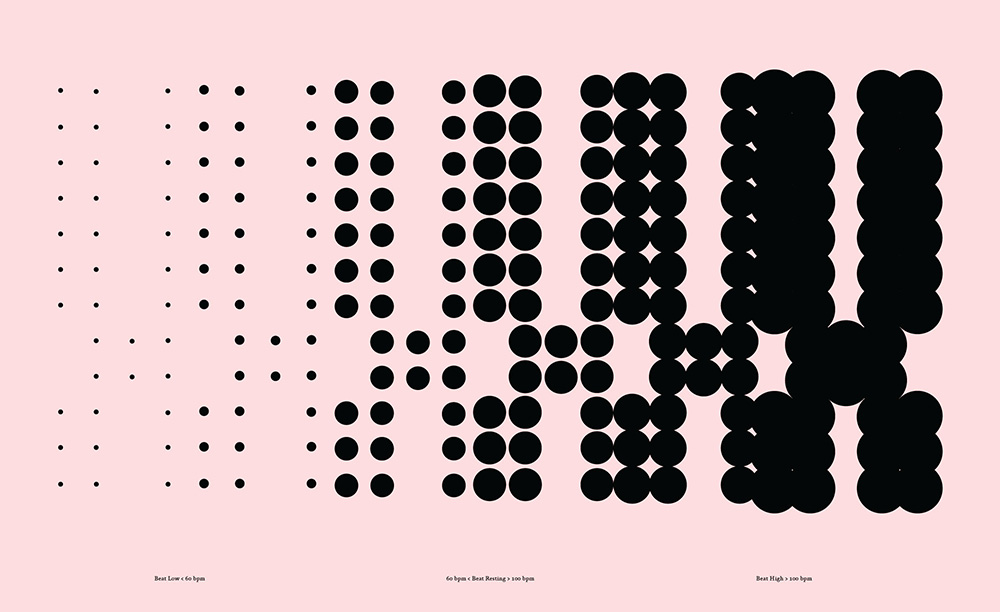 Those of you who've been keeping an eye on our Instagram account recently will know that we spent a day at D&AD's New Blood festival a couple of weeks ago. It's a hectic environment, packed with visual outputs from graduates of some of the best creative courses in the UK. Standing out from the crowd is the name of the game, but it's hard to do in a situation where thousands of other people's work is also on display. Nevertheless, Maarit Koobas, a graduate of Arts University Bournemouth's visual communication course, duly caught our attention with her project 'Beat Typeface'. In an exhibition dominated by print outputs, here was something different, a heart rate monitor which altered the appearance of a typeface on screen depending on the user's pulse.
Maarit's intention with the project was to "blur the digital and physical", by exploring the connection between human and machine. As such, 'Beat Typeface' isn't really about the type itself, rather, it speculates the possibilities of a user-centred approach to technology, tapping into our awareness and sense of self. Maarit is keen to examine ways in which tech can be less oppressive, indicating that "if devices could measure and react to our emotional state, perhaps they could shut themselves down, reduce or increase the amount of text on a screen depending on how the user feels". Her installation makes for a playful, yet thought provoking example of what's possible when the designer "sets the parameters", allowing each user to personalise the design.
"In my opinion, typefaces have become rather impersonal" she explains, "so I wanted to see if in this digital world, the human user could become the centre point within digital textuality". Maarit's typeface comprises of circles which align with the user's heartbeat, increasing or decreasing in size depending on tempo. The result is a varying visual output which creates contrasts in style and legibility. Maarit built the monitor herself, programming a micro controller with Processing open source software. Presented in a clinical atmosphere, it makes for an engaging user experience.
UX is an area that she is now interested in gaining experience. Having grown up in Tallinn and studied business management, Maarit worked as a project manager and regularly collaborated with designers before making the switch to "the other side of the table". While she still enjoys organising and managing projects, a year of studying multimedia design and communication in Denmark confirmed her interest and having graduated AUB, she's on the look out for opportunities with companies who strive to make "innovative approaches". "They're not a standard agency, but I find Troika's work fascinating" she beams, "Why Not Associates have always done very surprising work as well". In fact, the list goes on, for now Maarit is ready to throw herself in the deep end again to find out where she fits in.
With the great mix of experience she already has and projects like this to her name, we don't think it will be very long before suitors are lining up to offer Maarit the opportunity to freshen up their creative teams.