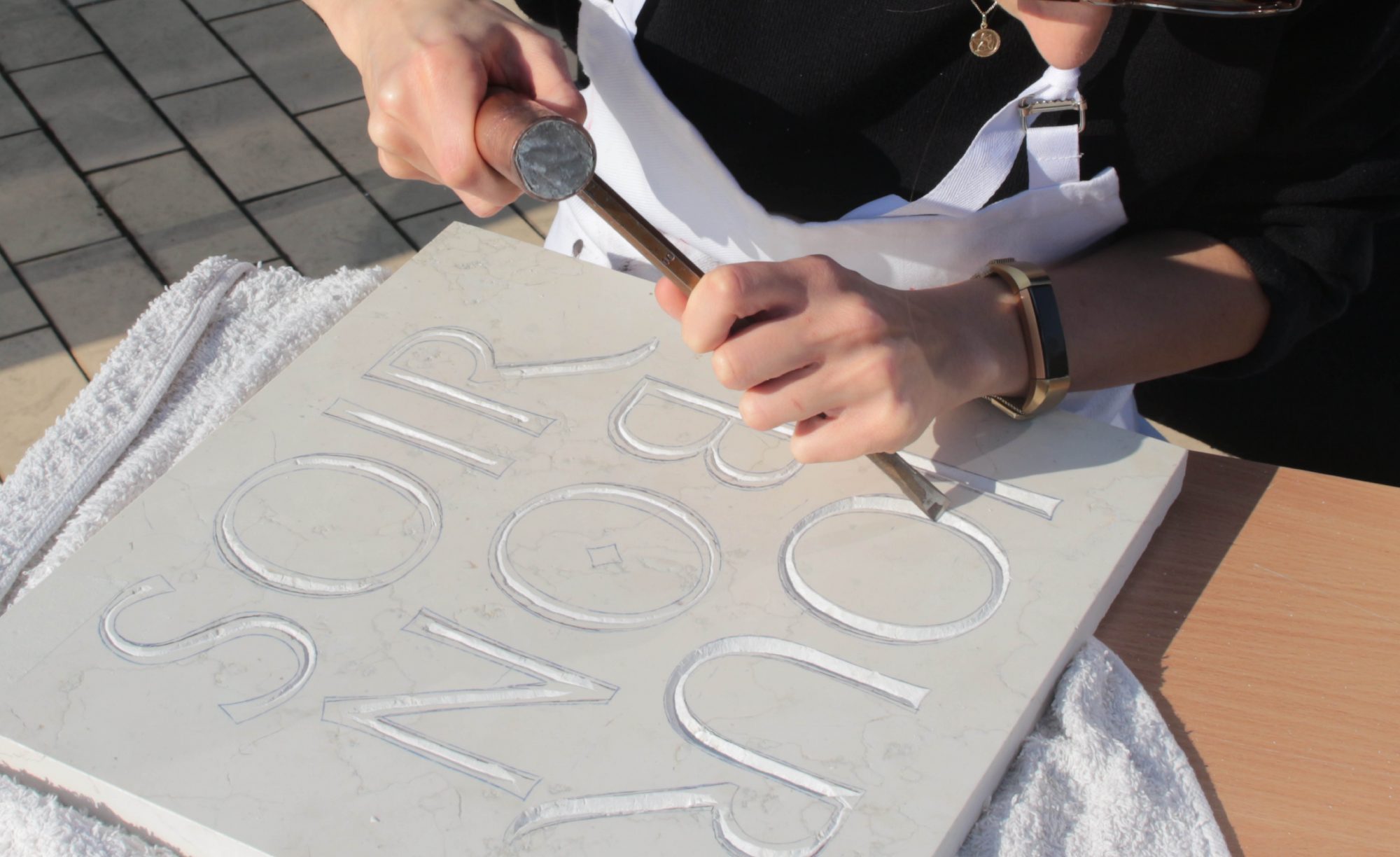 Morgane Vantorre is a typographic talent who's passion for her practice and willingness to challenge herself beams throughout her portfolio. Scratching the surface of her beautifully crafted type design, there's a depth of research, reflection and a pragmatic approach that motivates her to create.
Growing up, Morgane was happily encouraged by her family and teachers to keep pursuing her creative interests. "As far back as I can remember, I have always been drawn to shapes and letters. As a child, I spent a lot of time drawing but, also I created books with my drawings and my own texts". Morgane began a foundation year in applied arts at Lycée du Gué-à-Tresmes, near Paris. After, she studied a two year BA at École Estienne in Paris on the graphic design course, and now studies her MA where she has specialised in type design. Morgane heartwarmingly tells us, "in fact, I have never felt so fulfilled in my studies".
Inspiration takes many forms for Morgane – as she looks to the past, she is also very much attuned to the present and considers how the future will take shape. She opens up, "I look specially at the past, seeing what has already been done to rethink the future. I have a keen interest in old books thanks to my grandfather who was a teacher and a books lover. He shared all of his collection, which is now a rich source of inspiration for me". Becoming accustomed to Morgane's creative process, it's clear she invests in paying close attention from the beginning to the end of her projects. Seeing the project as a whole, Morgane tells us, "from research, I simplify my concept to effectively express the messages I wish to tell through my work. I consider how the project takes form, such as design, and materiality". It seems Morgane efficiently follows her creative process and this allows for a variety of ideas and time for creation.
For Morgane, process, design, and production appear to be on par with one another as she develops projects. Interestingly, she challenges not only the form of the typography but how it materialises. There is a craft and skill to Morgane's work that respects typography's historic beginnings, as she revives this for our modern age. As she chisels, sews, and calligraphies typography, she appreciates the physical presence type has apposed to our digital age. Morgane is currently working on an exciting project, as she reveals, "I am designing a whole serif typeface based on 18th century type specimen of Nicolas Gando. It is a kind of revival, a way to revisit past", she continues "I like it a lot because it is my first steps on Glyphs software and getting my typographer hat excites me. I'm in love with both the rigour and the creativity this discipline embodies".
The dream? Morgane tells us, is to build a career as a type and graphic designer with a multi-disciplinary approach. Also, to continue her passion for writing, especially with Michel Bouvet who together share the same values; that graphic design has power in society to subconsciously structure our daily lives. This spring, Morgane will be looking for an internship in Europe and as she is certainly one to watch, we can't wait to see her next steps.