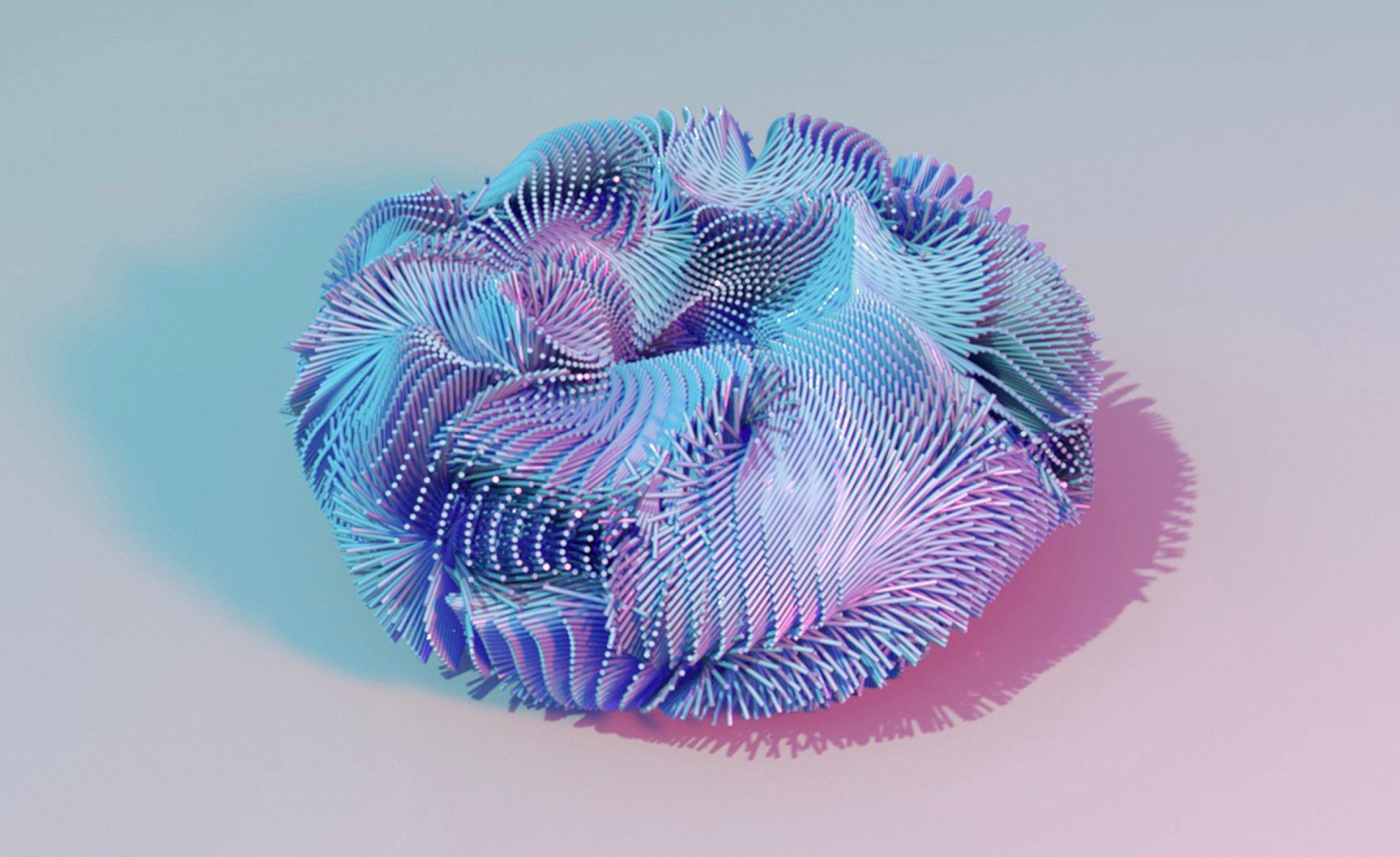 As soon as Stephanie Fung's work arrived in our inbox, we were hooked. The shifting shapes, interconnected forms and hypnotic movements are hypnotic, drawing you further and further into her enchanting, hyperreal 3D scenes.
Currently in her final semester of the Graphic Media Design course at London College of Communication, it wasn't until second year that Stephanie fell in love with the virtual 3D world. After being inspired by the work of other 3D designers, she let more traditional graphic design take a back seat in her practice and channeled her efforts into making motion graphics using 3D tools. Stephanie's grounding in graphic design still plays a vital role in this work, however, and remains central to her creative process. "Composition is key for me," she explains. "I suppose it comes down to the graphic designer in me, where I look at shape and form and try to find a balance between them."
Though learning how to think and work in three dimensions has been an exciting and liberating process, it hasn't come without its challenges. "It was hard at first because I never had to think in a way that considered textures, lighting, animation and composition all at the same time … I've still got a long way to go on this 3D journey." This challenge is one Stephanie has navigated, in part, by paying close attention to the 'real' world through the use of photography. "I find that it helps with my composition, lighting and framing for when I start working in 3D," she muses. "It's always helpful to analyse the real world: looking at textures, looking at the way objects interact with light and looking at the movement of objects, so that when you bring it into 3D, you have a better idea of how things would work."
Considering her wicked skills and penchant for bewitching visuals, it's no surprise that Stephanie already has a plethora of experience under her belt. Spending a year working in industry during her degree, Stephanie gained valuable experience interning at Merchant Cantos, Peter Anderson Studio and The Mill. "It was the most insightful year which helped me with my career," she reflects. "I entered the industry not knowing what I wanted to do and left it knowing what I liked and what I don't like."
As she completes her final year at London College of Communication, Stephanie is working on two major final-year projects. One — a VR animation exploring her British-Chinese identity — uses the immersive quality of the medium to foster empathy and understanding of that experience. The other is the speculative branding of a festival for Digi-Gal; a community which celebrates, unites and supports womxn, trans and non-binary 3D artists around the world. With an already stunning body of work in the bag, we can't wait to see the results of these projects and what the world after graduation will bring.
instagram.com/stephyfungdesign