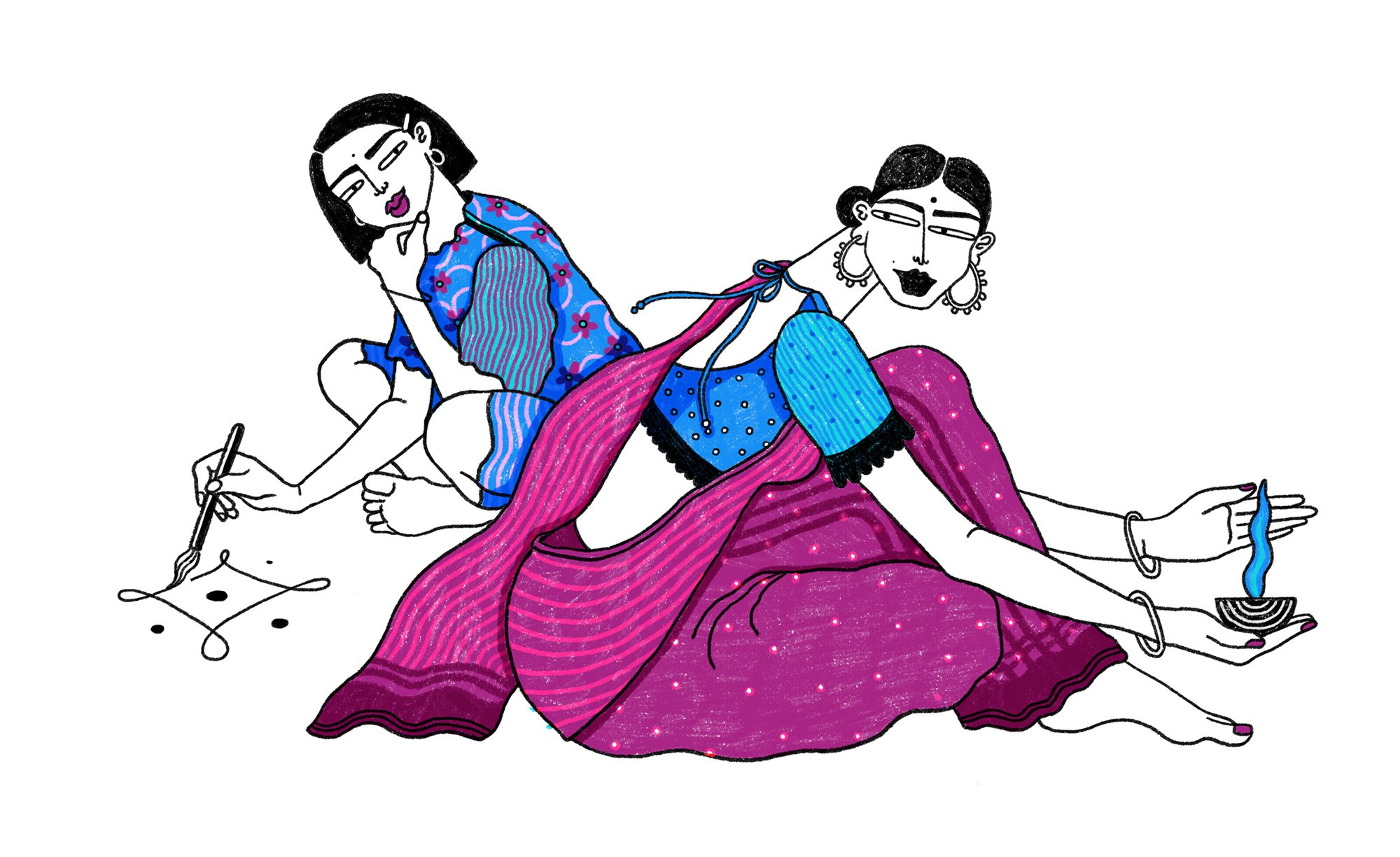 Aditi Damle's keen eye for detail, and her strong, yet fluid and undulating lines which characterises this sisterhood of women, has come to define the illustrator's body of work. "I've always found it easier to communicate through drawings, than through words," says Aditi. "Although the forms of these women have evolved over time, they've always been a gateway for me to visualise my thoughts. At the end of the day, they're all fantastical, aspirational or elevated versions of me".

After wrapping up a graphic design degree from MIT Institute of Design – a short drive away from the city of Pune, India – a transatlantic shift took Aditi to Baltimore, where she pursued an MFA in Illustration at the Maryland Institute College of Art. Here, in the hallowed halls of MICA, her illustrative work shapeshifted and evolved, as she shuffled between mediums of paper mâché, ceramics, and freeform collaged zines.

"For me, making zines is just a form of creative catharsis," says Aditi. "I like to write poetry, sketch some drawings and sew a bunch of paper together: it's all a fun experiment. Most of my professional commissions are made digitally, so I give myself a break in my sketchbooks and try to keep an open mind, reminding myself that the work doesn't have to be perfect," she says.  These freewheeling experiments – created with found paper, sketches and paintings – provide some breathing space, and an opportunity for making leaps of imagination, unrestricted by client briefs.

That's not to say that briefs get the better of Aditi's creativity: ever since she moved to New York City and launched her practice as a freelance illustrator, her work has appeared in New York Times, Washington Post and Viceland. In a Google Doodle, she paid an ode to Gauhar Jaan – India's first recording artist – on her 145th birthday; Aditi reimagined the 20th century icon in her telling style, clad in a sari and strings of pearls, and flanked by her famous cat, for whom, Gauhar reportedly threw lavish parties.

Coming up is a children's picture book "centered around characters who learn to deal with their anxiety". "I'm thrilled to be making work that I relate to, and will hopefully be helpful to children and parents who read it," says Aditi. Someday, she dreams of working on a large-scale mural, and collaborating with an ethically-made clothing label, "to create beautiful wearable things". We can't wait to see which new worlds Aditi's striking women walk into next.