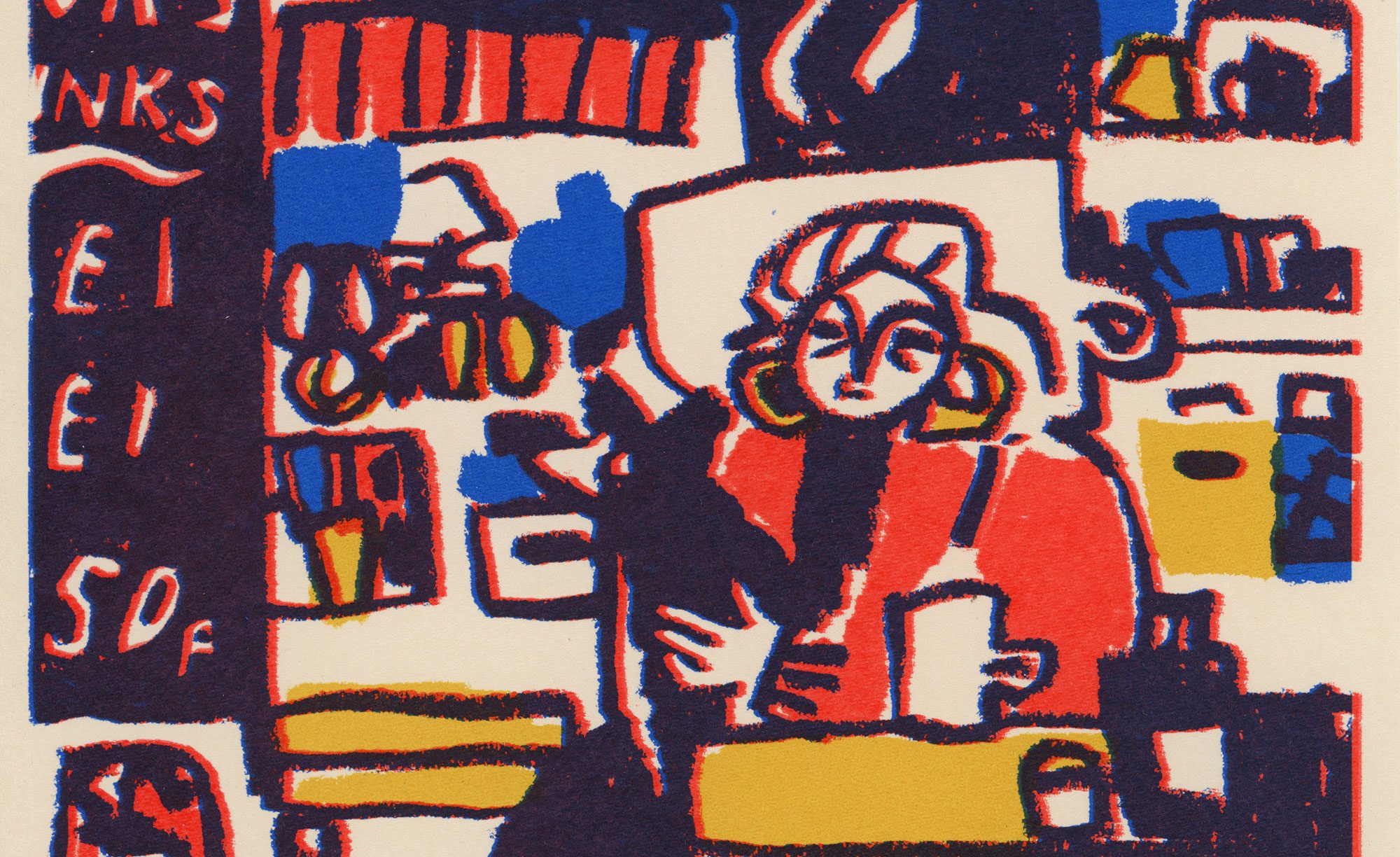 Saskia Cameron observes intently for those little details to illustrate everyday rituals; whether that's a train journey, our gossiping tendencies or going to the local market. It would seem, a glimpse into Saskia's sketchbooks, would also be a peep into her subconscious creative mind, as she reveals, "my hands tend to catch up to good ideas a lot faster than my head – it's usually only when I'm flicking back through a sketchbook that I'll realise that it's all there already, from compositions to narratives, and so on". It appears Saskia isn't shy of taking risks in new ways of working – as she illustrates using various processes and mediums, from paper to woodcutting, and oil pastels to textiles.
After graduating from Edinburgh College of Art's BA Illustration course, Saskia landed a graduate position as a studio assistant in the Illustration department, she tells us "it was a total dream job". However, after a further year of living in Edinburgh and taking other roles in an arts charity admin and teaching drawing – Saskia began to "feel a little lost and aimless", not helped by the high rent prices. Her attention turned to studying again – Saskia received a scholarship to study a Masters at Glasgow School of Art, telling us, "I wanted the chance to dive back in and re-think what I was doing". It was here, Saskia threw herself into all the workshops, learning new techniques and sparking a passion for textile work. Now, a fresh graduate, Saskia has moved back to her hometown of Derby, to set herself up as a full-time freelancer in her new studio space set in an old rope mill. As Saskia begins to come into her own, it will be exciting to see how her illustrative narratives unfold as a freelancer.
When travelling between Glasgow and Derby, Saskia would spend entire journeys drawing. This pass time, evolved into the project 'Midland', where for each journey, Saskia made little 'tickets', which represented her pilgrimages home along the West Coastline. During the project, Saskia took an interest in the trainspotting community, as she reveals "I'd be watching 5-hour long videos of train journeys on Youtube while I worked. It all sounds really boring but maybe that's why I liked it – being bored is a kind of luxury, and the best ideas are sometimes right there in the most mundane and overlooked things. It's all hiding in plain sight – I suppose it's a strange kind of escapism".
Saskia discloses to us she has various happenings cooking away. Aside from the excitement of getting her teeth stuck into freelancing, Saskia has become involved with No Planet No Fun – a brilliant collective using illustration to address climate change. Saskia tells us, "it might not be much, but using my climate anxiety as fuel for something positive feels good". For Saskia, her illustrative work and intentions are all moving in a strong direction, one we are certainly on board with – keep watching Saskia's space.