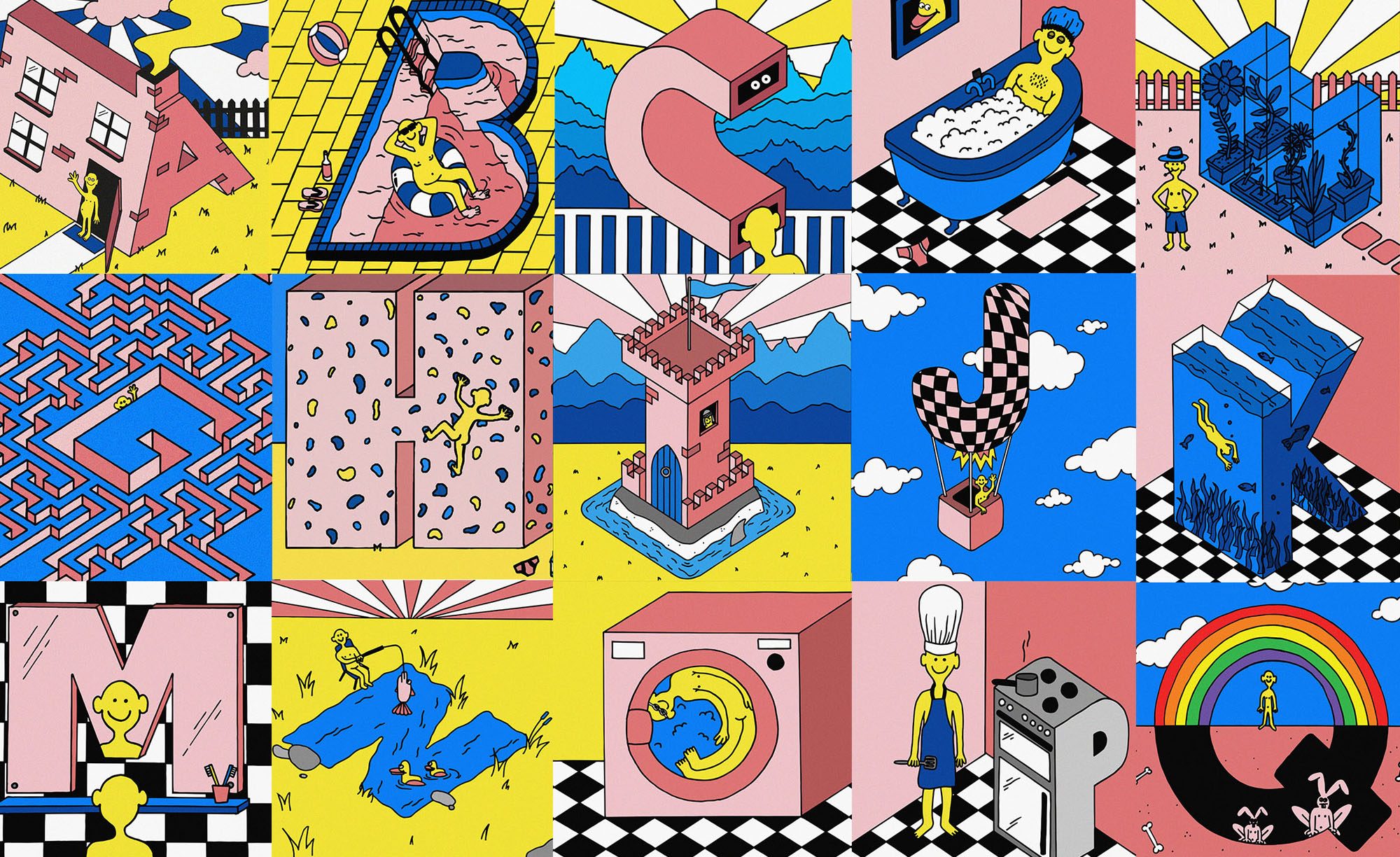 Ailish Beadle owes her quirky and playful illustrative style to her interest in cartoons. This was sparked from childhood, as she watched programmes such as The Simpsons and Spongebob Squarepants. "My illustrations are a union of both my interest in cartoons and the relationship between text and image", she reveals to us.
We're shining a light on Ailish's witty and humorous illustrative response to the 36 days of type project. It's been a huge turning point for Ailish's work and has affirmed the direction she wishes to progress with. "It's been one of the best personal works that I've undertaken but, also one of the most challenging", she continues, "My usual slower process of generating ideas was soon hurried up to accompany the pace and demand this project required". As a project that's brought obstacles to jump over and learn from—one that's given Ailish the confidence to grow from. "Another thing it's taught me is how effective creative restrictions are. To achieve consistency, I put in place 3 rules to follow on each letter and it's surprising how much it helped to push my ideas along", she explains. Ailish shared this work more publicly and was taken by surprise with the increasing engagement of her illustrations.
A huge and almost sole influence on Ailish's work is what she experiences as she sleeps, as she tells us, "I suffer from night terrors, and when there are no night terrors there are the most ridiculous and absurd dreams imaginable". Rather than being disturbed by her disruptive sleeping patterns, Ailish uses these as inspiration to draw from. "I don't necessarily illustrate these dreams directly but, they definitely trigger something the morning after for what my imagination can create", she explains. Honing in on how to better her practice, is what Ailish has been attentively trying to find out—a mindset that will continue to serve her well. "I have started exploring isometric drawing more recently to add more depth to my work and create dynamic scenes", she tells us. 
Ailish is soon to graduate from Norwich University of the Arts with a BA in Illustration, and despite growing up in Stevenage, she hopes to stay in Norwich for the foreseeable future. Looking to future collaborations, Ailish would love to be part of an identity for a festival and to also work with an animator to see her work in motion, as she tells us, "it is amazing to see how much illustrations can be emphasised by movement". We're so looking forward to seeing how Ailish develops in the next upcoming months and where her illustrations take her next.