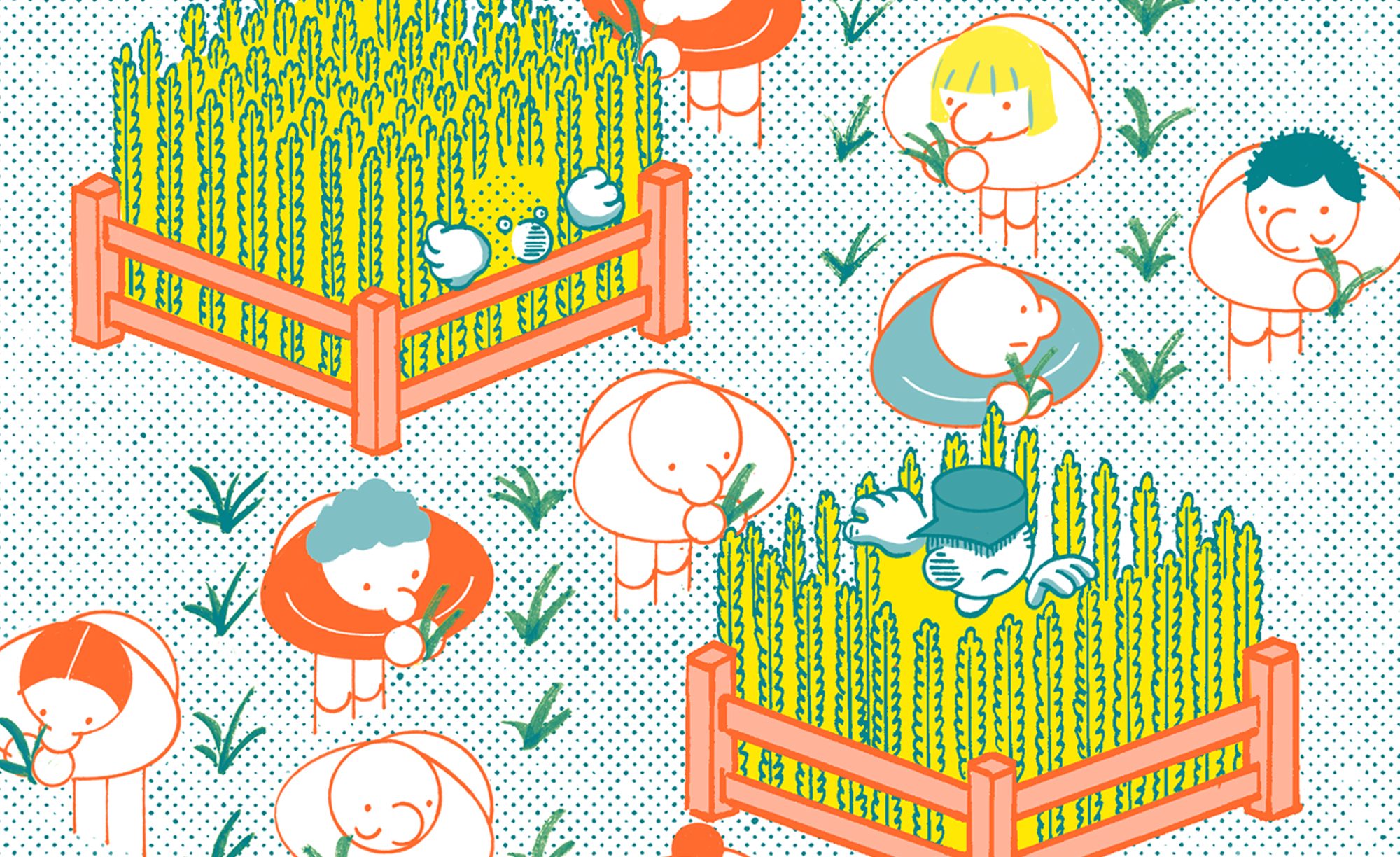 As an illustrator and cartoonist, Jack Snelling has not only a clever knack for storytelling but, is a dab hand at creating the most pleasing illustrations. From characters with little round noses making friends with worms to community harvesting – Jack's illustrations have an underlying educational purpose.
More often than not, Jack's work is influenced and focused by writing, as he explains, "my ideas normally come from things that I've read or phrases that I've jotted down in my sketchbook, and from that, I'll start putting shapes together and seeing what characters or scenes come up". Jack's illustrations are visually playful yet, relatively meticulous in his creative process, as he tells us, "I like to keep things pretty tight, so I'm pretty strict on using rulers, French curves and circle drawers for most things, after that it mostly comes intuitively. Often I'll just like the way something lines up with something else in an image and I'll just try and keep that sense of visual rhythm. It's almost like I'm taking a comics geometry approach way too literally and applying it to as much as I can". Shapes have become the basis for much of his illustrations, as he quotes Frank Santoro, "The circle, triangle, and square are the building blocks of all proportions – not just in book page sizes, but in everything".
Along with fellow illustrator Lizzie Lomax, Jack founded Seed Magazeen. This perfectly represents Jack's illustrative talent for building a narrative that becomes an educational tool. The magazine is for children aged 4-7 and explores green themes and environmental ideas through illustration and play. "It came naturally out of self-publishing comics and zines, but I wanted to do something that had a more positive social angle. Seeing as how young children are going to be the ones who have to live with and deal with the long term effects of climate change, it made sense to create something aimed at children, plus it gives me a chance to try different skills; designing for a younger audience, illustrating specifically for kids, and also commissioning and working with other illustrators whose work we love", he told us a little more.
Originally from Weston-super-Mare but now based in Brighton, he tells us he "swapped a seaside town for a seaside city". Jack studied animation at University of Westminster, but halfway through he became more interested in comics and DIY publishing. It was not until he graduated and moved in with friends – other illustrators, and artists, that he felt more encouraged and inspired to explore the work he felt more passionate about. He tells us, it took him a few years of re-educating himself but, that now he's at a point where he understands his way of working and has "not lost the itch for animating". 
Thinking about the longevity of Seed Magazeen, they plan to be more ambitious with each issue and are currently looking into funding for future issues to allow the magazine to grow. We're keeping a close eye on Jack and think you should too – watch this space.