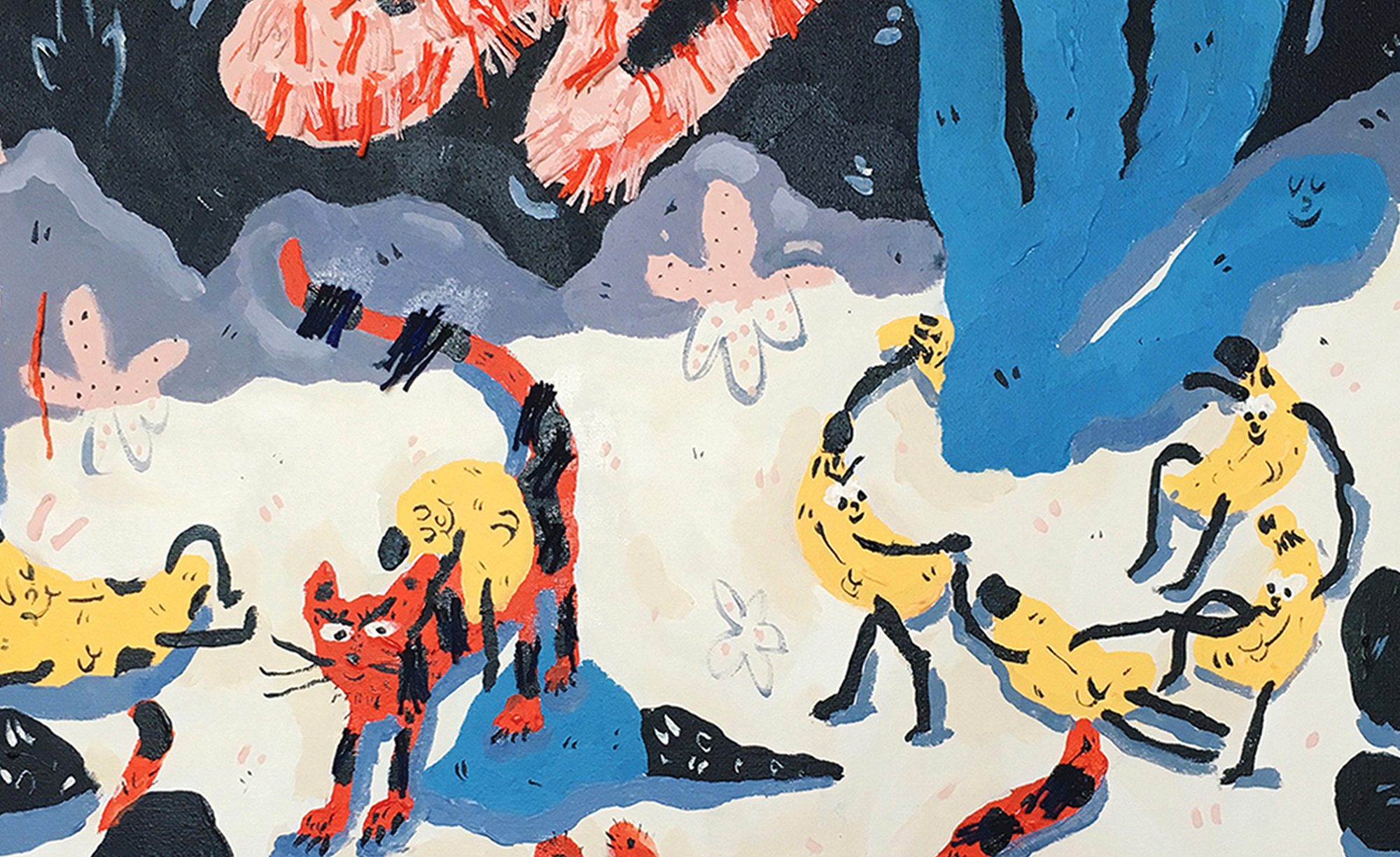 Growing up in Lublin, Poland Aga Giecko was constantly drawing and doodling but she never thought it was something she could turn into a job. When it came time to make decisions about University, a combination of doubt in her skills and uncertainty around the financial viability of a creative career, saw Aga set on the path to law school. Last minute, however, she decided to take a risk, applying to illustration courses, including the one at Camberwell College of Arts from which she graduated last Summer. It was a risk that certainly paid off, and over her years there she developed a wonderfully playful approach to illustration, making work that is always delightfully fun and drenched in colour.
The first things that hits you about Aga's charming work, is the unflinching focus on humour. "If [my work] can make people smile, that's the biggest compliment," she muses. This focus is rooted in her background as an international student living somewhere with a different language from her own. "I treat it like a communication tool," she explains, "it's like an additional layer which is universal and can come with or without words."
Aga's degree show at Camberwell was the perfect embodiment of this fun-loving approach. In a light-hearted exploration of the apparent fact that '50% of human DNA is the same as bananas', she showcased a range paintings, drawings, prints, zines and ceramics all depicting emotion-filled anthropomorphised bananas in suitably surreal scenarios. By throwing us into "an alternative universe filled with fruity individuals living their lives just like we do, experiencing the same joy and anxiety," Aga hoped to ground the idea in something amusing and relevant. For Aga the work was a perfect summation of her three years of creative development at Camberwell which had provided a rich a supportive environment to develop her practice. "The tutors and technicians are on another level with their knowledge and desire to teach and studios are filled with some smashing creatives," she reflects.
Since graduating last Summer, Aga's been working as a freelance illustrator, something that she's found challenging and rewarding in equal measure. The biggest thing she's learnt so far is the importance of finding a balance across projects. "I love working on my personal projects, but commissions provide me with a much needed structure. Yes, deadlines can be stressful and scary, but not having any can lead to a creative block." Seeing her designs come to life has been an especially rewarding aspect, whether it's in front of thousands for a Kenzo campaign or for the locals of her home city in the form of a neon signs at a Mexican restaurant. "Isn't it great that my friends and family can eat some tacos under a luminous, smiling cactus that was once a drawing in my sketchbook?"
Busy working on a range of personal work and commissions, Aga is also preparing for her first solo Exhibition at the Kuratiert Gallery in Berlin. The work celebrating the 100 year anniversary of the Bauhaus will consist of Aga's characteristically eclectic mix drawings, prints, zines and ceramics, all in eye-popping primary colours, of course. We can't wait to hear all about it!