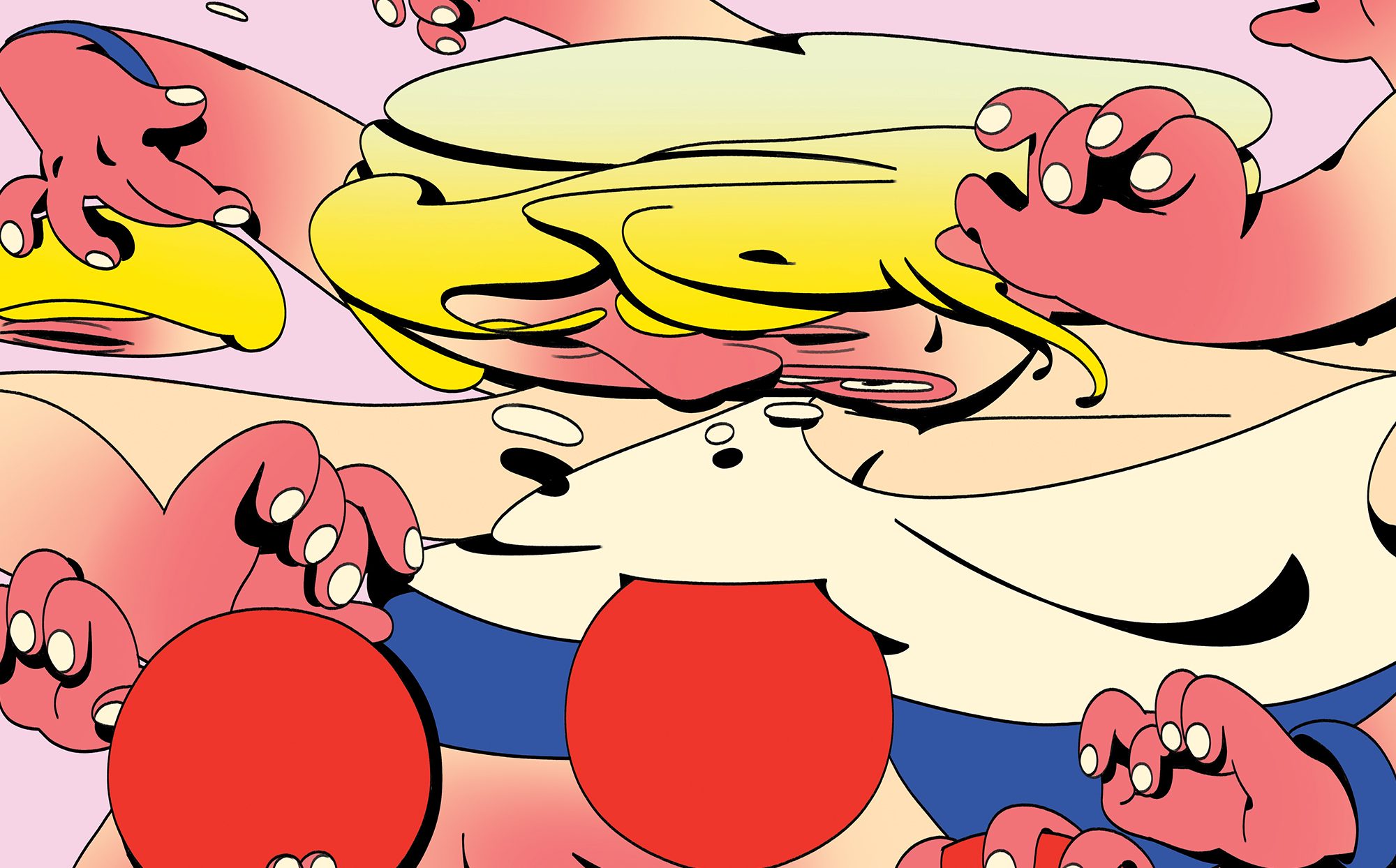 For Callum Trowbridge, a life-long love of drawing — inspired by the video games and cartoons of his childhood — made the decision to pursue illustration a natural one. Those early influences that first sparked his passion for the discipline echo throughout the weird and wonderful characters that give his work its distinctively surreal quality.
Having graduated this summer, Callum is keen to note the impact of the Arts University Bournemouth course in developing his practice, introducing him to new ways to hone his craft and offering "opportunities that I wouldn't have found otherwise". In fact, it was in a collage workshop during his time there that Callum found the inspiration for a technique to create his trademark psychedelic visuals. While using a photocopier to distort images for the workshop, the thought occurred: "what would it look like with one of my drawings?" Interrogating this question led him to a process that yields the signature mind-bending forms that distinguish Callum's work; a method that "can either make or break the illustration" but, "when it works, it just looks like nothing I've seen before".
The depth and absurdity of these pieces are the result of a drive to put storytelling at the forefront of his process. "I love a good story," he tells us, and, whether it's creating his own or looking to folklore and fairytales, it has always been "the more strange and unrealistic narratives" he is drawn to. It was this curiosity to explore new ways of communicating wordless narratives that first led Callum to experiment with adding motion to his pieces. Always keen to exhaust the possibilities of a technique, Callum explains: "I'm still finding ways my work can translate over to animation" in a way that "adds extra story whilst enhancing the traits of my characters."
Callum already has a number of personal and commissioned projects in the pipeline, including an animated short called 'Sector 13' which follows "a raw material collector who is forced to go to a neighbouring planet to look for a precious stone." It's a story just as surreal and magical as we've come to expect from him. With an already wickedly stunning portfolio, we'll definitely be keeping our eyes peeled for whatever bizarre and brilliant world Callum invites us into next.