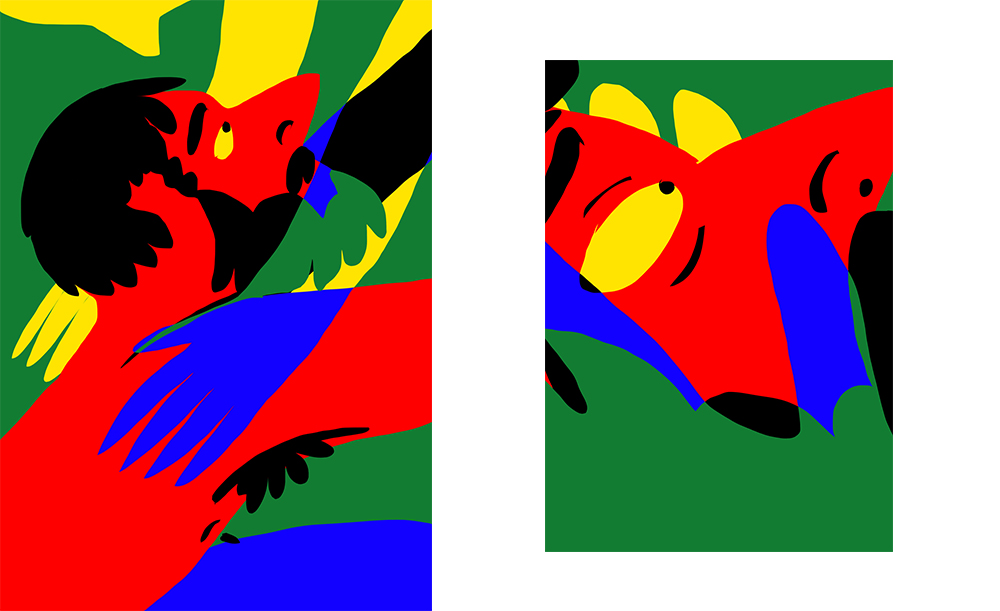 Drawing is something that Fredrik Andersson has always done. Growing up in the North of Sweden, he and his siblings always had art supplies due to his mother working from home as a kindergarten teacher. Indeed, if you're to visit the family home, you can still find marks on the ceiling from watercolours.
It wasn't until he was 23 and working as a graphics props assistant on a film that the idea of turning his hobby into a career really took off. His boss had noticed him doodling and suggested he make a go of it. It was a comment that sparked an unwavering determination in Fredrik, whose time studying at Camberwell College of Arts was capped with recognition from Creative Review. "It helped me realise how to use illustration as a way of expressing my own emotions, rather than just drawing superheroes and fantasy characters", he tells me of his time at Camberwell. Indeed, the candid nature of his work now is one of the things that makes it so brilliant.
"I always get told by teachers and friends that I'm too frank", Fredrik explains, "Maybe it's a Swedish thing. Growing up I spent a long time being ashamed of who or what I was and it made my shy and scared to be loud and share what I actually thought". His work, he describes as therapeutic in that sense, a cathartic process that lets him speak freely about his life. Sometimes, that manifests in work that's "unfiltered", such is Fredrik's determination to no longer feel silenced or shamed. Sadness and sex are often off-limits, but for this illustrator, they're the subjects that it's most important to tackle.
It's this purpose that drives Fredrik's self-initiated work. He considers it his duty to spread awareness around LGBT and queer issues. There has also been a conscious decision to include more women and people of colour in his work recently as he feels that "we are in a time where equal representation is a necessary step for progress".
Progress is also a recurring creative theme as Fredrik consistently experiments with new mediums. Driven by a self-confessed "fear for the repetitive" he is a big believer in stepping out of your comfort zone. Phases of working in digital and analog mediums follow on from one another, with surprises consistently on the horizon. He cites his discovery of brush pens as something that "changed my entire style forever" going on to use them in his digital work in order to "keep momentum".
Fredrik's eye-catching ceramic work is further evidence of this philosophy. He describes it as a "happy surprise" towards the end of his studies, one that he's still got plenty of room to explore. It's also been a source of great interest in his freelance career of recent, much to his delight. "Back when I was making props, before studying illustration, I thought that my dream was to get a good job with an agency so that I could work on big projects with major brands. Nowadays that thought gives me nightmares". Sometimes turning down commissions in order to focus on personal projects, it's clear that Fredrik's work won't be described repetitive any time soon. He currently has the urge to paint large scale works, so that may well prove to be his next creative effusion.
In his first months after graduating last summer, he set up his studio and found a balance with part time work and art. There are plans for taking his ceramics in a new direction, leading children's ceramic's courses and releasing his second book, as an author, in collaboration with best friend John Philip Sage. We're excited to watch as his practice develops and shifts in the coming months and years and are confident that there will never be a dull moment where this brilliant young man is involved.