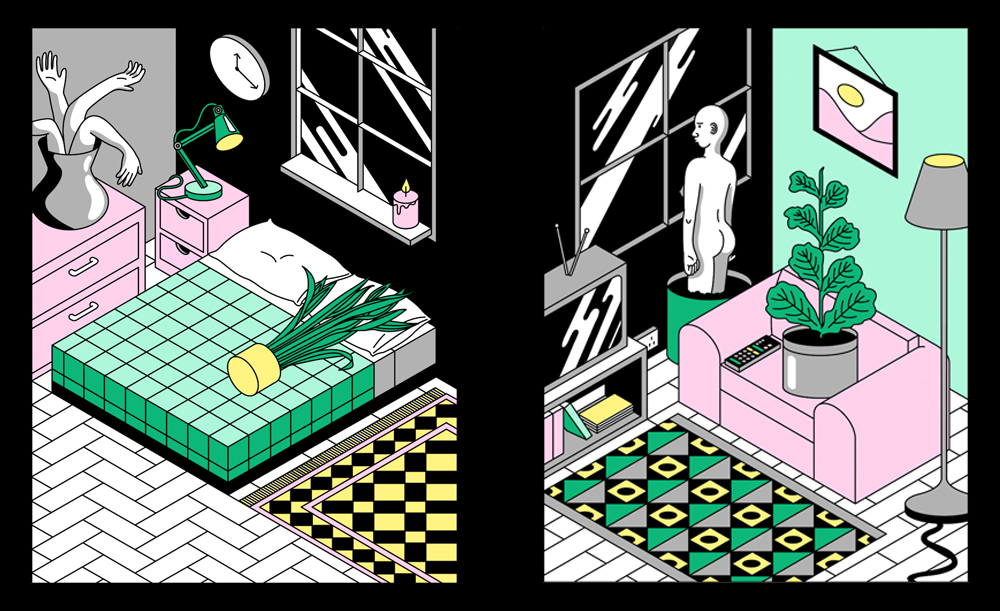 With a style that's "predisposed to a world of solid lines and pastel colours", Freya Morgan is trained as a graphic designer but her signature illustrative style indicates the breadth of her brilliant skill-set. Across her portfolio, this visual language is put to use to situate ideas that may be fundamentally serious "in a very saccharin world, so that [she] can feed people [her] philosophy and it comes across as more palatable". Through her consistent use of isometric grids, pale pinks and gradients, Freya seeks out "that strange depthless perspective" that links the scenes she creates with this world, while simultaneously carving out another.
Within our world, humans are yet to structure themselves in a way that means prosperity and peace for all, and Freya's consequent frustrations and existential crises lead her to evermore absurd ideas, such as, "what if people were like plants?" In particular, If People Were Like Plants is grounding, reminding us that we are just another organism on earth, "just a blip in the grand scheme of things"; a sentiment which can ultimately help us breath a little easier within our wider context.
Freya's practice ventures in print-making, animation and making comics, though ultimately she is more comfortable describing herself as an illustrator. That said, she adds: "Because I know what I like and what I think works with design, it really helps me to compose images in a more graphic way." This cross-discipline approach was honed at Central Saint Martins, where her tutors were instrumental in challenging her ideas, the meaning behind her work and how effectively she communicated both. As a result, Freya has been able to turn her attention to heady concepts like space-time and universal dimensions and produce work in response that makes these subjects accessible to all. No longer should "information be withheld from the majority of society…everyone is entitled to a knowledge of how the world works," she contends.
Nevertheless, despite her marvellous array of work encompassing a variety of disciplines, life after university has not been completely smooth. Without the structure of university and the facilities that came along with it, a lot of time is spent wondering "where the next paycheque will come from and what you actually want to do with your life". For Freya, a big part of this process is keeping up with her personal projects alongside other commissions to ensure she continues creating to satisfy her own tastes as well as others'.
Collaborations are on the horizon, too, which speaks to Freya's penchant for keeping moving and developing her method. Needless to say, despite this current period of uncertainty Freya is rightly optimistic for the future: "I really have no idea where I am going, but I'm okay with not knowing that."