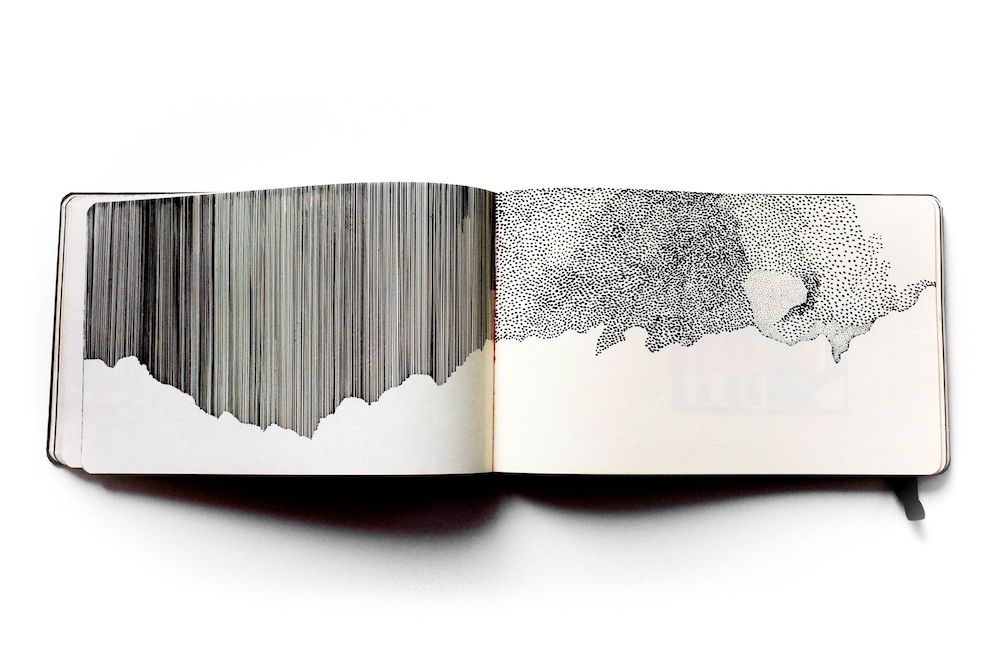 Grace Holliday, a mark-maker, illustrator and educator, understands her work to be "a reflex act of externalising buried ideas into something more vivid and tangible, without being too literal". This deliberately unrestricted method of visual translation encodes great freedom, encouraging "an unusual amount of open-ended versatility", and as a result Grace's remarkable work invites open reflection, rather than prescribing a specific response.
"Mistakes become features, not failures," she says. Consequently, her marks are raw and primitive, affording her an element of catharsis. This is even more focussed given the intensely personal nature of her art, with 'signature' dashes and "ink-tides" revealing the maker's personality. For Grace, this imperfection is to be cherished: "there is a level of unpredictability that I am to maintain…I wouldn't want to lose that sense of personality".
Working to the mantra "beauty emerges from basic tools controlled by complicated hands", Grace often uses biros, or standard black pens. Using these elemental tools, she works to ensure a natural flow to her process, "valuing the experience as much as the outcome".
Looking to the likes of David Hockney, Ai Wei Wei and Jockum Nordström, Grace increasingly looks to encode more meaning into her process and outcomes, while still avoiding prescription. In a sense, this is something of a recent development; unshackled by Roland Barthes' The Wisdom of Art, she discovered that "attaching theory to a particular work does not necessarily make it heavier". Nevertheless, experimentation remains at the heart of Grace's illustration, and with workshops on the horizon Grace will be taking mark-making to the masses.
Keep an eye out over on our Instagram, which Grace will be taking over very shortly…