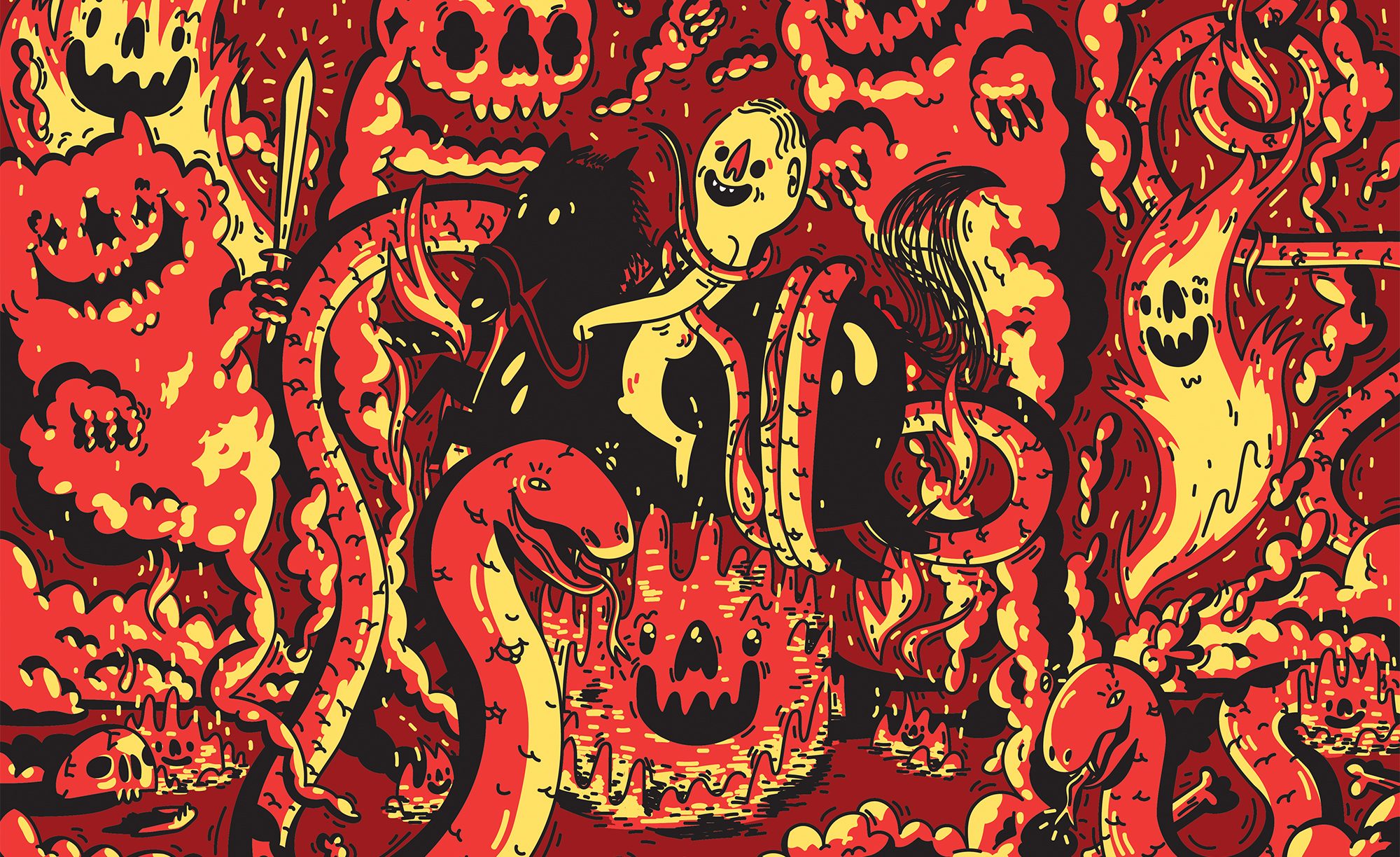 When Ingūna Ziemele's work arrived in our inbox, the explosion of chaotic, colourful and characterful work stood out in an instant. Graduating from Central Saint Martins this month with a first class honours in graphic design, Inga's eye catching illustrations and animations might seem like an unusual output for a graphic design course, but it's a programme where the primary rule is that "you have to communicate a message with a certain level of clarity". Inga joined the course with a background in fine art and plenty of experience experimenting with painting, drawing and printmaking. The CSM tutors always encouraged those skills to be present in her ongoing practice, but wanted her to develop the sharpness of her ideas. "CSM gave me the freedom to be myself" Inga explains, "I was very easily accepted to be whoever I wanted to be and encouraged to express that through my work. I would have never gone into illustration or animation if both students — my very dear friends now — and tutors have not backed me up and pushed to go my own unique path."
It's a path that we're delighted to see Inga take, her boldly coloured work juxtaposes joyful expressions with dark comedy to brilliant effect. "As a kid growing up I was taught to appreciate nature and mythological creatures set around it" recalls Inga. It's something that shows through in the characters she creates, as does the culture of her homeland. "Latvian literature and visual arts have a lot of metaphors throughout and this has made a huge impact on how I think about everything I create". Inga's comedic approach is a direct reflection on her critique on the human condition. "You may call me pessimistic, but life is miserable" she declares, "laughter gives you such a satisfying and grateful feeling. If it wasn't for jokes I don't believe the human race would have survived this long". For Inga, laughter has evolved as a "human firewall" that makes us feel safer and to save us from ourselves. "We will never comprehend the depth of life" she muses, referring to the supercomputer 'Deep Thought' in The Hitchhikers Guide to the Galaxy, "comedy is here to help us fill that gap".
With a D&AD New Blood pencil win to her name in each of the last two festivals, Inga is likely to appear on the radar of a lot of agencies keen to secure emerging talent. The wins have brought a pressure in terms of higher expectations, but on the flip side, validation and some very useful access to mentors and advice through the New Blood Academy programme. "It's taught me to stand up for myself and be proud of my work" Inga reflects. Her industry connections and experience were further bolstered through internships at H2E in Riga — where Inga is "still grateful how much fuck-ups the designers there put up with and all the patience they had for me" — and venturethree and Studio Moross in London. During her fortnight with Kate and the team at the latter, it became apparent that "they care about their interns and at the same time their business", providing lots of feedback, but also expecting a high standard of work, to be delivered on time.
Inga is now looking to make illustration and animation her chief source of income, with freelance work a likely route. She's looking to develop her 'Chicks & cocks' series further and apply her skills as broadly as possible. "Maybe one day there will be a microwave designed by Inga. Or Inga-burger…". Maybe there will and if there is, be sure to sign us up!