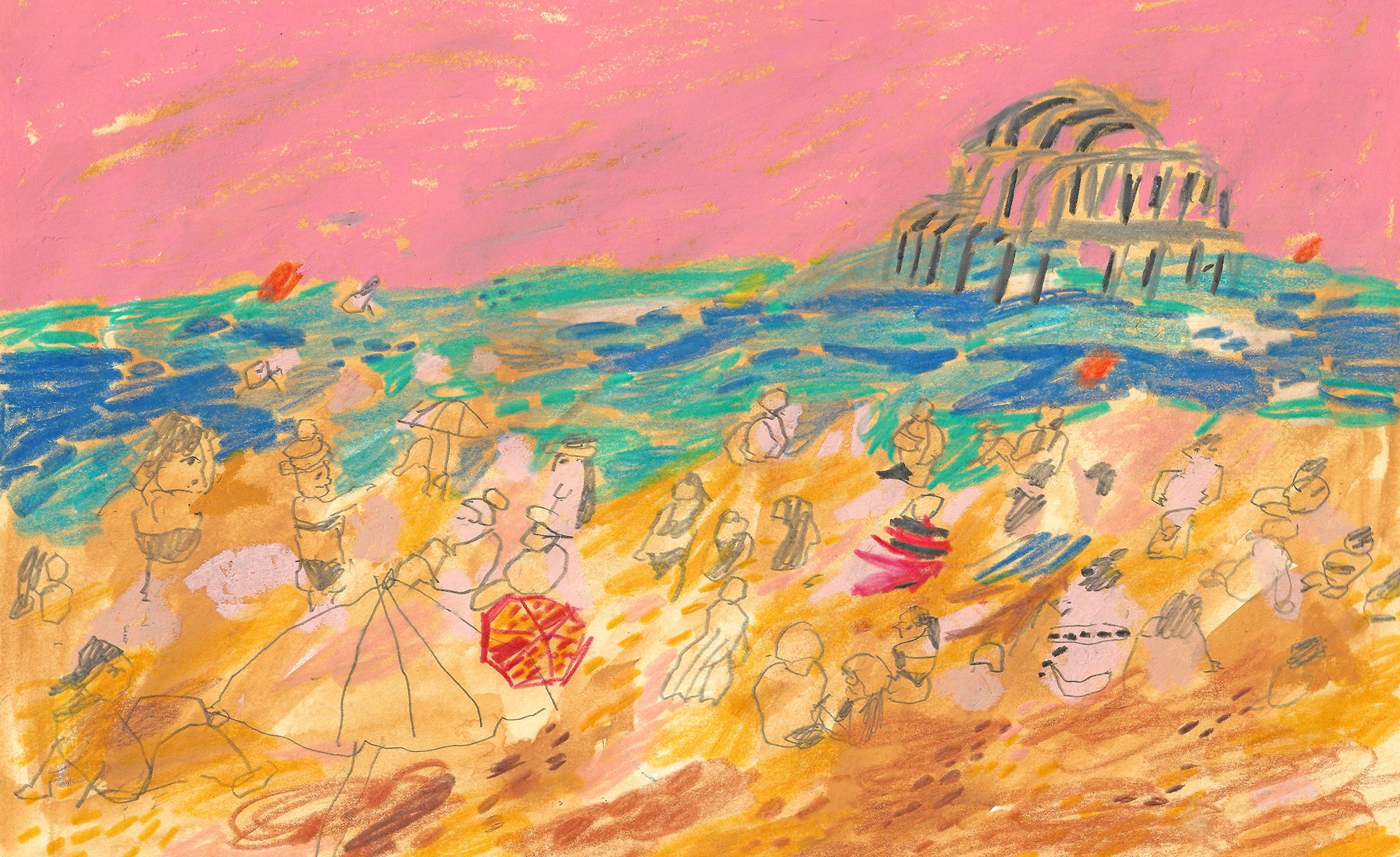 Laina Deene's illustrations truly are a feast for the eyes. Her curiosity and keen eye for abstract detail, translate eloquently into her narratives. Laina captures moments of everyday life, with sheer vibrancy and glorious, colourful energy that wades through her scenes. It is her necessity to remember a specific place or moment in time, which motivates Laina to begin drawing. There is a complexity of layers in Laina's style, however, no hint of chaos insight – only an enriched and somewhat, beautiful exaggeration of the landscapes she encounters.
Colour fundamentally underpins and in turn, inspires Laina's illustrations, as she tells us, "when drawing somewhere, like a market, a lot of colour is clashing all around you. I'm often drawn towards the most vibrant ones as that's where my eyes shoot to first". Using drawing as a tool to document her surroundings, Laina captures a uniquely exuberant perspective of day-to-day scenes. Drawing can often be a meditative process – Laina expresses to us her own mindful relationship with her practice, as she explains "making work can help me think through thoughts and clear my mind".
Recently Laina has moved into her second year of the BA illustration animation course at Kingston School of Art. Laina's illustration style is flourishing, but at A-level, she felt torn between disciplines as she studied graphic design and fine art. Laina tells us, "I felt as if I was floating between, and not really able to happily commit to one, without feeling as if I was missing out on the other". By holding off from applying for a degree straight after, Laina studied on the foundation course in her hometown of Brighton. During this year, Laina innately took to illustration and fell in love with it. Instinctively and intuitively, Laina applied for Kingston and has never looked back since.
Laina tells us about a recent university project she has been working on, with the Drawing Room gallery in South London. It is an experimental animation project with Betsy Dadd. Initially, using the gallery exhibition by Marc Bauer to frame the project; this influenced Laina's working process as she researched through drawing and used this as a way of thinking. Laina enjoys pushing and challenging her illustrative practice, as she describes a contemporary drawing workshop she attended within the gallery. This asked her to engage with books as a space for research, which she explains, "from our collected images, we spent a day creating drawings. Big, small, abstract and fragmented, which we recorded and photographed to be made into a 1-minute experimental film by the end of this month". Laina is keen to explore more dynamic processes and techniques this year, as she intends to make use of her university print room. With more colourful explorations on the horizon, we are keeping our eyes on Laina, and so should you, for more illustrative treats.