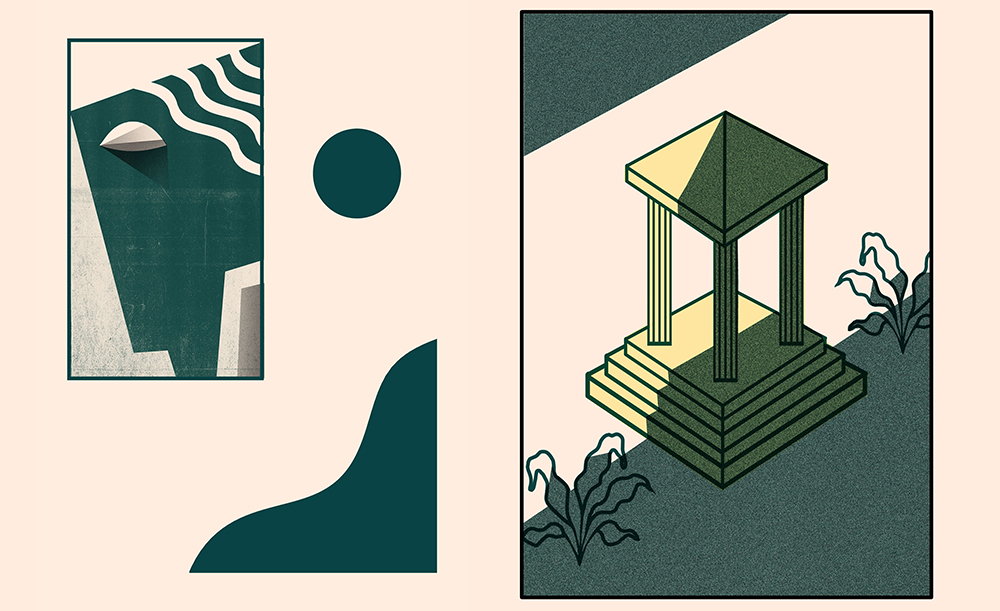 Having never felt fully engaged with the art education system, it wasn't until graduating from the University of West England that Raphael Greaves found the motivation to focus on his own work. Since that however, he's been developing an engaging and abstract illustrative aesthetic. "Over that period of time I realised that working for myself made me more productive and a lot happier. The more I did it, the more I became satisfied with the work I was producing", he reveals. It was a process that also resulted in the young illustrator taking a D.I.Y. approach to his career, collaborating with his brother, George, to create their own design studio, Printed Goods.
Keen to make a living through their own work, the Greaves brothers initial vision was a to open a risograph printing studio in Bristol, however a year into running the company they decided upon a change in direction. "We realised that we were rapidly losing focus on our own illustration work, by continually getting caught up in the mundane technicalities of running a print service", Raphael explains. Now focusing on a selection of prints, t-shirts and home accessories, Printed Goods proving a vital output, allowing the duo to design and sell their products whilst furthering their own illustration practices and working on commissions.
The stripped back, bold graphic style of Raphael's work is centred around enigmatic and calming architectural forms, fantasy settings that he would like to find himself in. Inspired by the way 20th century artists experimented with form and colour in their work, he creates considered compositions intent on provoking moods and feelings. Describing his creative process as spontaneous he tells us, "the final outcome is usually very different to what I planned, but I embrace that element of surprise".
Raphael is focused on developing his own work through different mediums and approaches and recently began to explore the human figure as subject matter. He is planning large scale canvas and sculptural work and we're looking forward to keeping an eye out for that along with more of those brilliant printed creations.