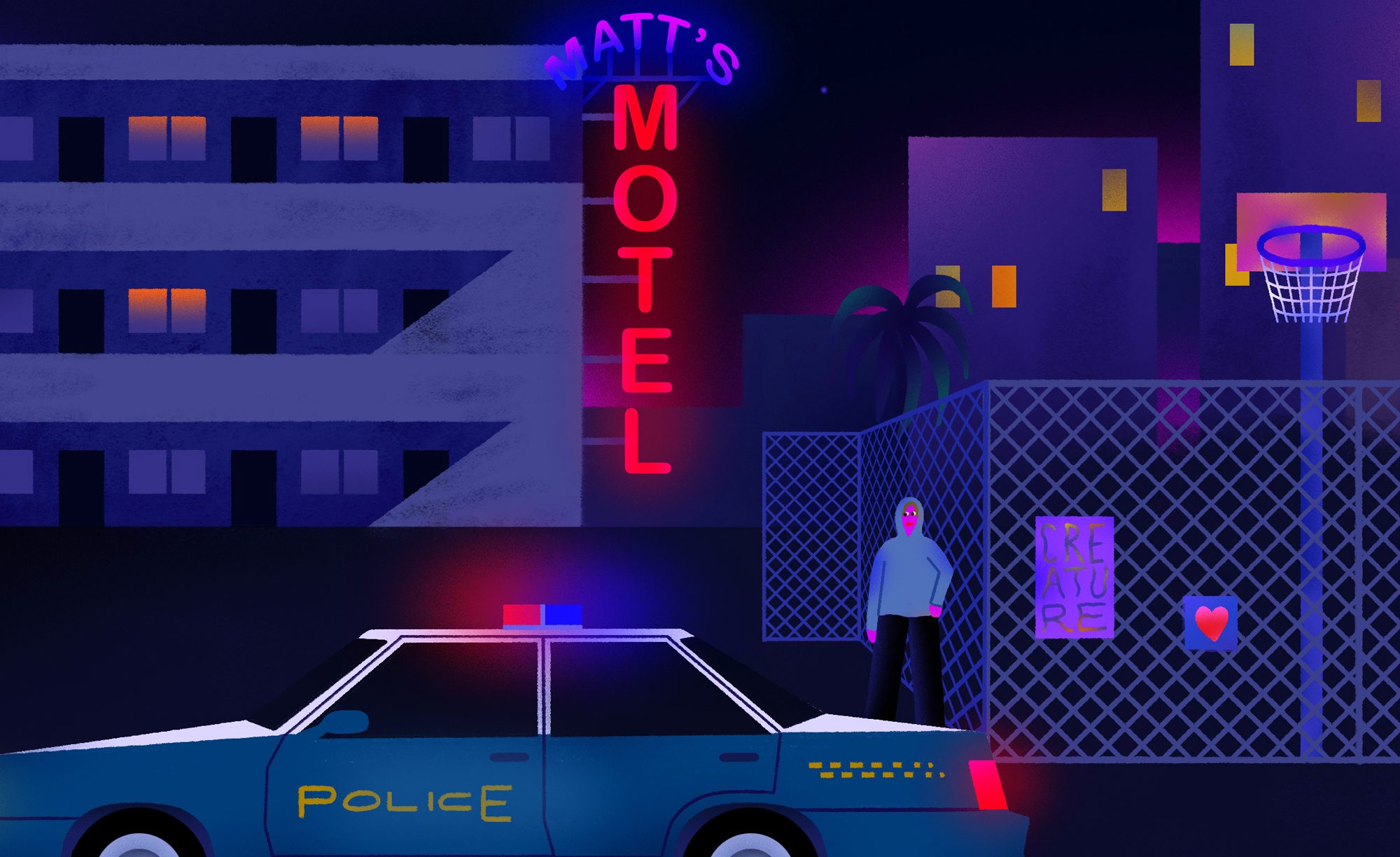 Ever so often in the early hours, Rupert Skelton is struck by the fabled bursts of inspiration, that are known to fuel gravity-defying leaps of imagination in many creatives. As a Falmouth graduate and an emerging illustrator, Rupert almost never feels the need to source references for his incredibly detailed, modular illustrations. Growing up, he quickly recognised a few telling qualities of a creative mind, that often escape others. "Being creative goes way beyond just being able to draw. In fact, I would say it's got little to do with it. It's more about having an imagination", he says. "Sometimes (usually at night), I can visualise whole compositions and get flashes of colours and patterns; I try to sketch out the image immediately. The final artwork often differs from that original visual in my mind, but the essence is still there. Maybe I should lay off the caffeine…", his voice peters out.

An undying love for the 80's and its movies underpins Rupert's work, often inspiring the colour palettes and the characters in his gleaming narratives. Although informed by a bygone era, his illustrations engage with themes that are current and relevant. Sifting through his illustrations – that dig into ideas of surveillance capitalism, the climate crisis and the burgeoning impact of AI on our lives – it's impossible to miss the common thread that strings it all together: a curious interest in technology. "I love the pre-CGI analogue robots and laser aesthetics of The Terminator (1984), which is an absolute favourite! I enjoy creating weird machinery with moving parts, buttons, dials and flashing signs. And yes, all of it does trickle down to my fascination with present and future tech".
Reminiscent of the futuristic vaporwave aesthetic, Rupert dips his zany, conjured worlds with luminous pinks, purples, and electric blues. The bright, yet measured colours are almost always offset by a moody and dark backdrop, allowing Rupert to guide the viewer's eyes, using the intensity of the hues. The palette doubles up as a tool with which he tempers the tone of the piece, and manipulates the energy of the illustration.

Both the real and the imagined become equal sources of inspiration for Rupert. In Club Tropicana, he paints a rock-and-roll nightclub "set somewhere in downtown LA", starring snogging couples, a pole dancer and a bouncer with a slightly unsettling smile. For Burty'z Bizarre – a shop full of eccentricities – Rupert looks no further than "a strange shop in his town, that is filled with the most wonderful and bizarre things". His humorous, cheeky voice as an illustrator has found quick fans: he's recently completed an animated music video for Long Tonic, and a Christmas campaign for New York Hilton Midtown. 
So is there a dream project? "I'm really into the idea of creating a series of illustrated sci-fi inventions that have lots of animated moving parts. They would be machines that are entirely made up, and probably non-functional in the real world, but that's the fun of it!", quips Rupert. With a stylistic maturity far beyond his years, it is needless to say that Rupert's mind is already on its way to new weird worlds, and we can't help but follow.