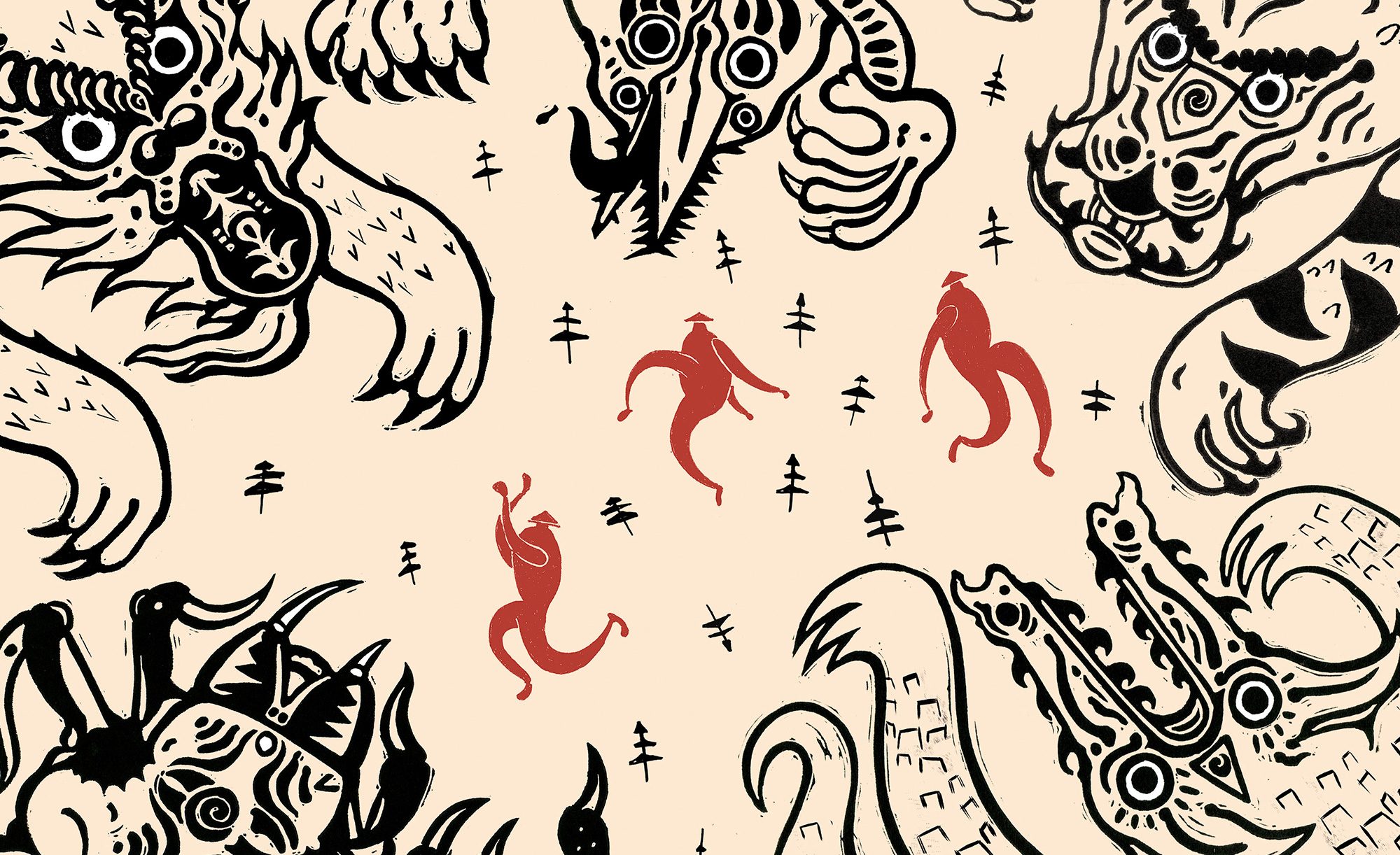 Graduating from Leeds Arts University this summer, Tomas Dogg is under no illusions as to how competitive the freelance world is, nevertheless, he's making his mark. "Remaining confident with your practice is a challenge within itself, but you've just got to hold your own and keep making pictures" he proclaims. His illustrations have a richness and depth that is becoming rare, with hand made processes a key part of his work. Screen and lino printing are "where it all begins" for Tomas, who reserves no small amount of praise for the print rooms, technicians and tutors at LAU who spent many an hour working with him as he experimented with and refined new techniques.
That's not to say that Tomas considers 'digital' to be a dirty word, explaining: "I enjoy the flexibility of working in Photoshop. I like playing with shape digitally and on paper and Photoshop makes it easier for me to experiment with different compositions and textures". Beautiful balances of hand printed texture and collage make for engaging images often centred around characters and creatures who appear mythological in their characteristics. It's the contextualisation of these subjects through a fitting aesthetic that give Tomas' work such an assured feel. "I do try and have a level of visual consistency in my work" he reveals, "but I think it's dangerous to force a style or try to mould your work into something that it isn't". For Tomas, a truly individual aesthetic is born from "giving yourself the freedom to experiment with different materials and contexts".
Tomas' parents would read and draw with him from an early age, so visual narrative has always been something he's comfortable with. "I feel there's an honesty in illustration that I didn't see within other courses" he tells us, revealing that drawing has "been important to me for as long as I can remember". It follows then, when Tomas states that his surroundings are a big influence on his personal work, imagining situations in the fantastical worlds he creates is almost an auto response.
His career as a freelancer is steadily taking shape and despite having to swiftly get up to speed on the organisational elements of professional practice, he's having fun. With clients excited about working with him and allowing him to experiment, Tomas is making work that both parties are proud of. There's still plenty of time for personal projects though — a necessity for this young man — so expect to see more prints and t-shirts popping up in his online store soon. We've little doubt that you'll be seeing a lot more of Tomas' work in the not-too-distant future, especially with his determination to "just keep making things and see what happens".