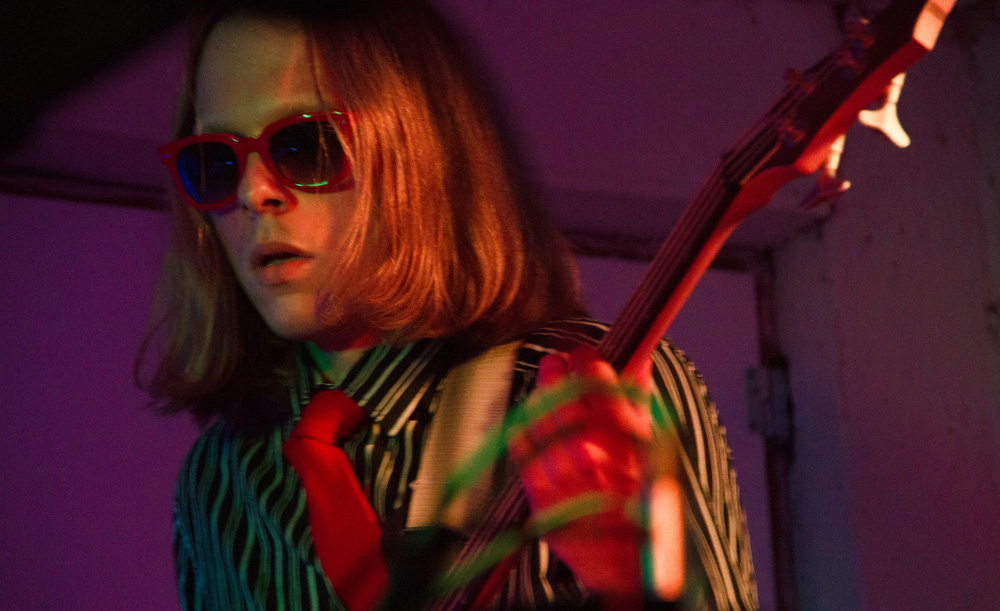 Photo by Lotta Blomberg
One of my chief aims with Intern is to provide perspective and one of the most effective ways to deliver that is to work with contributors from all around the world. Over the course of two issues, our eighty one contributors have hailed from twenty three different cities in twelve countries around the world. The Nordic countries have a rich heritage in design and art and I was keen to have that represented in Issue Two.
When I discovered Tuomas Kärkkäinen, or Pencil Teeth (one of three illustrators in the issue to work under an alias alongside Man Trout Ink and himHallows) I was adamant that I had to get him on board. His illustration looked perfect for editorial and it seemed like his allegorical and subtly satirical approach would make for another interesting perspective to throw into the mix. He did not disappoint, the two pieces he sent in response to the feature written by Well Made Studio's Gemma Germains were stunning. It's a feature that has proven incredibly popular with readers and I think Tuomas' riff on Gemma's argument is a big part of that.
Illustration is one of the toughest creative careers to establish yourself in, due to the increasing number of phenomenally talented people already out there, trying to get work for themselves. It's always interesting (I find), to discuss freelance work and career perspectives with young illustrators. As I learned from my catch-up with Tuomas, despite having more to juggle than most, is already working with household names.
So, "Pencil Teeth" where does that nickname come from?
Basically, I just wanted a website URL that people who aren't familiar with Finnish names would be able to remember. I thought no-one would find me through www.tuomaskarkkainen.com. I was trying to find a perfect combination of two words and somehow those two were the ones I chose. Perhaps it means I draw pictures that bite.
You study graphic design but also illustrate. Did you consider studying illustration instead? What swayed the decision?
Pretty simple: there are no universities in Finland that offer a major in illustration and I wasn't ready to move abroad. I'm quite certain I would've gone for illustration, if it had been a possibility. Actually, I just heard today that there will be a minor study program beginning next year in Aalto University, but I'm going to graduate before that.
You've been working freelance during your studies at Aalto and list Amnesty International among your clients. When did you first start freelancing and how do you balance the time with your studies?
I started it around the same time I started my studies at Aalto. I have a degree in communication studies, which I studied in Helsinki University before starting this course. After graduating, one is supposed to find a job and begin living like an adult, right? Well, I was at this point before I started at Aalto, so working and studying simultaneously has been natural for me.
In fact, balancing studies and freelancing has seldom been too difficult. I've heard from people who have studied abroad that our study program in Aalto is pretty slow-paced. I have never stayed up all night to meet a school deadline, for example.
But if you really want to make things a bit more challenging, try having a couple of children in addition to studying and working. I have two kids, a two-year-old and a six-month-old, and hoo boy, has it been hectic for a couple of years.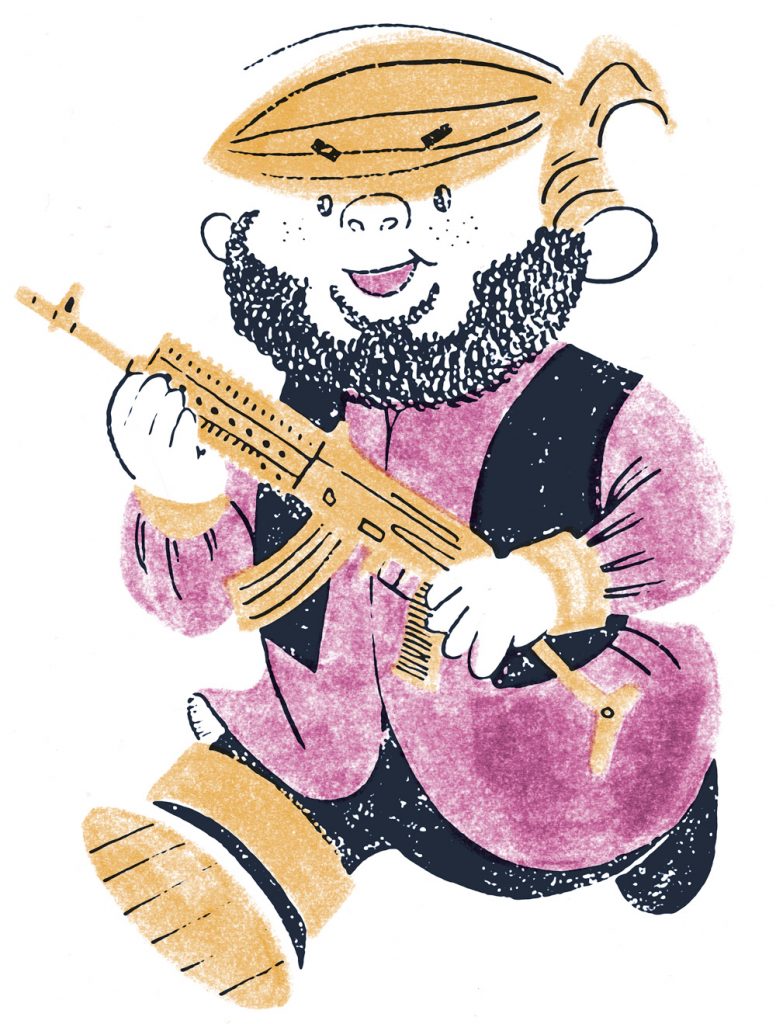 From your experience, what part of the freelance world did the taught environment prepare you well for and what part didn't it?
I've learned conceptual thinking through my studies not only in Aalto, but in Helsinki University as well. I think it's definitely been useful that I've had to go through quite a lot of theoretical literature discussing how society works (or doesn't work). Illustration and design work in general happens mainly inside the designer's head, after all.
I think my strength as an illustrator has always been the ability to conceptualise and come up with juxtapositions and metaphors. You know, the thinking stuff.
My technique, however, has only recently started to bridge the gap. I don't know if it's that much a result of the graphic design education, though. Well, working with the other students has definitely helped me see what kind of things I should try to do. Without them, I'd probably still settle with the black 0.5 fineliners and colouring in Photoshop. Not that there's something wrong with that, I still do it occasionally, but it's been revealing to experiment with different techniques.
I'm not sure if my somewhat newfound interest in the work of the hand and not just the head is in any way a result of my studies. Anyway, I feel it's been the technical side that's helped me to start finding my own style. Recently, I've got into the habit of painting and scraping different layers of colour on plastic films and then combining them in Photoshop. And I think it's this method that's making my work look like it's by me and nobody else.
But to get back to what you asked, what's always difficult in freelance work is trying to figure out how much I should ask to get paid for this or that, so that I don't disrespect my own and my colleagues' work, but at the same time so that I get hired again.
Are internships common in Finland? 
They are probably more common in the big metropolitan areas, where there is so much competition that it's always possible to find talented people willing to work for peanuts. They have got a lot more commonplace in Finland in the recent years, though, especially since the economic crisis began.
Of course, internships can be alright at times, but it seems to me that usually the point is just to cut down expenses by exploiting students.
What's your dream brief?
Well, this isn't actually a brief, but I'd really like to get signed by a good illustration agency and get enough work to be able to get by without being constantly worried about the finances of the next month or year. But then again, maybe I've chosen the wrong profession, if financial security is what I really want.
So far, I've enjoyed editorial illustration the most. I'd also like to try illustrating (and maybe even writing) children's books. And one thing I've been yearning for is a long project. I worked for the summer in a newspaper doing infographics and even though I enjoy that part of graphic design as well, the projects usually span only a couple of days, tops.
Having a total control over something and adjusting the most minuscule details is something I love. Oh, if only someone paid me to do work like I did for our own band Drn Drn. I designed absolutely everything starting from the font and the construction of the cassette box to the illustration cards inside the box.
What are you working on this week?
Not illustration, I think. I just started a four-month-long child-care leave, so that'll be the main thing. I should also wrap up a visual identity for a certain company, which has been in the making for a couple of months now. So, actually I'm doing these longer projects at the moment. What am I complaining about?
Do you have any upcoming projects that you can tell us about?
I'll try to finish my studies during my child-care leave. My bachelor's thesis is a mock nonfiction book for children. It's about several different species of shy creatures living in big cities. I've got the whole thing almost done: the risoprints still need binding into an actual book though.
An "immi", for example, is a small creature that eats quicksilver and other metals. It climbs lamp posts to find quicksilver inside the lamps, even though it's not used in them anymore. It tries to suck it out and by doing that, it breaks the lamp. So, every time you see a lamp post that's gone dark, there's probably an immi somewhere near.
_______
Take a look at more of Tuomas' work over on his website, it's a name that you'll be seeing very often in the not-to-distant future, mark our words.